PROSPERITY – Caroline Hawkins made the Mid Carolina Club golf course in Prosperity her own Monday and Tuesday.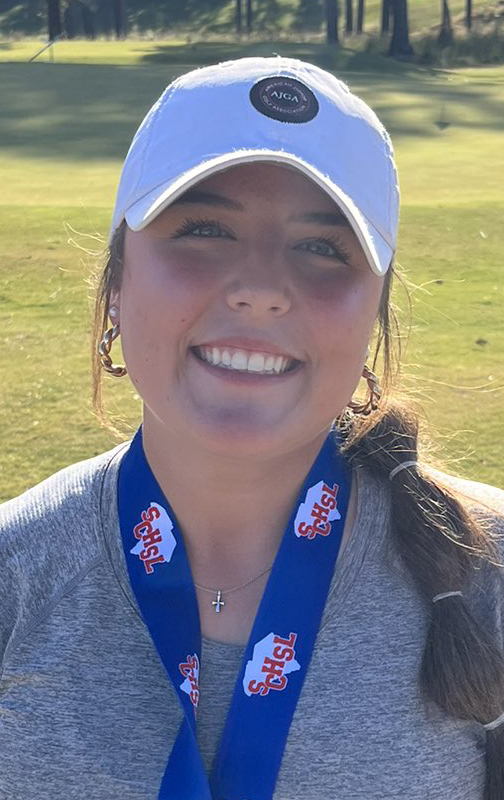 The Blythewood sophomore shot a 5-under par 68 on the Par-73 course Monday, then followed up Tuesday with a 6-under 67 to finish the 5A state girls' golf tournament with a 135 and her second straight individual golf championship.
Hawkins had birdies in the second, eighth, ninth, 11th, 12th, and 16th holes on the first day. She bogeyed the 14th hole.
On Tuesday she birdied the 7th, 10th, 15th, 16th, and 18th holes, and eagled the 11th hole. Her only bogey on the second day came on the 12th hole.
Hawkins' score was 14 strokes better than the next top finisher, Mauldin's Olivia Pelerin, who shot a 73 Monday but finished with a 3-over 76 Tuesday.
Dorman finished with a team 2-day total of 649 to claim the 5A state golf championship for the second straight year.
Blythewood, which won 5A golf state championships in 2019 and 2021, finished in 10th place. Behind Hawkins was Caroline Richardson, who shot a 97-105 – 202. Ena Shea shot a 100-98 – 198 and Grace Maag shot a 91-96 – 187.
5A Girls State Golf Championship
Dorman                327-322 – 649
Chapin 327-326 – 653
Lexington            337-339 – 676
River Bluff           347-342 – 689
Wando 342-350 – 692
Carolina Forest 336-360 – 696
T.L. Hanna           358-341 – 699
Mauldin               352-366 – 718
Nation Ford        352-366 – 718
Blythewood       356-366 – 722