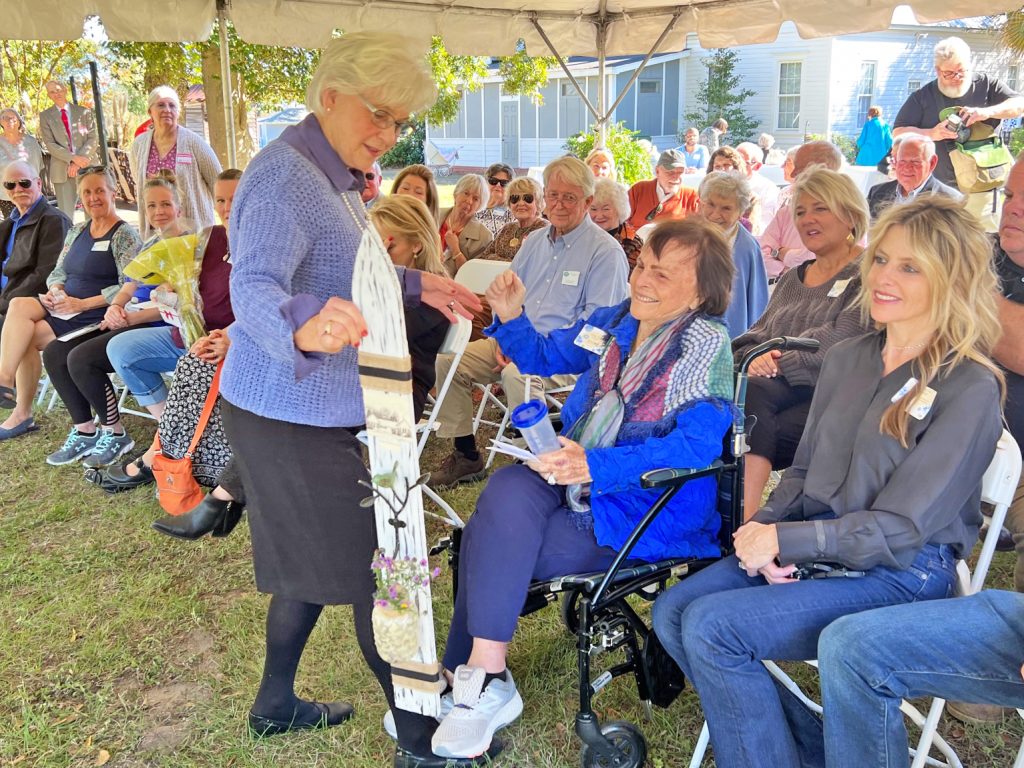 BLYTHEWOOD – It was a day spent in the Blythewood history books on Sunday as many old-timer Blythewoodians gathered along with Blythewood newcomers to celebrate Cindy Nord's generous gift of land to the Blythewood Historical Society and Museum.
The property is an important and visible track of land located in the original center of Blythewood.
The celebration on the lawn of the Langford Nord House included Salome Gajadhar singing the Star Spangle Banner, a welcome to a number of dignitaries by the Society's President Malcolm Gordge, stories of old Blythewood by Society members Frankie McLean and Carolyn Lomas, and a conversation with Nord and Historical Society member Jim McLean. The event ended with the ribbon cutting on the property, after which, Nord handed the deed to the property over to the Society.
A new white picket fence has been erected around the new property connecting it to the current property. Society members saved and decorated the pickets from the old fence and "sold" the pieces of history for donations. One of the painted pickets was presentation to Nord.
It is the second donation of property Nord has made to the Blythewood Historical Society. After donating what is now known as the Langford-Nord home to the Historical Society on May 17, 2011, it was announced in early May of this year that Nord purchased and donated the 1.81 acre next-door property to the Society, bringing the size of the combined properties to about three acres.
The newly donated property is located adjacent and to the north of the Langford-Nord home which is located at 100 McNulty Street in downtown Blythewood. The property has been vacant since the early 2000's when the home on the property, owned by Bobbie Stevens and her late husband Dan, was sold and moved to Lake Wateree.
Nord, who previously owned the Langford-Nord house, said she was approached by a newly formed group in 2011, to buy the home and property. Nord asked the group to submit a mission statement, a plan of what a Historical Society would contribute to the town, and how it would support itself.
Pleased with their vision, Nord then donated the building to the Historical Society.
"That ensured that the history of Blythewood would be preserved for our community for years to come," said Carolyn Lomas, the current president of the Historical Society & Museum.
For more information about the Blythewood Historical Society and Museum, contact Margaret Kelly at 803-333-8133 or email [email protected].