BLYTHEWOOD – Earlier this month, Blythewoodian Doug Bridges, a close friend and college basketball teammate of novelist Pat Conroy during their years at The Citadel, shared his personal stories about the famous writer. The occasion was an exhibit at the Blythewood library of Bridges' personal collection of Conroy memorabilia that, he said, is not duplicated anywhere.
More than fifty Conroy fans filled a lecture room at the library to listen, ask questions and laugh as Bridge recounted Conroy's antics, his writing, his family, and his relationship with Bridges and the other members of their Citadel basketball team.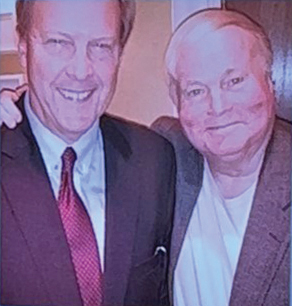 Bridges talked about Conroy's relationship with his abusive military father, a former Marine fighter pilot, and his mom who also aspired to be a writer. According to Bridges, she was probably the one who most inspired Conroy to write.
Besides being teammates, Bridges said he and Conroy bonded over their similar upbringings and overly strict, controlling fathers. By Conroy's account, and from Bridges observations of Conroy's father, who he referred to as 'the Colonel', he was abusive.
"My dad was rough," Bridges said, "but nowhere near what Pat's dad was," he said with a nervous laugh. "[My dad] didn't come home every night and beat the hell out of us."
Bridges recalled a story that demonstrated the Colonel's control tactics.
"He was transferred to Omaha and after the family drove a day and a half to get there, he announced to Pat that he was going back to Charleston to enroll at the Citadel. This was two months before school started and Pat had no idea he was going to be going to the Citadel," Bridges said.
Bridges said that as much as Conroy bonded with his teammates and his Citadel experience, after graduating, he wrote "Lords of Discipline," a book that made him no longer welcome at his alma mater.
But Conroy bucked the Citadel's dismay over his book and joined his basketball teammates for a reunion at the college. It was then that Conroy suggested his former teammates collectively pull their stories together for a book about the team's experiences.
While Bridges told his audience that he had initially been doubtful that their loosing basketball team's adventures would sell, the resulting book, "My Losing Season," was on the New York Times best seller list for 10 weeks.
Bridges also talked about the evening Conroy visited the Bridges' home and engaged Bridges' son concerning his school work and asking about his teacher. The evening ended, Bridges said, with Conroy calling the teacher and going over to his home to discuss Bridges' son's school work.
"Pat had a hard life," Bridges said, "and his sarcastic humor was reflective of that life, I think, but Pat was a lot of fun, and I think he was happiest when he was with us, his teammates."