BLYTHEWOOD – While TV viewers in Columbia and around the state are bidding a long goodbye to WIS-TV news anchor Dawndy Mercer Plank, the folks in Blythewood may be starting to see a lot more of her.
Plank announced her retirement from WIS-TV last week after 27 years with the station.
"I loved my work at WIS," Plank told The Voice recently. "I loved telling the stories of the communities and the people for all those years. But I'm looking forward to having time now to do other things that I love as well, that I just haven't had enough time for… like barn work," she said with a laugh as she deftly scooped horse poop into a muck bucket and dumped it into a spreader.
She was horse-sitting at Minge Wiseman's Blythewood farm while the Wisemans were away for the weekend.
She and Wiseman have been trail riding together for years, with Plank riding one of Wiseman's horses, a big bay Warmblood named Checkers. But Plank doesn't just ride Checkers, she grooms and takes care of him as if he were her own.
"We refer to him as my horse," she joked. "I love this! I love riding, mucking, the barn, anything to do with horses. And now I can do more of it."
After mucking stalls, feeding three horses, putting fly masks on them and turning them out to pasture for the night, Plank moved on to her next farm chore – feeding a baby squirrel Wiseman rescued a week earlier.
After lifting the little squirrel named Cindy out of a cozy basket bed in a cage on Wiseman's screened porch, Plank cuddled the baby squirrel for a few minutes before carefully feeding her from an eye dropper.
"Right now, she has to eat every two hours," Plank explained before giving Cindy a peck on the check and gently placing her back into her basket bed. "There you go," Plank said sweetly.
Welcome to Plank's new world.
A resident of Blythewood since 2001, Plank calls it her adopted home.
"Blythewood is a beautiful community," she said. "I've always loved being involved with and supporting the town, whether it's emceeing the Christmas parade, telling its stories, promoting the Blythewood Museum and Historical Society, visiting the schools, or interviewing Scott Keogh, the head of Blythewood's new Scout Motors EV plant."
She says all this will continue. Later this month, she'll be the featured speaker at a Village Church women's event at The Farm.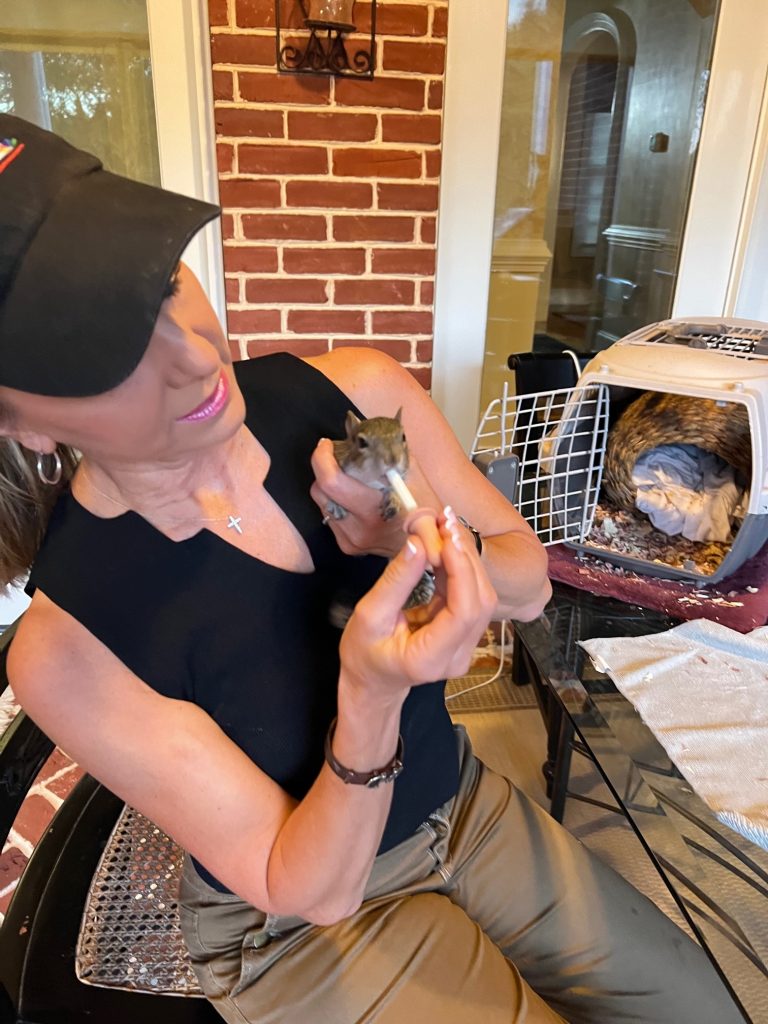 Growing up in Indianapolis in a family of three girls, Plank studied journalism at Ball State University and finished school through an internship at the Washington Center in Washington, DC, then took her first news reporting job in Green Bay, Wisconsin as a reporter at WBAY-TV.
"I was there for three years, came to Columbia for four years, and then went to Houston for five. When I had an opportunity in Jan., 2001 to come back to WIS, I was thrilled," she said.
In 2008, she married Columbia businessman Craig Plank. She said her retirement from news anchoring has come at the same time she and her husband are becoming empty nesters.
"The timing is perfect," she said. "My husband and I are blessed with such a strong relationship that I feel like we're still dating. I'll get to be with him more now and go more places with him."
Other plans include returning to marathon and triathlon training and competition.
"Right now, my knees and back are still good enough for this," she said, "so you're going to see me out there running the back roads of Blythewood."
She also plans to spend more time working in her garden and, of course, riding horses.
But it won't be all play and no work in the days ahead.
Plank will be working with Lexington Medical Center as the face of the hospital, but will work fewer and more flexible hours than she did at her news anchor job.
"I'll be an independent contractor, so I'll have other clients as well," she said.
"At Lexington Medical, I'll still be telling stories. I'll be helping them get their message out to the community about what's available at their hospital.
"I've always liked to tell people's stories and I've always been passionate about health, medical and fitness. So, my work with Lexington Medical will be a perfect fit. I'll be telling the stories about what they offer," she explained. "It's a great opportunity for me to use my interest and gifts and abilities to continue to tell stories to the community that are important for them to know."
Plank says she's blessed that she will have the opportunity to enjoy both the worlds she loves – 27 years reporting the news, and now getting to enjoy the other things she loves to do.
"I'll still be active and continue to be involved, but in a different format. My new life will give me more time to spend with my husband, more time to ride, and more time to train," she said.
And that may turn out to be her best story yet – doing the things she loves, right here in Blythewood.