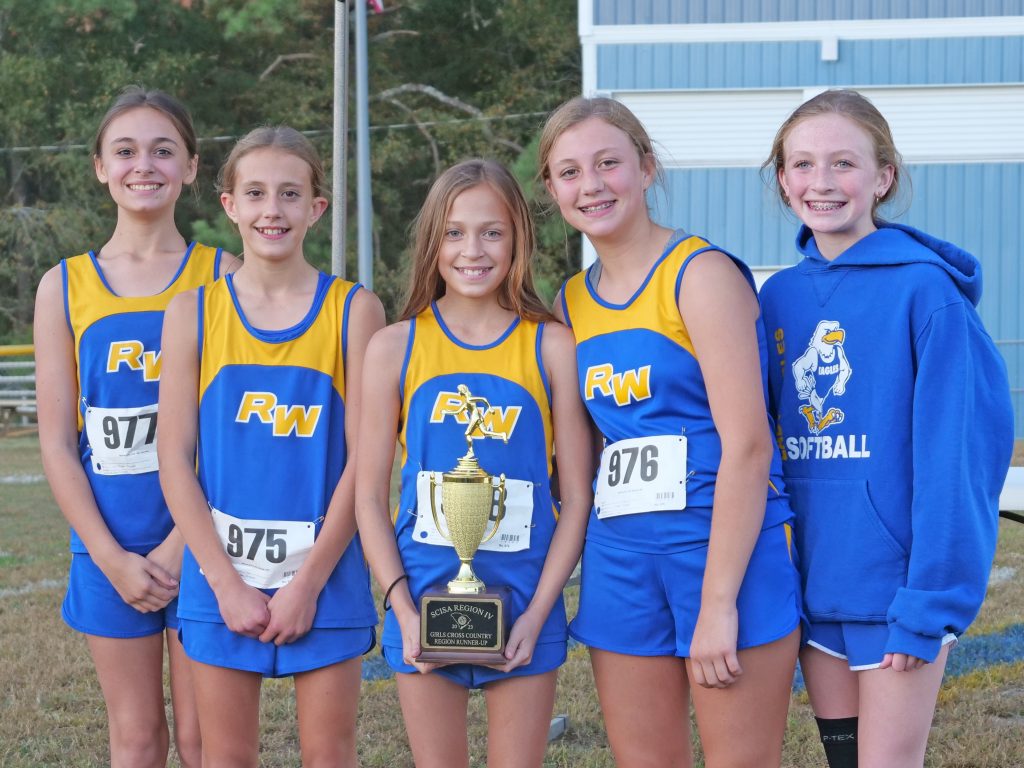 WINNSBORO – Richard Winn's girls cross country team claimed second place in the region last weekend on their home course, and the boys' team finished third.
Our Lady of the Rosary claimed first place with 21 points. The Eagles finished the day with 52 points, and Oconee Christian came in third with 63.
Hayden Branham finished the course with the fastest girls time on the day, claiming the Region Runner of the Year title with a 19:46.80 finish, the only sub-20 minute time of the day. Her time was more than three minutes faster than the second place finisher. Branham's time was a new personal best for her and for the Eagles' program.
Branham was followed by her sister, Harper Branham, who finished in the 10 spot out of 33. Harper's 24:46.90 time was her season and career fastest.
Lillian Trapp finished 15th at 25:59.00. Ada Bass and Addison Trapp both had season-best times to round out the Eagles scores. Bass finished 17th place at 26:27.20, and Addison Trapp finished at 28:25.70 in 23rd place.
Our Lady of the Rosary also claimed the region title for the boys with 30 points. Oconee Christian finished in second with 34 points. Richard Winn pulled a third place finish with 99. Anderson Christian and Cambridge Academy finished in fourth and fifth places.
Eagle runner Adrian Jackson had the fastest time for his team. Jackson ran a 21:20.20 mark for 12th place overall out of 48 runners. Colton Tanktrsley followed and Jeter Limperis-Mannara followed with season-best times. Tanktrsley finished at 23:27.20 for 25th place and Jeter had a 24:07.40 finish for 28th place.
Stephen Limperis-Mannara followed Jeter at 26:26.30 for 37th. Carson Taylor had his fastest time of the season with a 26:54.30 finish for 38th place. Gable Cahoon finished at 31:27.20
The Eagles will wrap their season on Saturday at the SCISA Championships, hosted by Heathwood Hall in Columbia. The Eagle girls will look to best their second-place state title from the 2022 season. The girls will run at 2:30, and the boys will follow.