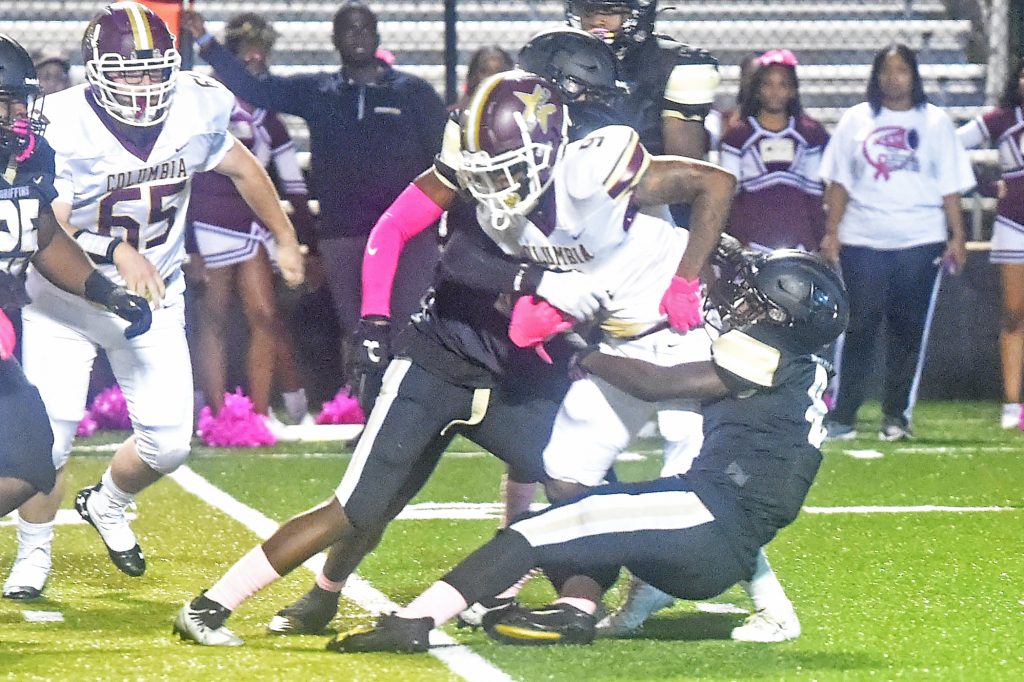 WINNSBORO – After a week off, Fairfield Central football jumped back into the season with full force, defeating Columbia High School 55-6 at E.K. McLendon Stadium.
Sophomore quarterback Cam McMillon completed 11 of 14 attempted passes for 167 yards and four touchdowns. Senior Kristian Golden was McMillon's primary target. He caught four passes for 101 yards and three of the Griffins' seven touchdowns. Golden also scored on a 75-yard a kickoff return. Senior Roger Burns had two receptions for 31 yards, and Kaden Diggs tallied 27 yards on 3 catches. Burns also had a pick-six.
The Griffins combined for 373 all-purpose yards. With McMillon and company attacking through the air, TyDarion Grier led the ground game. He had six carries for 100 yards and two touchdowns.
It was a big night for the Griffin Defense. Douglas McCloud Jr. and Myles Robertson led the Griffins defense. McCloud Jr. had four solo tackles, one assist, one sack, and two tackles for loss. Myles Robertson and Christopher Pearson had three tackles each. Robertson was also credited with two sacks, two forced fumbles, five tackles for loss, and two tackle assists. Sophomore Noah Kendall also had a sack. Senior Amos Bell forced three fumbles.
The win puts Fairfield at 6-2 on the season, their only losses coming from an early-season loss at Chester and a forfeit against Gray Collegiate Academy. With two games remaining in their regular season schedule, both away, Fairfield looks to solidify their second place finish behind Gray with wins over Eau Claire on Friday and Newberry on Oct. 27.