As Pickleball Craze Spreads, Mitford Rec & Jeep Rogers YMCA Add Courts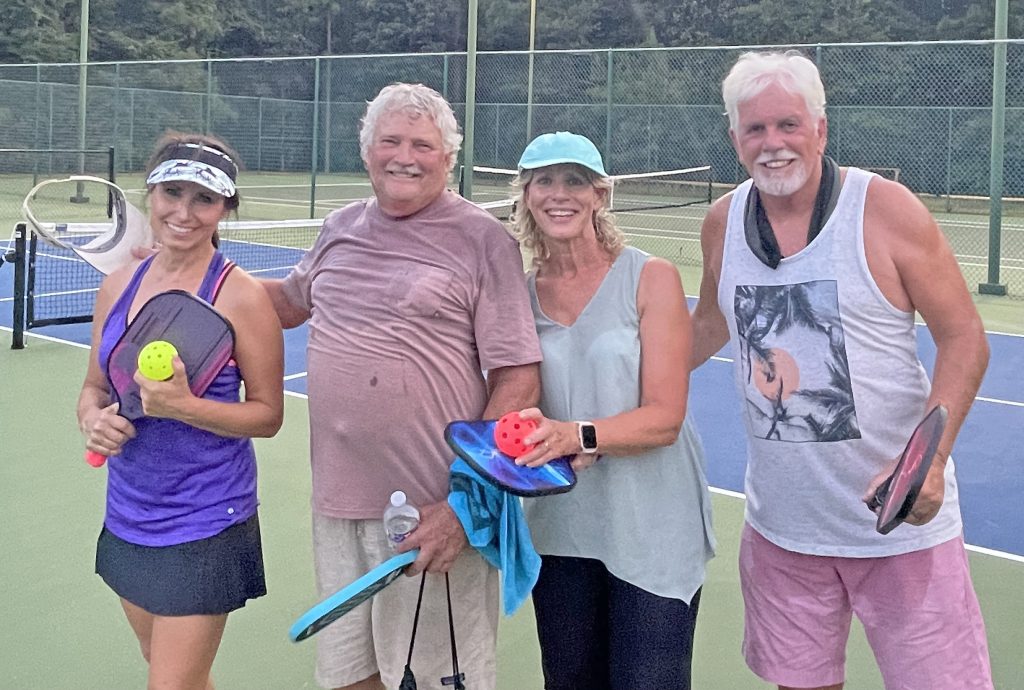 MITFORD – In early November of 2022, two Mitford women, Lori Digh and her friend Lori Boyt, had a Facebook conversation that would eventually bring a new sport to their community.
The conversation was about the need for a pickleball court for the Mitford area.
Pickleball has spread like wildfire across Fairfield County and Blythewood the last couple of years, but Mitford folks had to drive half way across the county to play on courts at the Fairfield County Recreation Center in Winnsboro.
Digh's increasing interest in the sport peaked her husband Jerry's interest and he was soon organizing a pickle ball program at the Mitford Community Center which sits at the intersection of Wateree Road and Camp Welfare Road in northeastern Fairfield County.
The indoor court at Mitford initially drew a modest 6 – 8 people. Today, that number has almost doubled.
Jerry says pickleball is more than just a game.
"It brings people in the community together," he said, "but offers a physical activity that the people in Mitford didn't have easy access to. Pickleball is a cross between tennis, ping-pong, badminton and a little volleyball thrown in," Jerry said. "Like the volleyball game of old, you have to serve to score."
Now, the Dighs are entertaining plans to bring more pickleball courts to their community.
"I've made a lot of new friends thanks to pickleball," Jerry said. "It's spreading."
All equipment needed to play is provided at the Mitford Center, and there is no charge to play.
The hours for pickleball at the Mitford Recreational Center are: Tuesdays and Thursdays, 4 p.m.-8 p.m.; Fridays 10 a.m.-1 p.m.; and Saturdays 11a.m.-1 p.m.
Pickleball in Blythewood
Pickleball courts are popping up in Blythewood as well.
The Jeep Rogers YMCA held a grand opening for its new pickleball courts on Sept. 23, with more than a hundred people in attendance.
"The beauty of pickleball is that it's a game for all ages and genders," said Scott Baulkcum, Executive Director of the Jeep Rogers Y located at 900 Lake Carolina Drive, adjacent to the Lake Carolina community.
Baulcum said the Y received a grant from The United States PickleBall Association for equipment that included paddles, balls and instruction to get the program up and running.
"Pickleball has given us the blessing of adding another amenity to our community." Baulkcum added.
Next, Baulkcum plans to bring pickleball tournaments to the Y in addition to the regular play they now offer.
The Y offers both indoor and outdoor courts. Indoor courts are open for play Mondays and Wednesdays from 11 a.m. – 2 p.m.; outdoor courts are open Mondays through Thursdays from 8 a.m. – 8:45 p.m.; Fridays from 8 a.m. – 7:45 p.m.; and Saturdays from 8 a.m. – 5:45 p.m.
Y members can play on the courts at no charge. Non-members are charged $5 to play.
For more information about the Mitford or the Jeep Rogers YMCA pickle ball programs, contact the Y at http://www.columbiaymca.org and Mitford Recreation at http://www.fairfieldsc.com/community/parks-and-recreation.