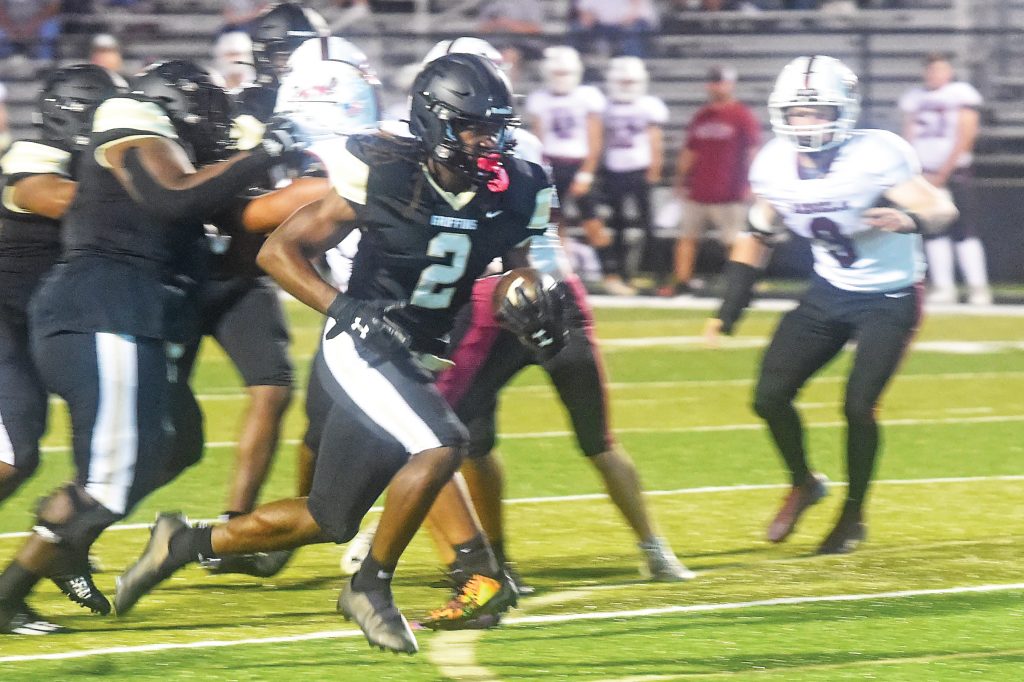 WINNSBORO – There was much to celebrate last Friday as Fairfield Central hosted Mid-Carolina for their Homecoming game. The Griffins dominated on both sides of the ball to shut out the Rebels 41-0 and move to 2-0 in region play.
Fairfield Central received the opening kickoff and punched in their first score of the evening just four minutes into the game with TyDarion Grier's 12-yard scamper. Erik Martinez's PAT was good to put Fairfield up 7-0.
Grier found the end zone again with six minutes left in the first quarter, this time from 20 yards out. A long Cameron McMillon pass to Kristian Golden set Fairfield up on their own 20-yard line. Grier took it in from there. After a failed PAT, the Griffins led 13-0.
Fairfield regained possession on their own 40-yard line after forcing Mid-Carolina was forced to punt. McMillon connected with Roger Burns to put Fairfield on the five-yard line. Grier put the finishing touches on the drive with another six points. A successful PAT gave Fairfield a 20-0 lead with just under two minutes to spare in the first quarter.
Big plays from the Griffin defense put Fairfield Central in scoring position early in the second quarter. Roman Davis's tackle for loss put Mid-Carolina at the Fairfield Central 47, then Roman Davis blocked a kick to give Fairfield the ball on their own 45.
McMillon's pass found Golden again, this time for a 45-yard touchdown. Another good point after from Martinez put Fairfield ahead 27-0 with eleven minutes left in the half.
The Griffin defense forced the Rebels to punt again.
Fairfield's drive started on their own 32-yard line, but they were in the end zone in just two minutes. McMillon connected again with Burns to put Fairfield Central in the red zone. Myles Robertson took it 10 yards for another Griffin touchdown. Martinez's PAT was good. Fairfield led 34-0 with over five minutes left until halftime.
After a turnover on downs, Grier tallied his fourth touchdown of the night, this one from 10 yards out. Martinez added his fourth PAT of the night to give Fairfield the 41-0 lead at halftime and end the scoring for the night.
The Griffins tallied 452 yards of total offense on the night, 253 through the air. McMillon completed 10 of 10 passes for 252 yards and one touchdown. Junior Ford Davis was one for three for nine yards.
Golden had four receptions for 107 yards and a score. Burns tallied 95 yards on just two receptions. Donovan Burns had two receptions for 23 yards.
Grier put in the legwork for the Griffins. He had 12 carries on the night for 118 yards and four touchdowns. Davis picked up 45 yards on 9 carries. Donovan Burns added 28 yards on nine carries. Miles Robertson had one carry for four yards and a touchdown.
The Griffin defense combined for 58 total tackles, three tackles for loss, two interceptions, and a sack. Robertson and Breone Whitaker had seven tackles each. Christopher Jackson had an interception and six tackles, three solo. Antario James, who came up with the Griffins' second interception, also had six assisted tackles. Chancery Turner had two solo tackles and four assists. Roman Davis, Drew Walker and Roger Burns all had tackles for loss. Sophomore Noah Kendall was credited with a sack.
The Gray Debate
Originally scheduled to play Gray Collegiate Academy this week, Fairfield Central opted to forfeit the game over concerns of fairness about how the school builds its athletic roster.
In the spring, the Griffins opted not to play Gray Collegiate in softball and boys and girls soccer following blowout losses to the War Eagles.
The Griffins are not alone in their decision to not play Gray this football season. Mid-Carolina and Columbia high schools forfeited their games earlier this season. Newberry and Keenan are scheduled to play Gray in October.
"Not playing them is the only way to send a message," Newberry High School athletic director Chad Cary said in an interview with The State paper. "The High School League can't do anything about it. … So it comes up to us. People are going to say, 'You are putting your kids in a tough spot.' But you know what? If we would have did this five years ago, our kids this year wouldn't have had to deal with it this season."
Teams that forfeit games to Gray are ineligible to win the region championship, but can still qualify for state playoffs.
For Griffin head coach Demetrius Davis, it's worth the sacrifice.
"We won eight region championships, so we are okay with that," Davis said.
Fairfield Central will return to E.K. McLendon Stadium on Oct. 13 for their final home contest of the season against Columbia. They will hit the road to face Eau Claire on Oct. 20 and Newberry on Oct. 27.