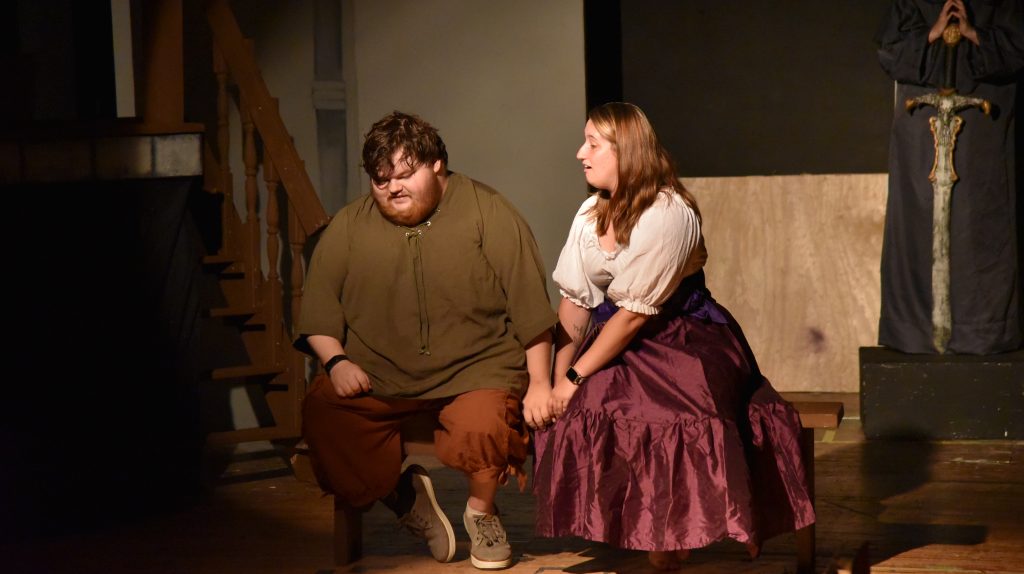 WINNSBORO – There are gargoyles and they sing. There is a sympathetic Quasimodo character and a cruel and rapacious villain, but if you're looking for the Disney version of the classic story, you won't find it in The Pine Tree Playhouse musical version of "The Hunchback of Notre Dame."
What you will find in a production closer to the themes of the original Victor Hugo tale – a tragic love story with soaring music, dazzling theatrical effects and a cast acting their hearts out to bring you the original story. The shivery themes of the play are especially appropriate as we enter the Halloween season.
The PTP production skillfully mixes some of the best of Alan Menken's lyrics that were used in the 1997 Disney film with the darker tones of the original Victor Hugo 1831 Gothic tragedy.
The production is co-directed by Dori Brandenburg and Shane Moody.
Dori Brandenburg, who originally conceived putting on this production, said, "As director I am pleased to present this production as proof that Winnsboro has the talent and the drive to have top tier performances regularly.
"This group took that expectation and ran with it from day one and I could not be more proud. If you were to tell me two years ago a small-town 100 seat theater could tackle a monstrous show like "The Hunchback of Notre Dame," I'd have laughed in your face. Yet here we are, killing it!"
"During five years with PTP I have seen us do some amazing things – shows and programs other theaters our size wouldn't even dare attempt," said co-director Shane Moody. "Going out of our comfort zone and proving time and time again that we have the talent and drive to play with the big boys.
"'Hunchback' takes that even a step farther. A mammoth of a show with so many amazing moving parts that should not fit in our space is excellently worked by our cast and my amazing directorial partner Dori. I am wowed every single time I see this show. If you miss this show, you are truly missing an experience."
The Pine Tree Playhouse performances of "The Hunchback of Notre Dame" will be presented at the theater at 230 S. Congress Street in Winnsboro, SC on Oct. 13, 14, 20 and 21 at 8 p.m. with matinee performances on Oct. 15 and 22 at 3 p.m.
Tickets are $20 and are available at the door or by visiting www.pinetreeplayhouse.com.
"The Hunchback of Notre Dame" is presented through special arrangement with Music Theater International.
Disclaimer: The musical rendition of "The Hunchback of Notre Dame" accurately reflects Victor Hugo's 1831 tragedy, rather than Disney's PG-rated 1997 film. Viewer discretion is advised for darker themes.