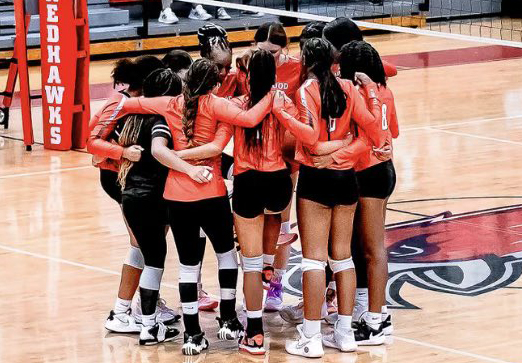 BLYTHEWOOD – This fall the Westwood volleyball team has had a hard time finding out how well it will do in late sets.
That's because just three of their matches this year have gone to four sets, and no match has gone to a fifth set. Winning matches in three sets is the mark of this year's team, said head coach Ciji Van Tyne, as previous teams have had trouble closing out games.
"I think they're doing a lot better with closing out this year and winning those three-set games," Van Tyne said. "In the past we would be up 2-0 and would not be able to finish. We would get a little relaxed, but this year they weren't. They wanted to finish, get it done."
The Redhawks have got it done in a big way.
Westwood (15-1, 10-0 Region 5-4A) clinched its first region championship since the Redhawks won three straight region titles from 2017-2019. They have earned a first-round bye in the 4A playoffs that begin today, and will play the Myrtle Beach-Hilton Head winner Tuesday.
Coach Van Tyne stated that the team statistics may seem relatively light because of so many three-set sweeps, but the Redhawks have plenty of data to indicate that Westwood will be a tough obstacle in the postseason.
Junior Camryn Jeffrey is the team's top killer, racking up 192 kills and a 50.7 kill percentage. Senior Damia Ellis, a transfer student from Blythewood, has 82 kills, but also a 50.3 percentage. Senior Aria Caldwell has 87 kills and a 36.4 percentage.
Caldwell is the team's leading server, with 35 aces and a 17.6 ace percentage in 199 serve attempts. Ellis has 29 aces in 270 attempts for a 10.7 percentage.
Senior Maya Jones leads the Redhawks in digs with 180. Both Caldwell and Jeffery have 168 digs, and Ellis has 109.
Ellis has made her name as the team's setter, with 295 assists. Around Ellis is a team that's heavy on experience—seven of the 11 players on the roster are seniors, three are juniors and one is a sophomore.
"We are a very experienced team," Van Tyne said. "They're having a really good time this year. They've done a good job region-play wise. We should have all the skills to close games out. It's just a matter of making sure our weaknesses are covered, and when we go through a rough patch, we're not crumbling, but powering through it."
This year's team is so experienced, in fact, that Van Tynes said her job is a little bit easier than in previous years, when Westwood finished second behind region champion Lugoff-Elgin. This year the Demons were the ones who weren't as experienced, and Westwood swept them in two 3-0 victories.
"They can readjust on the court," Van Tynes said about the Redhawks. "They've done that a lot, talk with each other on the court and get readjusted and fixed a lot of times without having to take a time out."
No matter how the playoffs shake out, with defending 4A state champion North Myrtle Beach, Lucy Beckham, and region 5-4A runner up A.C. Flora in the lower state bracket, Westwood's season has been a success, Van Tyne said. What she hopes is that more players will try out for the team in the offseason.
"Our program is getting a little smaller because of charter schools and private schools, and it's getting harder to find people who play," Van Tynes said. "But the people who we do get have played club volleyball and other volleyball programs. It's just a matter of having the numbers. The kids who have come out are here working hard and dedicated. They know what to do and I think they can do well."