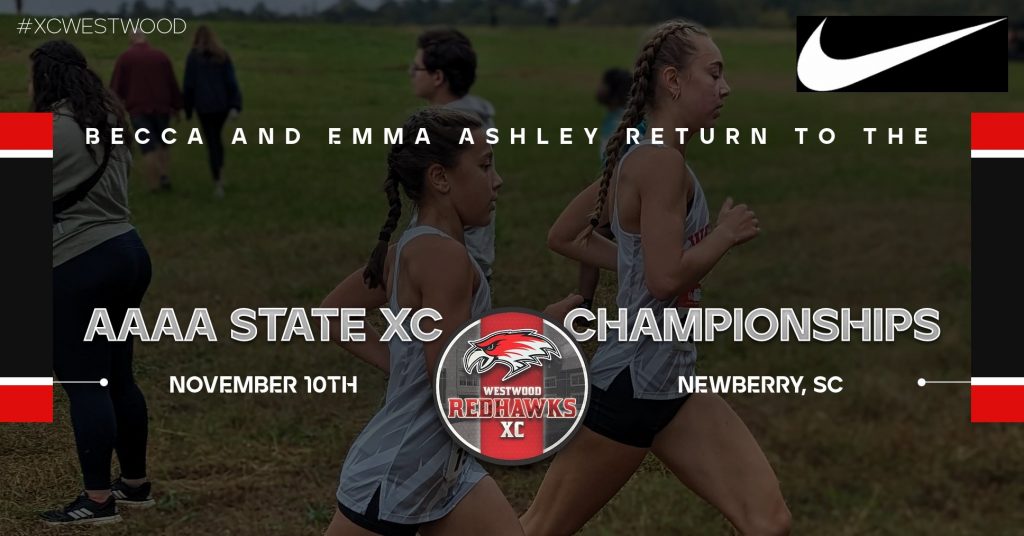 NEWBERRY – Though neither of Westwood's cross country teams finished in the top 8 at the SCHSL 4A State Qualifier meet at Newberry College last Saturday, two Westwood runners will move on to the Championship meet on Saturday.
Sisters Emma and Rebecca Ashley both finished in the top 20 at last Saturday's races, making them eligible to compete in the 4A girls Championship meet.
Emma Ashley, a junior at Westwood, finished in fourth place out of the 115 runners in the qualifying race. Emma finished at the 19:53.60 mark, just behind Miah Johnson of Riverside (19:53), and Greenville High runners Kylee Mast (19:30) and Cara Grace Phillips (19:15.90).
Rebecca Ashley, an eighth grader at Muller Road Middle, finished in 11th place at the 20:22.70 mark. Both sisters bested their time on the same course from a mid-October run at the Bob Jenkins Coaches Classic.
Emma and Rebecca will compete at the State meet on Friday, Nov. 10 at 11 a.m. The meet will also be held at Newberry College's cross country course.
State Qualifiers
Though not in the top-eight, the Redhawk girls' team had a solid 10th place finish out of 16 teams at the qualifying meet. Following the Ashley sisters, ninth grader Christina Tyndall finished at 23:35.50 for 54th place out of 115 runners. Abigail Forrest finished at 23:57.10. Jamiya Carter ran a 24:01.60, and Marguerite Ridgeway finished at the 28:12.20 mark.
Westwood's boys team finished 14th of 16 teams in their race. Sean Bullock led the way with a 19:42.20 finish. Tristen Hudson came in at 19:53.70; Blaize Owen finished at 21:03.00. Bryce Washington ran a 21:11.30 time, and Alexander Drakes finished at 21:43.40.