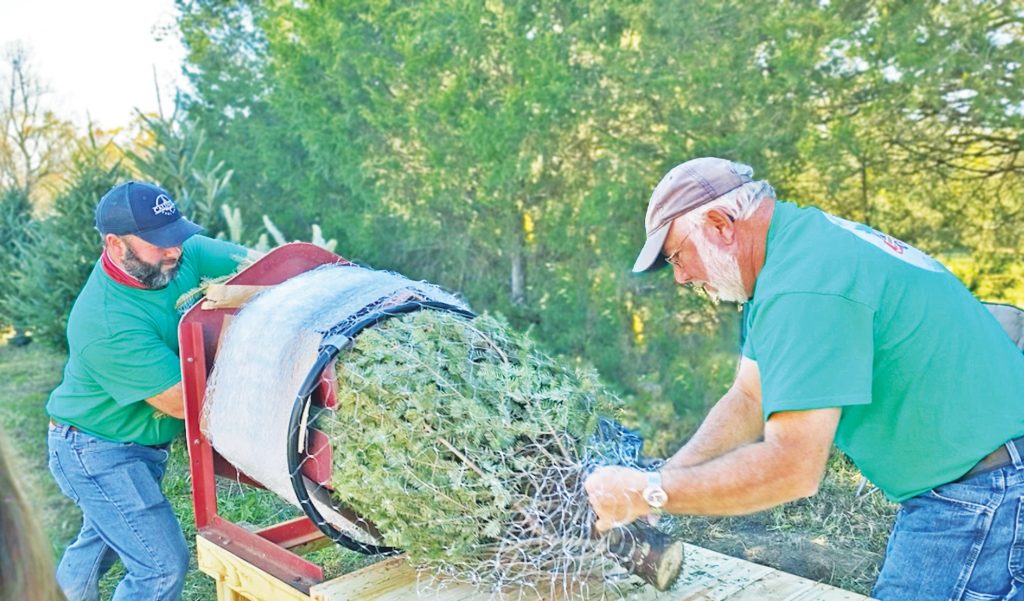 FAIRFIELD COUNTY – In the five years since the start of the Caldwell Tree Farm in Winnsboro, helping people to get the perfect Christmas tree has become an annual tradition for Jenny and Mac Caldwell, who run the farm.
"It's been a lot of fun. There have definitely been families that have come every year, and we are now part of their Christmas tradition, and that's just a really fun thing to be able to offer to people here in the area," says Jenny Caldwell.
"On Black Friday it's a crazy, crazy day," she says. "Half the town shows up and just hangs out, seeing people they haven't seen in a long time, and of course get their tree, but they also stand around and talk and have hot chocolate and gather around the fire and just catch up, so it's just a really fun way to kick off the season."
Black Friday – the day after Thanksgiving and the traditional kickoff of the holiday shopping season – is also traditionally a big day for putting up Christmas decorations.
And while the trees they're selling this year are Fraser firs from the mountains of North Carolina, Caldwell says they've been planting hundreds of Christmas tree seedlings every year since January 2019 – and their hope is that next year, people will be able to choose and cut trees directly from the farm.
The path that brought the Caldwell family to this point began in 2015, she says, when they moved from Boston to Winnsboro, her husband's hometown.
At that time, he had just finished his master's degree and she was pregnant with their second child – and so it seemed to them like it was the right time to move back home.
"In 2015, my husband and I moved back to Winnsboro, to his [late] grandfather's property, and in 2019 we bought it," she says.
"It's 17 acres, and we were trying to decide what to do with this land that his grandfather had owned and farmed in different capacities… and in 2019 we planted our first Leland Cypress trees, and every year we plant a new batch of trees. We plant Leland Cyprus and Murray Cyprus and Carolina Sapphire and Virginia Pines and White Pines."
These, she says, are species that are adapted to the local climate. Fraser firs – a popular species that's grown in North Carolina and some adjoining states – requires the cooler, higher-elevation climate those areas offer.
While the Christmas tree season may seem relatively short, Caldwell says growing Christmas trees is a year-round job.
Each winter, they plant hundreds of foot-tall seedlings. Then, throughout the growing season, there's the constant battle of keeping the grass at bay so it doesn't choke out the baby trees.
Once they get to be around three years old, Christmas trees must be sheared every year to make sure they grow with a classic Christmas tree shape. And there's also the need to prevent insects and disease and stay on top of any other issues that could arise.
Now a family of five – with two sons (ages 10 and 7) and a daughter (age 5), Caldwell says they're having a fantastic time – and she's looking forward to seeing all the people who come out to buy Christmas trees and handmade wreaths, which are made with greenery that comes from the farm.
She says the trees from North Carolina are given a fresh cut when they arrive and put directly into water to keep them fresh until someone takes them home.
"That's important for us: because then, when you come to buy one, you're getting a tree that really is fresh – it just hasn't been sitting in a box store parking lot getting dried out for weeks."
Also, she says, they drill a hole in the bottom of each tree so that it's easier to set up on a tree stand.
During the holiday festivities this year, the Caldwell's are also hosting an angel tree for Fairfield County seniors in need.
"It's Christmas, so it's just a really fun time," Caldwell says. And for her family, "It's just a time of seeing your regular customers come back and getting to know new ones – and everyone drinking hot chocolate and, really, just sharing the joys of Christmas."
The farm will be open Friday, Nov. 24 and Saturday, Nov. 26 from 9 a.m. – 5 p.m. Beginning Nov. 27, hours will be Mon. – Fri. from 2 – 5 p.m. and 9 a.m. – 5 p.m. on Saturdays.