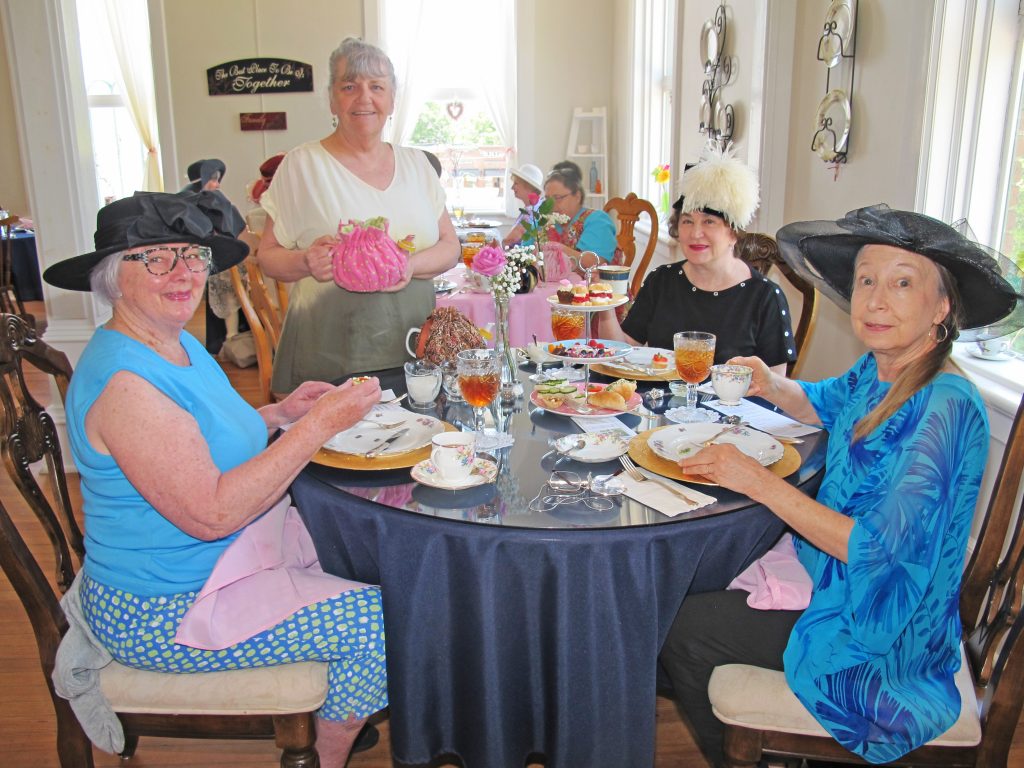 RIDGEWAY – When Carol Allen, 73, died last Wednesday, Nov. 1, from metastatic melanoma, her death left a huge hole in Ridgeway's heart and a legacy that few entrepreneurs ever match.
She is the unassuming woman who opened a tea room that catapulted Ridgeway into the tourist mecca it is today.
Before Allen opened Laura's Tea Room in the little town in 2008, it was a quiet, largely undiscovered town with an ol' timey hardware store, a nice furniture store, an occasional restaurant, and an auction house, but little else to attract outsiders.
Today Ridgeway is a charming town with a number of successful businesses, a bustling main street and a handful of top Municipal Association awards for its collective entrepreneurship and renewal efforts.
Allen's tea room has been the town's behind-the-scenes economic development engine, attracting retail shops, restaurants and other businesses that tourists now flock to throughout the year.
"Laura's Tea Room became so successful and had such a draw, that it made other business owners see potential in the town and want to come here," said Ridgeway's Mayor Heath Cookendorfer. "She was definitely the spark that ignited our business boom, and I think that what she did for us will live on."
While few people ever realize their dream, Allen's friends and loved ones are comforted knowing that Allen realized hers and lived it for 15 years as proprietor of Laura's Tea Room.
She always had a penchant for hand crafts and gifty items, and Allen honed her entrepreneurial skills first in a gift shop she opened in Blythewood around 2000 in a little yellow house in front of and adjacent to the IGA shopping center. She called her business Candlelight Cottage. There she sold crafts, candles, smoothies, hand-sewn items, small gifts, and ventured into juried craft events that she held at the former Blythewood Community Center across from the Food Lion. Allen frequently commented that she wasn't getting rich, but she loved what she was doing.
Then, one day in 2005, the owners of The Thomas Company – a longtime family-owned mercantile in Ridgeway – stopped by the Cottage to browse and buy. Impressed with Allen's shop, they shared that they were in the process of restoring an historic two-story building with a mezzanine, circa 1885, in Ridgeway, and were looking for someone to rent it for a business.
While Allen was fully prepared in her heart and mind, if not in her pocketbook, for the opportunity that presented itself, those close to her tried to dissuade her from getting in over her head with such a big building.
They pointed out that it would take an enormous amount of stock to fill what seemed miles of original wood shelves that lined the walls, two floors would need furnishings, not to mention all manner of tea paraphernalia she would have to purchase. She would also need a large clientele in order to make a profit and a substantial staff to serve that large clientele.
Allen didn't see the obstacles, only the possibilities. She was full of confidence and dreams and sallied forth.
"This is perfect," she told a friend. "It's what I've always wanted to do."
Three years later, in July of 2008, she opened Laura's Tea Room with the help of her mom, Eleanor Keene, who affectionately came to be known to Tea Room customers as Grama. Keene manned the kitchen, ironed tablecloths, and stacked the three-tiered tea trays with delectables. Allen shopped, planned meals, managed the business, and was a stickler as to how customers were to be served.
She named the tea room after Laura Thomas, the last member of Ridgeway's Thomas family to work in the mercantile before it closed in the 1990's and honored the family's heritage by calling her several businesses in the building The Thomas Company.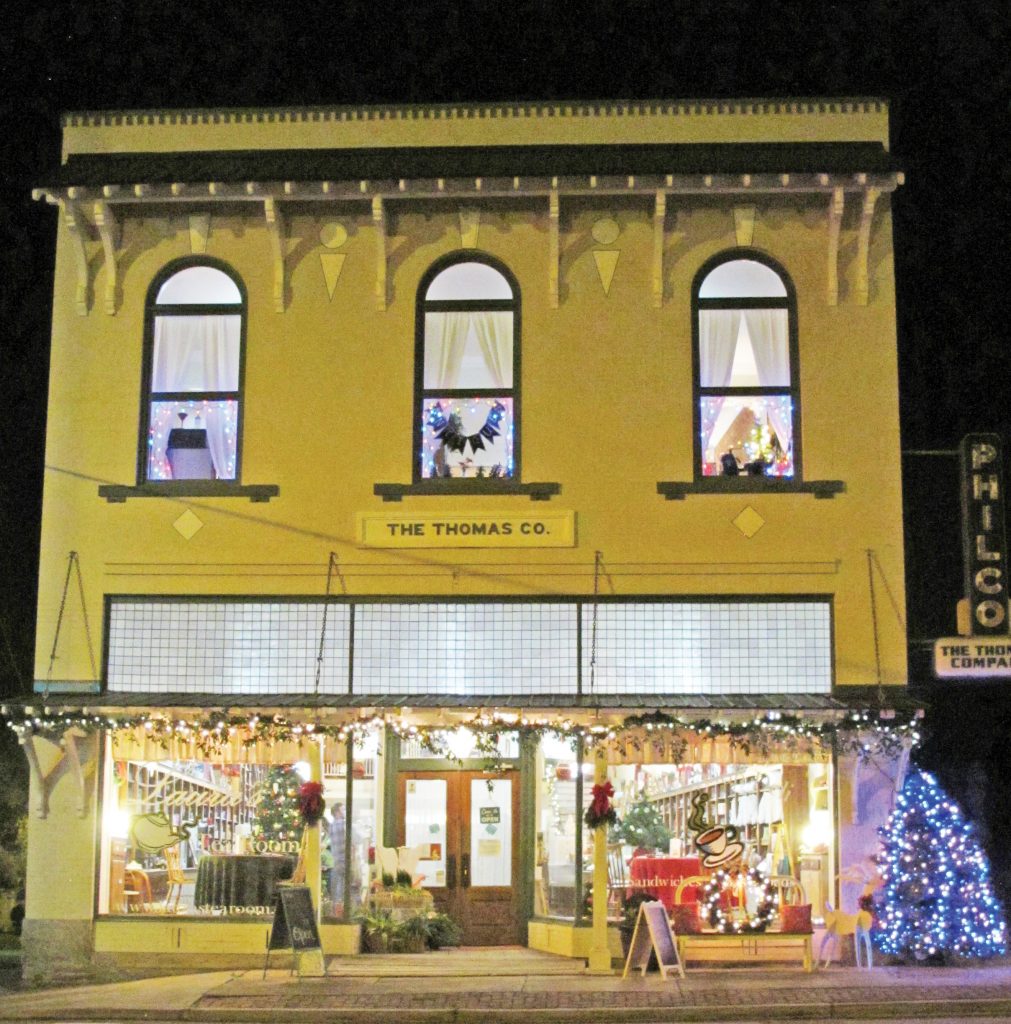 From its inception, Laura's Tea Room drew tea room enthusiasts from not only the Midlands, Charlotte and Charleston but from across the United States and even from Europe. License plates from far away states are frequently spotted in front of her building.
The business has been featured in national tea room magazines and local media. But it was probably Allen's fierce attention to building followers on the Tea Room's Facebook page that drove her business's success more than any media coverage. It has more than 12,000 active Facebook followers and over 11,000 likes.
"My mom and I have been collecting tea cups and tea pots for as long as I can remember," Allen later said. "Now most of them are used in the tea room, and all of them have a story! This is truly a family business, and even the employees become family very quickly!"
On her Facebook, Allen explained the phenomenon of the tea room experience.
"Having tea at Laura's Tea Room is more than just great food, properly brewed tea and flavored iced tea," she said. "It's an experience of a lifetime.
"It all starts the moment you climb the stairs to the mezzanine to wait for your table to be prepared. You and your guests can try on our many vintage hats until you find just the right one to wear to tea. Of course," she said, "you don't have to wear a hat to tea, but when you see all the fun it is, you just might want to! Don't forget to bring your camera, and feel free to ask any of our staff to take your pictures. We have some great props for you also, like large picture frames to pose in or Queen Elizabeth to pose with!
"Once your table is ready, you will be invited upstairs to pick a tea cup to use from our hundred plus vintage cups," Allen continued. "Having fun yet? We know you are, and the first cup of tea hasn't even been poured yet! Our staff is so dedicated to you enjoying your visit, you will be pampered beyond anything you have ever had before. This whole experience is about you having a great time."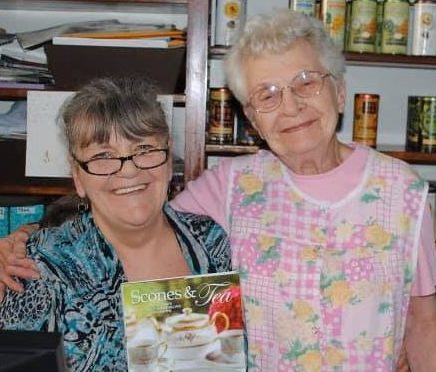 As the Tea Room began to bask in its own success, Allen was able to add a lunch café on the ground floor of the building, then she opened a second business, a consignment store called the Cotton Yard Market, across the street. After selling that business, she started a second consignment store called Grama's Attic, named after her mom who continued to work in the tea room kitchen until her late 90s. Grama's Attic recently expanded into an area in Ruff's Furniture Store.
Along the way, Allen was able to purchase the magnificent building that houses the Tea Room. But with all her success, she was still hands on, working long hours, always adding new things to the menu and looking for new ways to increase and please her loyal clientele.
A week after Allen's death, her family – husband Kelly, daughter and son-in-law Kelly and Craig Quinn, grandson Shamus, and her 'tea gang' – in their bereavement, carry on Allen's work. The tea room is bustling still, as mourners continue to call and stop in to pay their respects.
Celebration of Life
Craig Quinn announced earlier this week in a Facebook post that on Sunday, Nov. 12, from 2-4 p.m., a Celebration of the Life of Carol Allen is planned in the place Allen loved most – Laura's Tea Room.
"This is an informal event so please feel free to drop in at any point, we look forward to seeing you here this Sunday," he said.