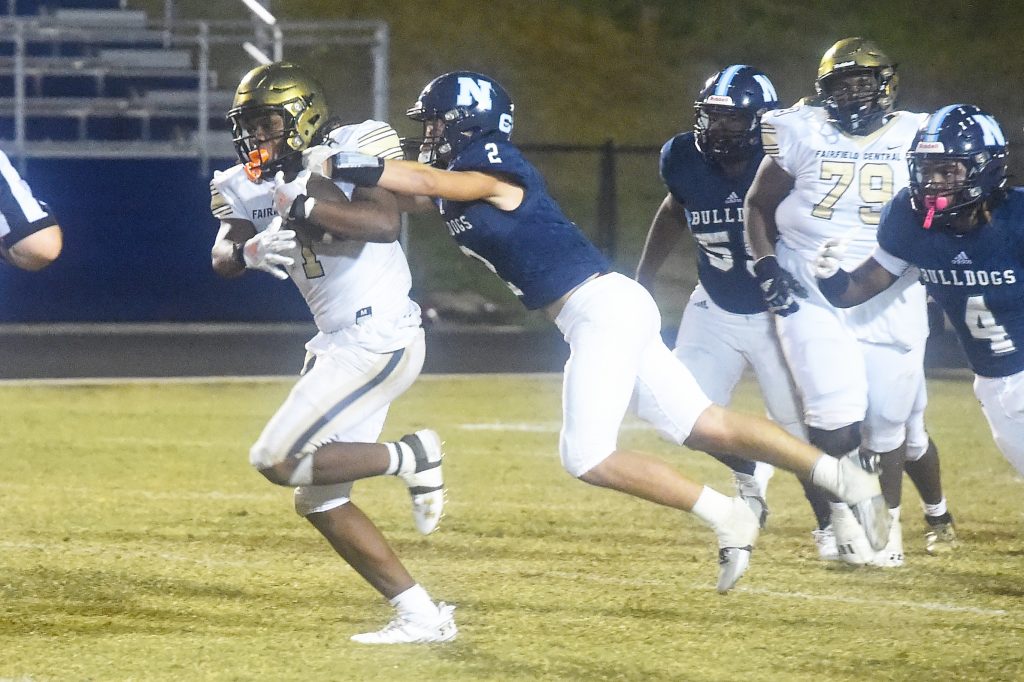 NEWBERRY – The fight for second place in Region 4-2A came down to Fairfield Central quarterback Cameron McMillon and wide receiver Roger Burns Friday night.
Newberry was hardly a factor in Fairfield Central's 35-7 victory at the Bulldogs' Mike Ware field.
The sophomore McMillon passed for 394 yards and three touchdowns.
Burns, a senior with 10 catches and 242 yards going into Friday's game, caught all three TD passes and finished the night with 8 catches for 157 yards.
Fairfield Central head coach Demetrius Davis liked what he saw in the first half, but the immediate concern as the fourth quarter buzzer sounded was his team's scoreless effort in the second half.
"That's what we talked about at halftime, not relaxing and finishing. If we plan on making a run in this thing (as a No.2 seed in the 2A playoffs), we've got to be able to finish," Davis said. "But that's a good football team for them to be able to come up here and go down 7-0, and be able to go 35 unanswered points on the road. I'll take it. I'll take it every time."
Jamel Howse's 80-yard touchdown run on a reverse put Newberry up 7-0 three minutes into the first quarter. From there it was all McMillon, Burns, and Fairfield Central.
McMillon found Burns three times for long touchdown passes. Burns also scored on the defensive side when he scooped up a Newberry fumble and returned it 35 yards for a touchdown.
"Roger Burns played an unbelievable game," Davis said.
McMillon and Burns scored first on a 24-yard touchdown pass at the 7:02 mark of the first quarter that evened the score at 7.
The griffins scored again on the first play of the second quarter when McMillon fired a 15-yard pass to Burns.
The next two scores came off Bulldogs turnovers.
First came Burns' scoop and score to make it 21-7. Later, Fairfield Central intercepted a Newberry pass in the end zone, marched 80 yards on five plays that included a McMillon-to-Burns completion for 49 yards. Myles Robertson capped that drive with a 2-yard TD run.
McMillon slung a 60-yard bomb to Burns four minutes before halftime to make it 35-7 Griffins.
The sophomore quarterback accounted for 287 passing yards by the half. Burns' share was eight catches for 187 yards.
"For this game we had to lock in and do what we had to do," McMillon said. "We knew if we won this game we would have two home playoff games, and we had to lock those two playoff games in."
For as exciting as the first half was for Griffins fans, the second half devolved into a series of miscues and punts, and turnovers on downs for both teams. Fairfield Central saw a drive die out at the Newberry 25-yard line early in the fourth quarter. The Bulldogs drove to the Fairfield Central 6-yard line on that possession before the Griffins defense held.
"We started getting sloppy, which means we were playing relaxed," Davis said. "That gives me something that I can jump on their butt about next week."
The Griffins (8-2, 5-1) secured second place and will have a home game against Liberty (7-3), the third-place finisher in Region 1-2A Friday.
Should the Griffins win that game, they will play at home versus the winner of the Mid-Carolina-at-Silver Bluff matchup.
"We're going to be good going into the playoffs," McMillon said. "We relaxed a little bit at the end, but we're going to be good going into the playoffs."
Newberry (5-5, 4-2) plays Saluda at home Friday. The Tigers (7-2) finished in a 3-way tie with Silver Bluff and Batesburg-Leesville in Region 3-2A. Silver Bluff owns the tiebreak for second place, with Batesburg-Leesville getting the No.2 seed and Saluda getting the No.3 seed.
Gray Collegiate Academy was guaranteed a first-place spot when the other schools in the region opted to forfeit games to the War Eagles, citing the school's recruiting top athletes from around the Midlands provided an unfair competitive advantage on schools that were limited to athletes within their zones in their respective school districts.
So while Gray's region title was essentially resolved several weeks ago, Fairfield Central and Newberry fought for second place.
"Hopefully we can play good, we can get some momentum going and see what happens," Davis said.
Fairfield Central – 7-28-0-0 – 35
Newberry – 7-0-0-0 – 7
First Quarter
N -Jamel Howse 80 run (Daniel Teran kick) 8:50
F – Roger Burns 24 pass from Cameron McMillon (Erik Martinez kick) 7:02
Second Quarter
F – Burns 15 pass from McMillon (Martinez kick) 11:54
F – Burns 35 fumble return (Martinez kick) 10:57
F – Myles Robertson 2 run (Martinez kick) 6:04
F – Burns 60 pass from McMillon (Martinez kick) 3:52
FC NHS
First downs 17 12
Rushes-Yards 28-100 34-164
Passing yards 392 113
Att-Com-Int 26-22-0 18-7-1
Fumbles-lost 1-0 2-1
Penalties-yards 8-80 6-49
Punts-Avg 3-39.3 5-33.0
RUSHING
F-Myles Robertson 8-45, Steven Gadsden 7-33, Cameron McMillon 3-(-10), Dre Walker 2-2, Roman Davis 2-(-7), Kaden Diggs 1-3, Derek Cammon 5-34. N-Kenton Caldwell 10-40, Jamel Howse 3-80, Cole Hutchinson 8-7, B.J. Jones 9-13, Careem Gibson 4-24.
PASSING
F-Cameron McMillon 22-26-0. N-Kenton Caldwell 7-18-1.
RECEIVING
F-Roger Burns 8-157, Kristian Golden 3-70, Myles Robertson 1-20, Kaden Diggs 7-85. N-Jamel Howse 3-51, Noah Mills 2-34, Isaiah Glymph 1-9, Caleb Levy 19.