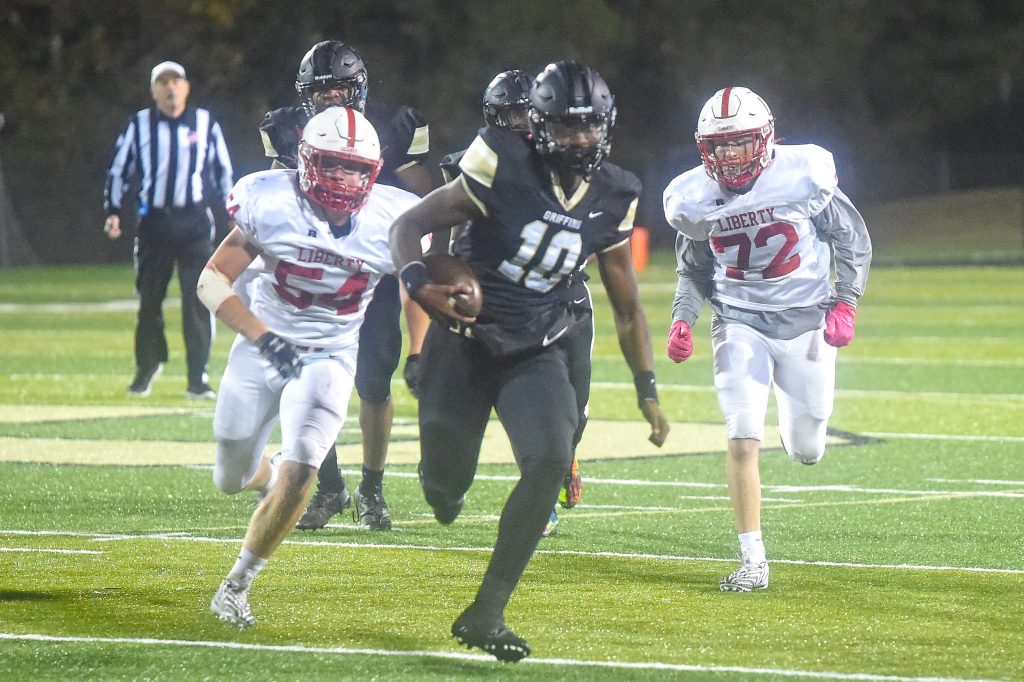 WINNSBORO – The Fairfield Central football team had a simple mission Friday night in the first round of the 2A playoffs: play a full game.
The Griffins, who failed to score in the second half of their 35-7 win at Newberry the week before, never stopped going for the end zone against Liberty, and the defense contained a wily Red Devils offense in a 48-7 victory at E.K. McLendon Stadium.
"We executed when we needed to execute and we made the plays we needed to, which we felt like we could coming into the game," Fairfield Central head coach Demetrius Davis said. "You never know when you're going to get a foolish penalty like we had on that first possession (a long Kaden Diggs run was called back because of an illegal use of hands penalty) but we were able to recover."
Fairfield Central (9-2) had far less time of possession than did Liberty (7-4), but the Griffins worked efficiently. All seven of their possessions ended with touchdowns, and Fairfield Central ran just 40 offensive snaps to Liberty's 65.
"Our guys played well, and our defense did a good job as well," Davis said. "That's a good football team. That quarterback Logan (Smith) can play."
The Red Devils with Smith under Center showed a lot of versatility in going from shotgun spread formations to wing-T formations, among other looks. But while Smith was able to run for an occasional first down, the Griffins defense kept him and the rest of the Liberty skill people locked up.
Sophomore quarterback Cameron McMillon was little match for the Liberty secondary. McMillon was a perfect 13-for-13 in passing for 209 yards and three touchdowns. Backup Ford Davis kept the night perfect with a completion the only time he passed.
Kristian Golden had four catches for 84 yards and two touchdowns. Kaden Diggs had five catches for 98 yards and a score.
TyDerion Grier had just 10 carries, but those rushing attempts netted him 137 yards and three touchdowns.
Fairfield Central absorbed a long Liberty drive to start the game and forced a Red Devils punt.
The Griffins took over at their own 17-yard line and eventually faced a third-and-9 at the Liberty 46. McMillon lofted a high pass that fell softly into the hands of Golden, who ran the rest of the way for a 46-yard touchdown pass in the final minute of the first quarter.
McMillon and Golden connected again early in the second quarter, this time for a 79-yard TD pass play that gave the Griffins a 14-0 lead.
Liberty finally got on the scoreboard when Smith scrambled left, scrambled right, and hit a diving Mason Davis in the end zone for a 5-yard touchdown pass with no time on the clock. After Davis's extra point, the teams headed to the locker rooms with the Griffins holding a 21-7 lead.
The Griffins opened the second half with Grier capping a quick possession with a 51-yard touchdown scamper.
Fairfield Central's next two possessions in the third quarter lasted a combined five snaps. Among those plays McMillon found Diggs for a 27-yard touchdown pass and Grier broke free for a 27-yard rushing score.
Steven Gadsden ended the Griffins' only fourth-quarter possession with a 42-yard TD run.
The Griffins play host to Silver Bluff (8-3) Friday. The Bulldogs knocked off Mid-Carolina 47-6.


Liberty – 0-7-0-0 – 7
Fairfield Central– 7-14-20-7 – 48
First Quarter
F – Kristian Golden 46 pass from Cameron McMillon (Eric Martinez kick) 1:08
Second Quarter
F – Golden 79 pass from McMillon (Eric Martinez kick)
F – TyDerion Grier 1 run (Martinez kick) 1:39
L – Mason Davis 5 pass from Logan Smith (Davis kick) :00
Third Quarter
F -Grier 51 run (kick failed) 9:37
F – Kaden Diggs 25 pass from McMillon (Martinez kick) 5:26
F – Grier 27 run (Martinez kick) :52
Fourth Quarter
F – Steven Gadsden 42 run (Martinez kick) 5:31
LHS FC
First downs 15 19
Rushes-Yards 41-149 23-260
Passing yards 49 216
Att-Com-Int 13-4-1 14-14-0
Fumbles-lost 1-0 0-0
Penalties-yards 2-10 6-50
Punts-Avg 4-34.5 0-0.0
RUSHING
L-Logan Smith 12-57, J.J. Hernandez 12-30, Kedall Jackson 8-18, Austin Smith 4-7, Ian Vallecillo1-7, Malachi Lomax 4-36. F-TyDarion Grier 10-137, Myles Robertson 4-34, Deonta Cook 3-14, Ford Davis 2-7, Steven Gadsden 2-49, Cameron McMillon 1-12, Kaden Diggs 1-7.
PASSING
L-Logan Smith 4-13-1. F-Cameron McMillon 13-13-0, Ford Davis 1-1-0.
RECEIVING
L-J.J. Hernandez 2-29, Mason Davis 1-5, Austin Smith 1-15. F-Kaden Diggs 5-98, Kristin Golden 4-84, Jalen Mozie 2-17, Dre Walker 1-8, TyDarion Grier 1-4, Christian Hingleton 1-5.