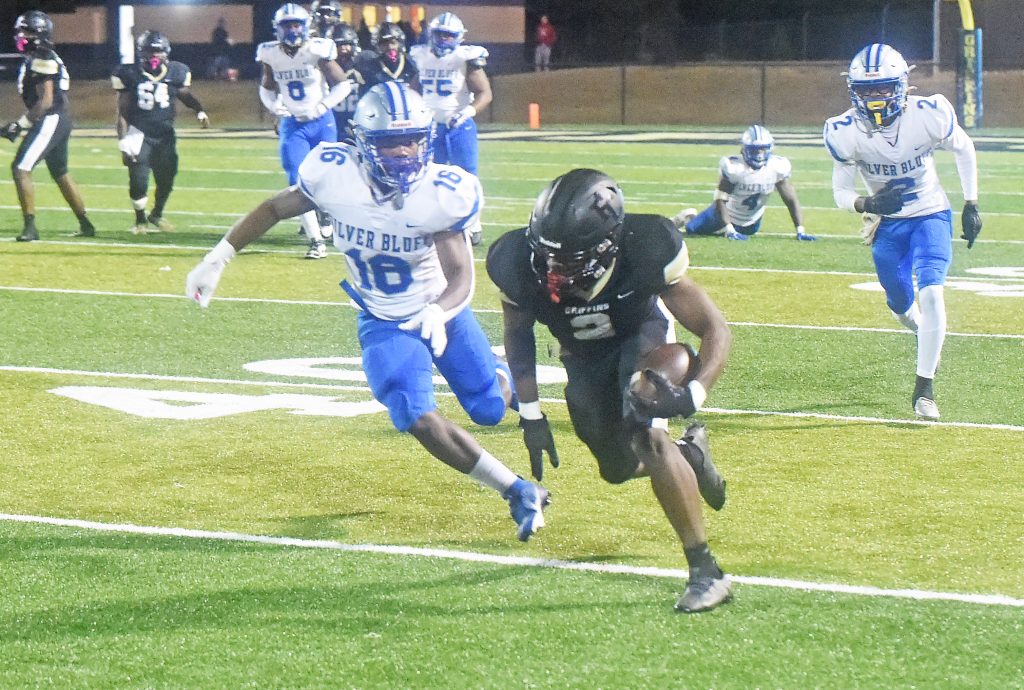 WINNSBORO – Fairfield Central's football 2023 season was full of exciting potential. With a second place region finish and only one region loss (a forfeit to Gray Collegiate), Fairfield looked to charge into the SCHSL Class AA State playoffs.
Last season, Fairfield Central opened the playoffs with a win over Newberry, then followed with a 22-8 second-round win over Silver Bluff. With Fairfield's 48-7 opening round playoff win over Liberty on Nov. 3, Griffin fans were looking for history to repeat itself as they hosted Silver Bluff for their second-round game last Friday.
But when Fairfield faced off with the Bulldogs, the battle for a round three game ended with a heartbreaking 22-21 final.
After a quarter of play, Fairfield led Silver Bluff 7-6. Griffin quarterback Cam McMillon connected with a receiver to extend the lead in the second quarter. Fairfield missed the point after, leaving them up 13-6 at halftime.
Silver Bluff had possession to open the third and punched in a score with just over five minutes left in the quarter. A successful two-point conversion put the Bulldogs up 14-13.
The Griffins responded quickly with another McMillon connection and followed with two-point conversion. Fairfield led 21-14 with a quarter left to play.
Looking for some momentum to stay in the game, Silver Bluff found it through defensive lineman Jordan Boyd. Early in the fourth, Boyd picked off a McMillon pass and returned it for a touchdown. The two-point conversion that followed gave the Bulldogs a 22-21 lead over Fairfield Central with over 10 minutes remaining.
Fairfield's fate was sealed as the seconds ticked off the clock. The loss ended Fairfeld's playoff run and their seven-game win streak (excluding the forfeit to Gray Collegiate).
Griffins Marvin Robertson, KJ Golden, and Jalen Swilley were selected to participate in the Palmetto I-20 Classic All Star Game, set to be played on Friday, Dec. 8 at Camden High School. Players in the game are selected from Richland Two, Kershaw, Sumter, Fairfield, Lee and Lancaster County Schools.