Brock, Fripp Take Council Seats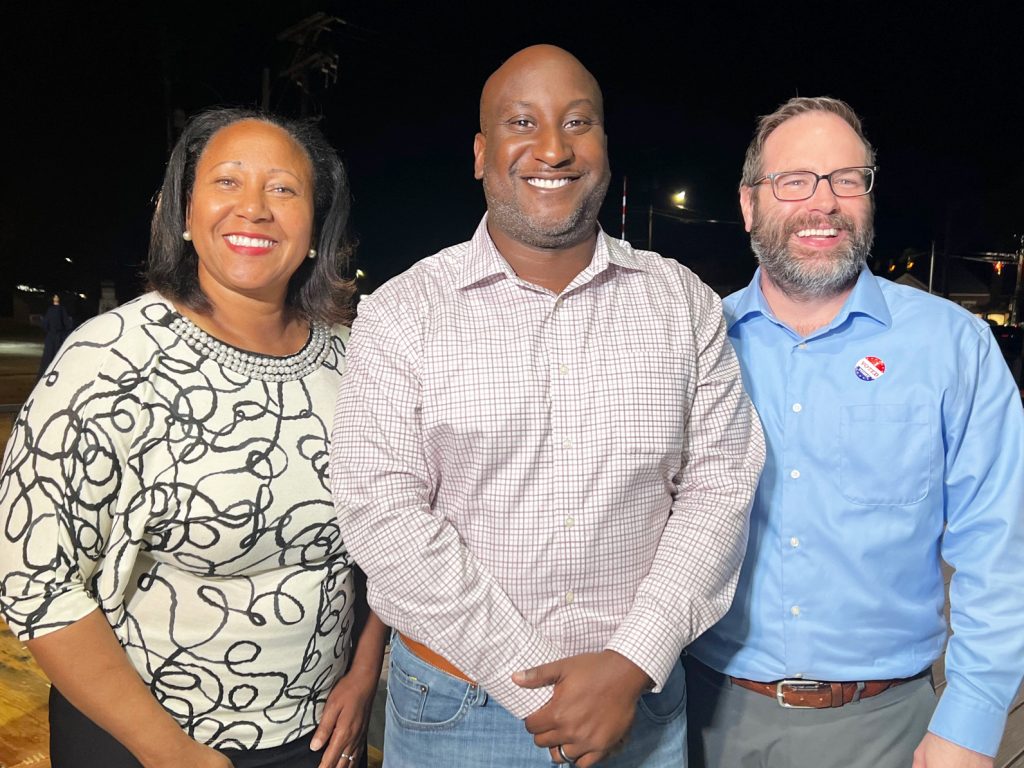 BLYTHEWOOD – Blythewood voters elected a new mayor and two council members Monday night in a hotly contested election.  Voters also defeated (454 – 323) a referendum on the ballot that called for voting districts.
Current Town Councilman Sloan Griffin bested current Mayor Bryan Franklin for mayor by a large margin. Griffin took 69.07 percent or 565 of the votes, with Franklin taking 30.32 percent or 248 of the votes.
Griffin took home the most votes of the six candidates.
Current Councilman Donald Brock was returned to his seat with 22.07 percent or 318 of the votes. Political newcomer Andrea Fripp brought in 38.10 percent or 549 of the votes cast.
Another political newcomer, Trisha Hovis, was unable to capture a council seat with only 298 votes.
With an 18.53 percent, or 267 of the votes, Baughman lost the seat he has held for 10 years.
The mayor's seat and the two council seats are for four-year terms. Griffin's elevation to mayor leaves an open seat on town council that will be filled by a special election on a date to be determined.
The races for the candidates largely played out on Facebook during the run-up to the election, with Franklin and some of his supporters posting divisive commentary about the other candidates.
Following the election, Griffin said he thanked God for the opportunity to serve the town.
"I also thank the citizens for entrusting me with four years to lead this town into a new day," Griffin said. "I'm looking forward to serving with council, and I welcome Councilwoman-elect Fripp, who I think will bring new energy to this council.
"We have a lot of work to do. I have two notebooks that are ready to go. From Day One, the books and doors of town hall are going to be open to the citizens," Griffin continued. "Transparency at town hall has been a problem. It's now going to be our goal. I ran on transparency, and I assure you there will be no more dark mysteries in this town hall.
"As the mayor, I don't work for Scout Motors. I work for the citizens. I need to know what's going on so that I'll be able to inform our citizens what's going on.
"You're going to see a new council that will answer the concerns of the citizens we serve. I am honest and I will listen," he said. "I have some priorities that I want to get done quickly, and I am going to expect better customer service from town hall for our citizens."
Brock also addressed citizens' need to know what their government is doing.
"I want to thank the citizens for electing me. I'm relieved this election is over and that the citizens in the town can rest easy knowing that healing and positive change are on the horizon," Brock said. "It's nice to know that Mayor-elect Griffin is going to promote transparency, something this town hall is desperately in need of. It's going to be a new day in Blythewood. "
"I know there are some real concerns on the part of some of our citizens about Scout and we are going to be sure the lines of communications are open between the Town, county and state officials. I still believe there are going to be more benefits than negatives with Scout, but we know there are some problems and concerns, and I promise that we are going to work with the appropriate departments and officials to get them fixed," Brock said.
"I am deeply humbled to have the privilege and responsibility of serving the residents of Blythewood as your councilwoman during this time of growth and development," Councilwoman-elect Andrea Fripp said. "Whether or not you voted for me, I am dedicated to work on your behalf to make your voices heard and to assure you feel respected. I believe together we can accomplish great things."
Mayor Bryan Franklin had not responded to The Voice's request for comment by press time on Wednesday afternoon. Councilman Eddie Baughman said he would make comments on Nov. 28.
The newly elected officials will be sworn into office at the Nov. 28 council meeting that will be held at The Manor at 6 p.m.
Referendum
In a 454 – 323 vote, Blythewood voters defeated a referendum that would have changed the method by which each town council person is elected from the at-large method of election to a method of election whereby each town person would be elected from single-member voting districts, excluding the election of the mayor.
The issue cannot be on the ballot again until the next town council election which will take place in two years.
---
By the Numbers
Mayor
Sloan Griffin                       565
Bryan Franklin                   248
Write-ins                             5
Town Council
Eddie Baughman              267
Donald Brock                     318
Andrea Fripp                      549
Trisha Hovis                        298
Write-ins                             9