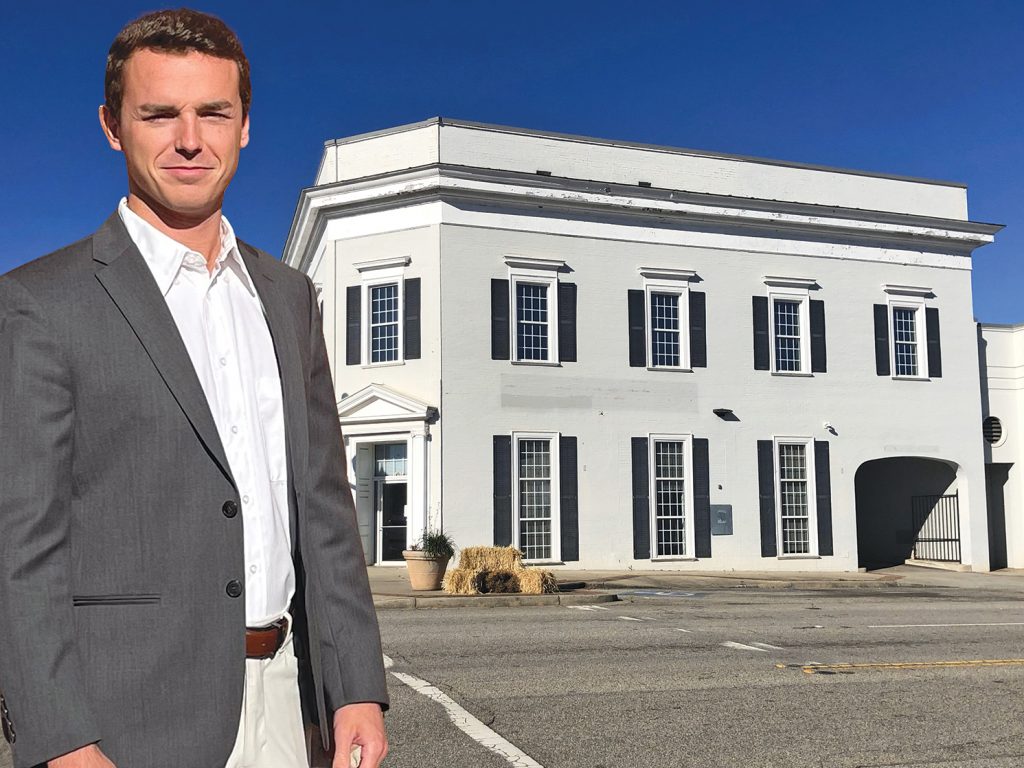 WINNSBORO – A new restaurant and apartment rentals are planned for downtown Winnsboro as early as summer 2024.
And they'll be located in the old Wells Fargo bank building at 101 N. Congress St.
Capstone Property Group, a real estate limited liability company headquartered in Gainesville, Georgia, emerged recently as the top bidder to purchase the building.
The sale isn't scheduled to officially close until the end of November, though a representative for Capstone said the purchase price was $430,000.
"When we saw the Wells Fargo building come up at auction, I knew it was something that I wanted to have," said Webb Yongue, a development coordinator for Capstone and a Winnsboro native. "It (Winnsboro) is such a historic, warm town. It just needs a little love put into it."
Winnsboro's small town atmosphere and Yongue's memories growing up in that environment made repurposing the old Wells Fargo building a logical business decision for Capstone.
While the exact type of restaurant and apartment setup remain in development, Yongue said residents could see business activity as early as the middle of summer 2024.
"I was born and raised in Winnsboro. My mom still lives a two-minute walk away from where the Wells Fargo bank building is," Yongue said. "There's such a desire for a nicer restaurant in town. This is something that the people of Winnsboro have been needing for years."
Fairfield County property records state the building's size is about 10,000 square feet and consists of two stories. The property has a market value of $386,100 and is zoned C1-Commercial, documents show.
Additionally, the property has a parking lot in the back that Yongue envisions serving future apartment renters. The entire site sits on about one acre.
Yongue said there's been no regret over paying above market value for the building, noting another interested bidder planned to open a hemp store at the site.
"We're really happy we got it. We overpaid for it certainly, but given the street presence it has, a restaurant would perform well there," he said.
Yongue said the deal also includes a second building located next door. He said it requires additional renovations, but envisions it possibly becoming an art gallery or serving some other eclectic use.
Wells Fargo has sat vacant for over a year. The vision is for a restaurant to operate on the bottom floor with the second floor dedicated to at least four apartments.
Winnsboro Town Manager Jason Taylor said the town also eyed acquiring the property, but said having a private buyer step in was preferable since fostering commercial growth downtown has always been the town's primary mission.
"We're glad somebody is aggressively investing in the building," Taylor said. "It brought such a strong price, which indicates they (the new owners) will do something good with it."
Taylor said the town already has over $1 million in grants and other funding in reserve to help redevelop downtown Winnsboro, including a recently acquired $25,000 grant from the Municipal Association of South Carolina.
Private redevelopment of the old Wells Fargo building complement's the town's ongoing revitalization efforts perfectly, Taylor said.
"We're looking forward to them doing good things that will help spur further revitalization downtown," he said.