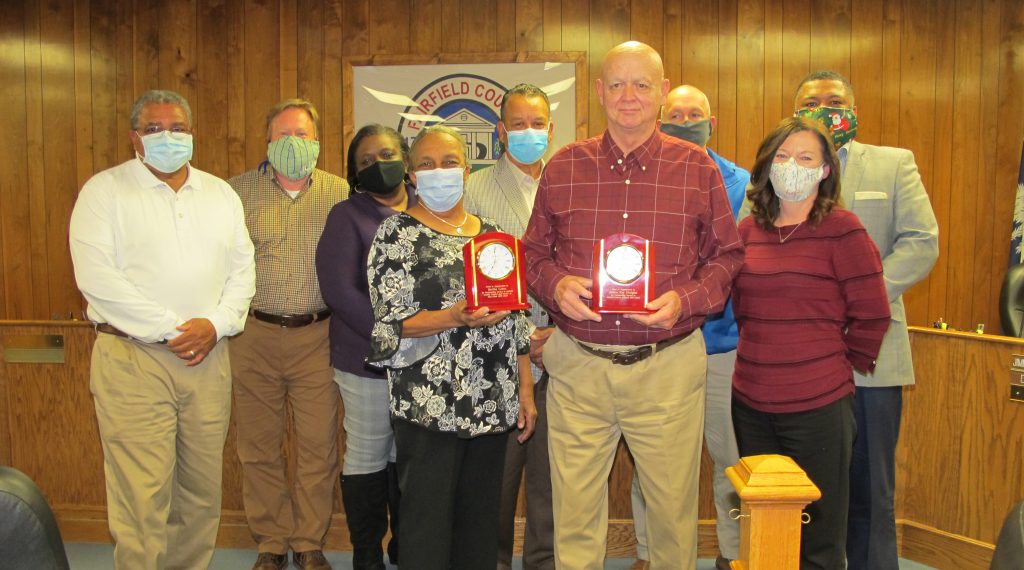 WINNSBORO – With a light agenda before them, Fairfield County council members took the opportunity to recognize and thank two outgoing council members – Councilwoman Bertha Goins (District 4) and Councilman Jimmy Ray Douglas (District 2) for their service to the county.
Chairman Neil Robinson presented plaques of appreciation to Douglas and Vice-Chair Goins who served on council from 2017 through 2020.
"Miss Bertha has been the Vice Chair for four years," Robinson said. "We came in together, and she's been something of a mother figure to me – always calling me and getting on me but also praying for me," Robinson said. "I like that. I loved working with you," he said, turning to Goins," and I hope that your future endeavors are blessed and that wherever you go the Lord will guide your footsteps."
Councilman Douglas Pauley echoed Robinson's comments.
"It's been my pleasure to work with you, Ms. Goins, and I wish you well. And Mr. Douglas, it has definitely been an entertaining experience," Pauley said, prompting laughter from the audience.
After telling Douglas that he appreciated his service on council, Councilman Clarence Gilbert told Goins that it was an absolute pleasure working with her.
After some good natured give and take around the dias, Goins and Douglas thanked their fellow council members and the administration for their support of the county and of council.
"And for those who have been voted in, God bless you, strengthen you and guide you," Goins said. "And if there's ever anything I can do to help you, please give me a call."
In other business, Council voted unanimously (9-0) to pass first reading of an ordinance to amend the budget for fiscal year beginning July 1, 2020 and ending June 30, 2021, to authorize the supplemental appropriation of funds to increase the fire service.
Council also voted unanimously to extend the county's emergency ordinance to declare a local state of emergency in Fairfield County and continue to conduct electronic meetings for the council and all county boards and commissions.
Two request subaction from the public works department – the purchase of a service pickup for road maintenance and the replacement of a 2006 Chevrolet Silverado for solid waste. Both were already approved in the budget and came in under budget.