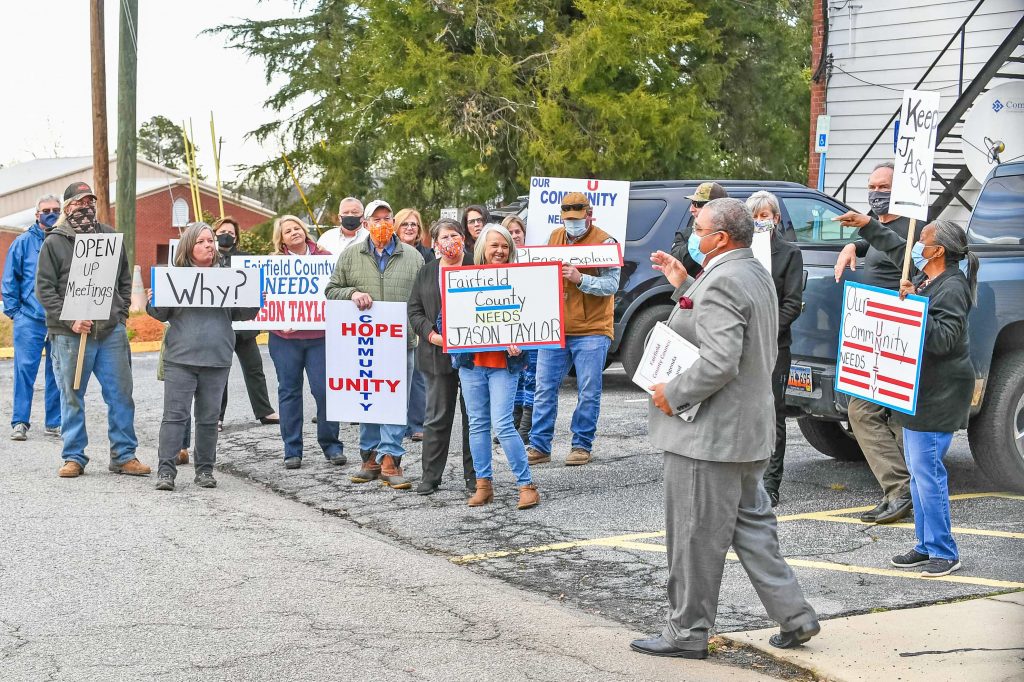 WINNSBORO – Politicking and personal attacks permeated yet another contentious Fairfield County Council meeting.
Following an announcement that county attorney Tommy Morgan was resigning, as well as efforts to shorten County Administrator Jason Taylor's contract, Councilman Douglas Pauley placed the blame of the recent turmoil squarely on Council Chairman Moses Bell.
"I had heard that our new council chair was involving himself in day-to-day operations of the county and creating a toxic work environment for County staff. I was hoping that was an untrue rumor, but I now have further reason to believe that it is true," Pauley said in a statement. "To the council members and our chair who are causing this upheaval in the County, just know that as long as you keep us in the dark, we will keep you in the light."
The latest upheaval comes as a bloc of four council members voted two weeks ago to trim Taylor's contract extension from 12 to five months.
The bloc consists of council members Shirley Greene, Mikel Trapp, Tim Roseborough and Bell. The four members have voted in lockstep since two new members, Greene and Roseborough, were seated Jan. 11.
Bell commented but declined to answer questions from The Voice after Monday's meeting before retreating behind closed doors to interview privately with the Country Chronicle reporter for about half an hour.
Earlier in the meeting, Bell defended the four council members' recent actions and characterized his critics as akin to the mob that carried out the Jan. 6 insurrection of the U.S. Capitol.
"We have gotten hate mail, called 'the swamp' and racists, scandalized on social media like we're going to get you all," Bell said. "Whenever a narcissistic person feels threatened, they will call you things that they themselves are. They will try to stalk you, slander you or discredit you."
Councilman Neil Robinson saw those voicing their concerns differently.
"Coming in to the meeting tonight was a first for me, seeing—not sure whether you call it a picket or just a show of love for the administrator, " Robinson said. "I've received more phone calls, emails and door knocks the past three weeks than I did the last four years I've been on council."
On Monday night, the bloc of Bell, Greene, Trapp and Roseborough banded together when voting on every agenda item of consequence, starting with the ordinarily mundane task of approving the agenda.
Over Bell's objections, Pauley moved to immediately adjourn, saying Morgan's resignation leaves a void that could legally expose the council during meetings.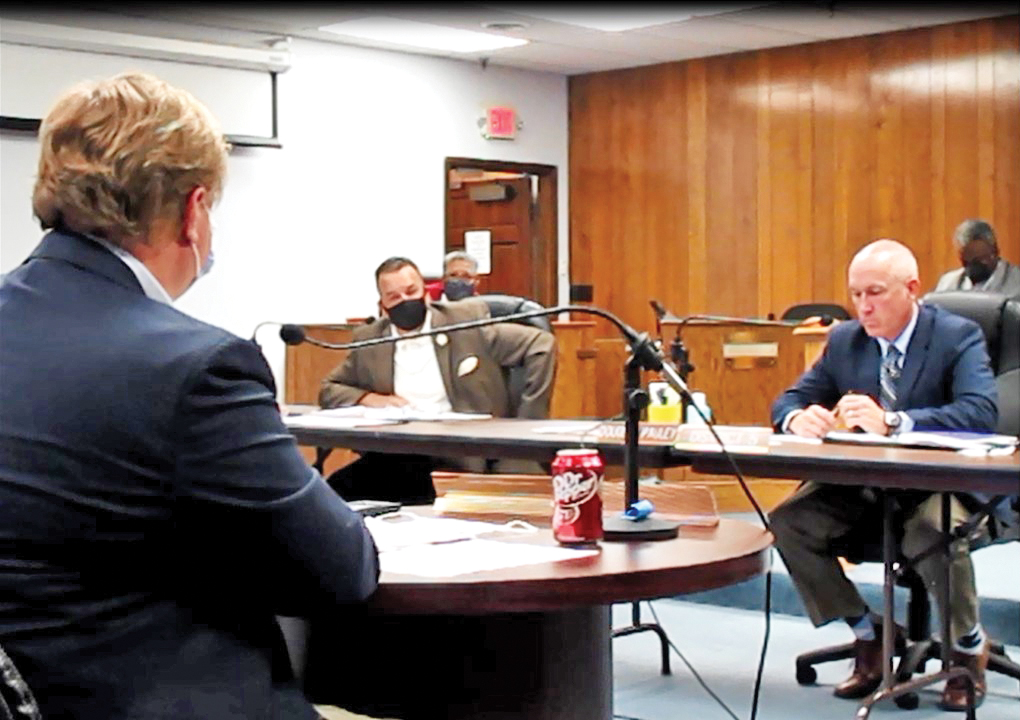 "Mr. Chairman, I think it is important that we conduct the business of the County in accordance with the law and considering that none of us are attorneys and the fact that we do not have the county attorney present tonight due to the words and actions of certain council members, I move that we now adjourn this meeting until we we have [an attorney]," Pauley said. "I remind council that motions to adjourn, upon receiving a second, according to our bylaws, are not debatable, and must go immediately to a vote."
The motion failed 4-3.
Next, after Bell called for approval of the Jan. 25 meeting minutes, Councilman Neil Robinson moved to table the minutes and revisit the five-month contract for Jason Taylor that was approved at the Jan. 25 meeting by a 4-3 vote. Robinson's motion failed with a 4-3 vote and the minutes were subsequently approved 4-3, with council members Clarence Gilbert, Robinson and Pauley opposing.
That vote to limit Taylor's contract prompted about 50 or so residents to hold a rally in support of Taylor outside the Fairfield County building before Monday's meeting. Later, during the meeting, Gilbert vociferously defended Taylor, calling for council to revisit his contract.
"Mr. Taylor, I would like to say to you that you are a visionary, a professional, a great listener and (an) extremely easy person to work with. I hope that you know that the feelings of a few, is not the consensus of many of the citizens of Fairfield," Gilbert said. "I have received non-stop phone calls and emails from citizens with concerns and support for you. You have been a blessing to Fairfield County."
Gilbert went on to say he felt blindsided by the vote to limit Taylor's contract.
"The prospect of a five-month extension was not discussed with the full council. Mr. Robinson, Mr. Pauley, and I were totally unaware of that idea before the motion was made," Gilbert added. "Anything that will affect the welfare of this County in such a great way should be discussed with the full council, not just among four members."
The council also voted 4-3 against allowing the public to resume attending council meetings as the Town of Winnsboro council allows in the Armory where there is ample place for social distancing.
Gilbert thought it was important for residents to be able to express public comments personally.
"We need to find a safe way for citizens to attend these meetings and share their concerns with the full council in person," Gilbert said. "I move that we table the motion in order to approve the further consideration of this item and have staff determine a safe way for citizens to attend and provide public comments at our meetings."
The 4-3 vote against was ostensibly for health reasons due to the COVID-19 pandemic.
In related matters, council members received a primer on the county-administrator form of government from Josh Rhodes, a representative of the S.C. Association of Counties, at the request of Bell.
Rhodes, the association's deputy director and general counsel, said in counties like Fairfield that use the council-administrator form, he cautions individual council members or the chair against unilaterally threatening an administrator with termination.
Rhodes also said state law generally empowers councils to hire or fire only administrators, clerks to council and attorneys, not individual employees or department heads.
"The administrator works for the whole council, not one individual," he said.
Rhodes further advised the council to consider multiple candidates before selecting a new county attorney.
Morgan, the county's current attorney, is resigning effective March 1, citing the political fallout resulting from the newly seated council.
"You're always going to find a more qualified candidate, with more applicants," Rhodes said. "When you go shopping for a car, you don't just close your eyes and pick one that's closest to you."