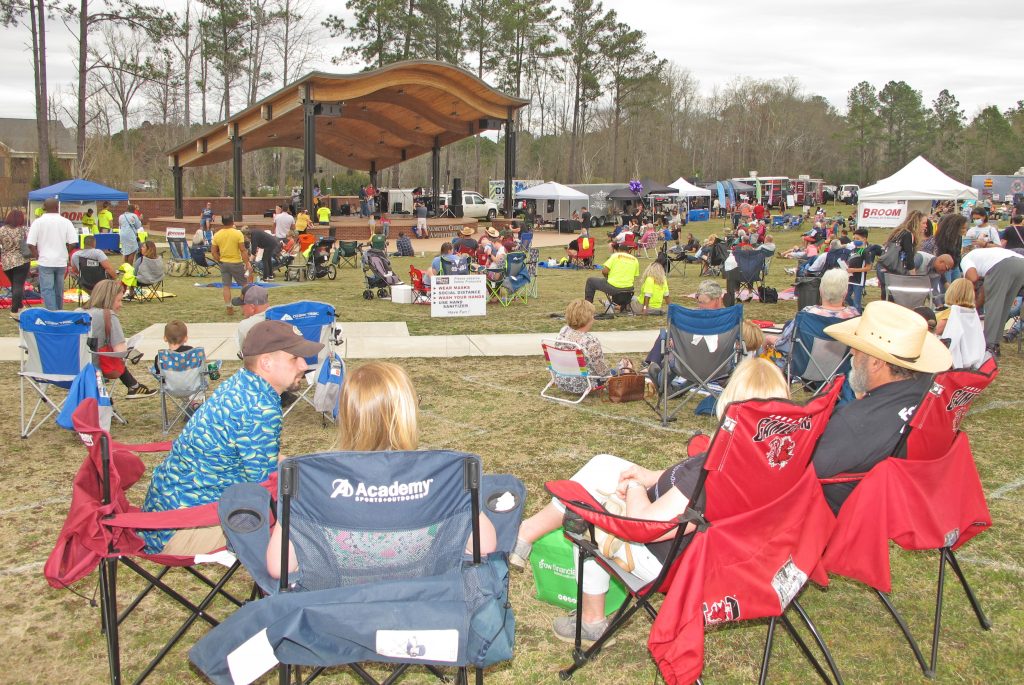 BLYTHEWOOD – The weather was perfect and after a winter cooped up, everyone was ready to go to the park for some fun. It was a good time at Blythewood's annual Doko Rib Fest cookoff in Doko Park.
With a crowd estimated by Blythewood Chamber of Commerce Director Phil Frye to be around 4,000, there wasn't a lot of social distancing and not many masks – the focus was more on the music, barbecue, beer and food trucks…and there were plenty of those.
There were 61 barbecue cook teams, including Blythewood Town Councilman Eddie Baughman's team, twenty professional teams, 30 amateur teams and 10 veteran teams. They lit their smokers and grills at 6 a.m. to vie for a total of $7,200 in prize money and trophies.
"We had about 60 volunteers manning booths and selling wrist bands and beer," Frye said, "and about 40 food vendors."
Frye said sponsorships and sales were great, but he didn't yet know how much the festival brought in. The Town of Blythewood funded the event with $19,000 up front money from the town's hospitality tax funds.
The ribs were judged by the Southern Barbecue network.
Music began at noon in the Palmetto Citizen's Amphitheater and continued until 10 p.m. with Commontime Bluegrass Band, Maddie Rean Band, Justin Anderson and Mason Horne.
There was a beer tent and a VIP tent next to the amphitheater.
"It was a great day," Frye said. "It was the biggest, most successful event the Chamber has ever had."
Rollin Smoke, 1st Place Professional

Sticks and Coals BBQ, 1st Place Amateur

Smokin' Rays, 1st Place Veterans
Broom Heating & Air employees, a main sponsor for the event, handed out $50 bills.

Rich McKenrick, center, with seven-month old Declan Zettel and his parents Dave and Kimberly Zettel.
Toni Watkins and Julie Phillips

Hamskins BBQ, Peoples Choice

Pitmaster George King
Blythewood Town Councilman Sloan Griffin, R2 school board member Theesa Holmes, County Council members Derrek Pugh (Dist. 2) and Gretchen Barron (Dist. 7) and R2 school board member Amelia McKie.
Natural Smoke BBQ, Eddie and Paul Baughman and Jeremy Cannon

Lisa Bray and Alan Meeks
Jill, Lee and Desiree Nelly and their dogs Rex, Roger and Watcher

Rick's Backstreet BBQ, 3rd place Professional

Town employees Walt Davis, left, and Rick Earnhardt.
Phil Frye (left) and Tony Crout (center right) presented awards to Brock Williams and Willy Pope of Bearded BooBooQue, who won 3rd place Amateur.
---
Competition Team Winners
Professional Division
1st: Rollin Smoke- $1,800, West Columbia, SC
2nd: Ultimate Tailgaters BBQ- $900, Aiken, SC
3rd: Rick's Backstreet BBQ- $450, Winnsboro, SC
4th: Killer B's- $250, Augusta, GA
5th: Getting' Piggy With It- $200, Little Mountain, SC
Amateur Division
1st: Sticks and Coals BBQ- $1,300, Stedman, NC
2nd: Back Home Smokehouse- $600, Albany, GA
3rd: Bearded Boo Boo Q, $350, Winnsboro, SC
4th: Lauth BBQ, $200, Lexington, SC
5th: G.O.A.T. Gardners BBQ, $150, West Columbia, SC
Veterans Division
1st: Smokin' Ray's Custom Bar- $450, Gilbert, SC
2nd – A Wing and a Prayer- $300, Blythewood, SC
3rd – The Big Red Barn Retreat- $150, Blythewood, SC
People's Choice Award
Hamskins BBQ- $300, Columbia, SC