Why did the County explore a new location for Offices?
The existing location of the county offices was retrofitted in the 1980s. It continues to deteriorate and has significant code issues including water intrusion, mold, and rodent infestation. The roof and mechanical equipment are in the most urgent need for repair that would cost the County more than $3M.
Additionally, the complex is too small for today's County operations. The current building is about 21,000 square feet, and the County needs significantly more space to accommodate staff and public space needs.
Currently, the County leases several buildings to house the services that do not fit into the current complex. Centralizing mission critical services not only provides easier access for the County's residents but will also save the County money from having to lease and maintain these various spaces.
What programing will happen in the new county offices in the Mt. Zion Institute Complex?
1st & Main Development is converting all six structures within the Mt. Zion
Institute for the County's uses:
• Auditorium will be restored to host public meetings such as Council meetings as well as community theater and any other public use the County desires;
• Cafeteria building is being renovated to host expanded early childhood education services;
• Classroom building will house the Sheriff's Department, 9-1-1 emergency call center, and administrative services such as County Administrator's office and Planning Department;
• Gymnasium is being restored with a new sports flooring for basketball, volleyball, Zumba and to enable indoor fitness classes for all County residents/ senior citizens;
• Gymnasium Annex will house a fitness room with exercise equipment and locker rooms for the Gymnasium
• Teacherage is being restored to house any use the County deems appropriate such as a historic museum and/or visitor's center.
Why is 1st & Main Development working on this project?
The Developer has family ties to Winnsboro and during trips to see family, he saw the deterioration of the Mt.Zion Institute (where many of his family members attended). With his experience of working on similar transformative community economic development projects, the Developer initiated conversations with the County in 2017 about strategies to transform the former school in a way that would benefit Fairfield County and Winnsboro while also saving the County money by leveraging various creative financing tools such as tax credits that are only available to private developers.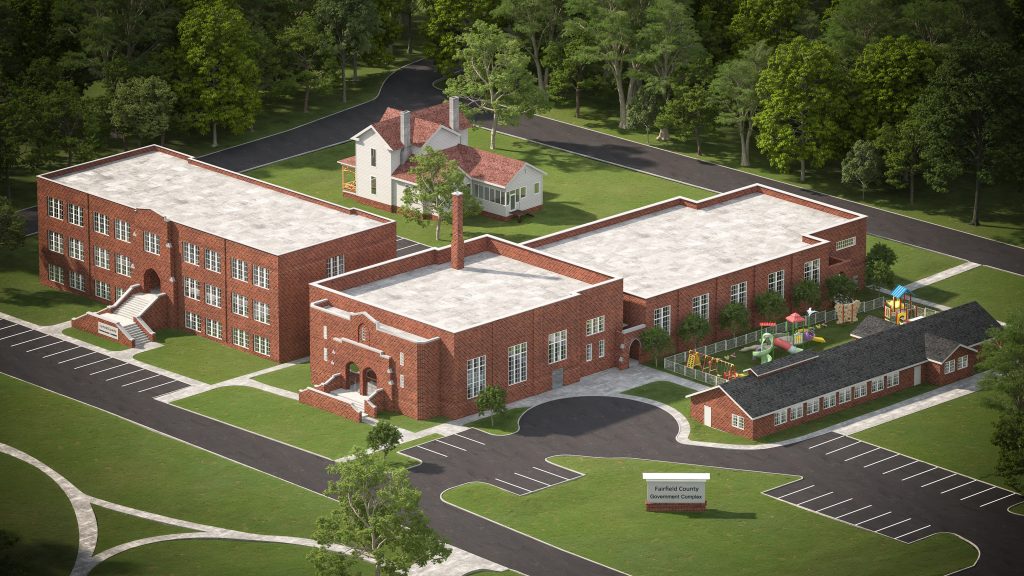 Related: Developer: County could be on the hook for millions if it breaks Mt. Zion contract