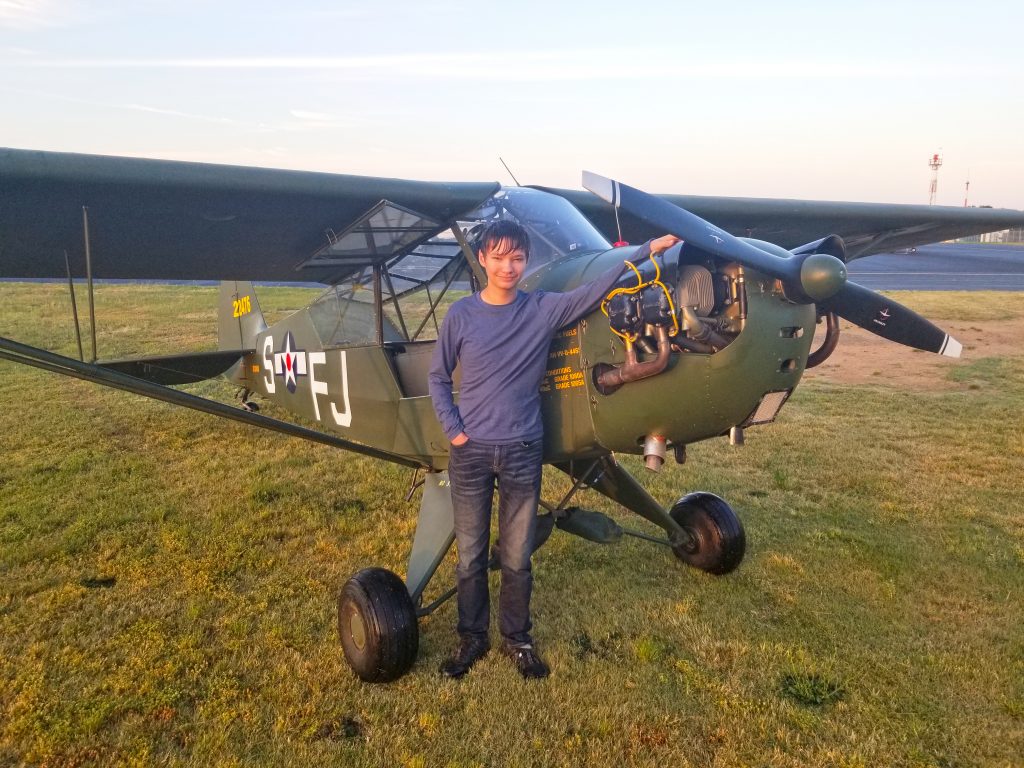 FAIRFIELD COUNTY – Sunday was a special milestone for two Fairfield County teens. Their 16th birthday, an age often associated with driving a car, was for them a chance to experience a different transportation achievement: their first solo flight behind the controls of an airplane.
"I feel a lot freer than I do when I'm on the ground," said Logan Steed, who made his first solo flight on April 25, as did his twin sister, Emma. "Every second of my life since I started flying, I've hated being on the ground; I have a need to be up there."
Logan's love of flying is no surprise; his dad, Brian Steed, is a flight instructor who owns a flight school and avionics shop at the Fairfield County Airport and a second avionics shop near the Vermont ski slopes where the family vacations.
Steed jokes that his kids logged quite a few hours in the air even before they were born – and every year since, as they've grown up around his business.
"They're continuing to learn since then," he said, explaining that a person's first solo flight – a milestone that's not allowed before the age of 16 – is an important step in their training, which is ongoing. He anticipates that both teens will likely become licensed pilots as soon as it's allowed, on their 17th birthday.
"I'm studying for my written test this summer," Emma said. "That way I can get my check ride done and get my license on my birthday."
Both twins, who currently attend high school at Richard Winn Academy in Winnsboro, say their future plans include something to do with flying.
Emma said her current career aspiration is to combine the medical field and aviation, perhaps by serving as a MedEvac pilot, though she's not sure exactly what path she will take.
Logan said his goal is to become a Navy SEAL – and then, after retiring from that, work as a charter or airline pilot.
For right now, Logan said, he's flying as much as he can; he talks about flying a plane over a baseball game after school the way that some teens talk about borrowing their dad's car to drive to the movies.
And he looks forward to flying to visit relatives in Ohio.
He'd like to go flying every day after school, he said, "but sometimes I just need to do my homework, unfortunately."
Technically, Logan said, he's had the plane he refers to as his baby – an L-4 Grasshopper, the military version of a Piper J-3 Cub – longer than he's had a car.
His dream plane, he said, is a Grumman F6F Hellcat, another warbird, which is known for its victories in aerial combat in the Pacific during World War II.
He said Emma's flying preference is a Cessna 172, which is used in their father's flight school and is a very popular aircraft.
Their dad, for his part, said it's a special feeling to see his kids mark an accomplishment in an area that he too is passionate about – even though sending them up in a plane alone for the first time is enough to make any parent a little anxious.
He said it took them about eight weeks to learn the technical part of flying enough for a solo flight.
"They've been riding in planes with me their whole lives, so just being up in the air wasn't a big deal for them, but when they started getting their hands on the controls and doing it themselves it became a huge deal really fast for them," he said.
"The number of people that have ever soloed an airplane compared to the number of people who drive cars is a very small number. In Fairfield County, we only have about 10 pilots total, so they've just upped it by 20 percent."