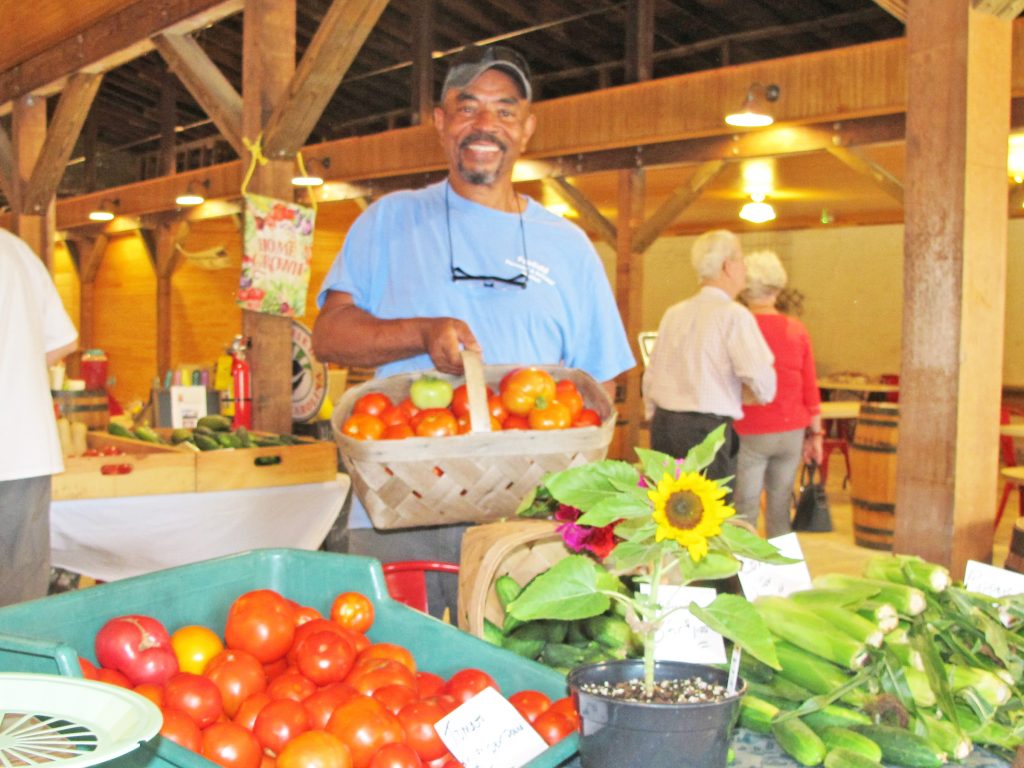 WINNSBORO – When Ernest Manning first got involved in what is now the Fairfield Farmers and Artisans Market in mid-2010, it was a new thing for Fairfield County, started by the former Fairfield County Chamber of Commerce president, Terri Vickers.
"It started from a grant, and it was just an idea. We put tents up down in a parking lot by the old Napa auto parts supply store on N. Congress Street, and we just started soliciting vendors, and of course, customers as well," says Manning, a longtime local educator and one of the market's founding members.
"We started out with two or three vendors, and it just kept adding two or three a year until we got up to where we are today."
As more people came to be involved, he says, the vision grew, expanding from a focus strictly on local growers to include local artisans as well.
As the market grew, it also moved: first to the town clock area, then, under the guidance of former County Administrator Jason Taylor, the former livery stable behind the town clock was renovated and updated as a farmer's market building. On Saturday mornings it is bustling with vendors like Manning selling vegetables, plants and includes a number of artisans selling their wares.
As it has grown, Manning says, the market has also become more than just a place to buy and sell.
"Our perspective was always to make the farmers' market like a part of the culture here in Fairfield, a place to go, a meeting place with the community where you could see a cross-section of the community. And that's what it is. You see everybody there," Manning says. "You get a chance to meet everybody – it's truly a meeting place for the community."
Manning sells fine tomatoes and other vegetables that he grows himself. A specialty that his booth is sought out for is his line of showy Gerber Daisies, beautiful flowers in reds, oranges, pinks and yellows.
In conjunction with his gardening, Manning is also a longtime educator at the Fairfield Career and Technology Center, which is adjacent to Fairfield Central High School.
There, he teaches agriculture classes, helping his students learn how to grow plants in a greenhouse. The students then hold plant sales to help fund educational opportunities. This time of year, Manning says, garden produce grown by students is for sale at the farmers' market.
Manning attended the career center himself as a student decades ago. Then, after earning his bachelor's degree at North Carolina's A&T State University, he came back to Fairfield. After earning his master's degree in agriculture education from Clemson in the 1980s, he again returned to Fairfield, this time to teach.
He tried other things, he says, but teaching, plants, agriculture and kids turned out to be his calling.
"I like it when I see the light goes on for the kids," says Manning, 61. "I like that interaction with them. Young people make me feel young," he said with a laugh.
A point he stresses, whether he's in the classroom, the laboratory, or the greenhouse, he says: "It's all hands-on science."
He says the growth of the farmers' market and local producers has also been enhanced by the South Carolina Ag + Art Tour, which seeks to draw visitors to visit farms and artisans around the county. But the event is not just a Fairfield event. It's held annually from late May through the end of June, featuring different counties each week.
It's all part of the same concept that drives places like the Fairfield Farmers and Artisans Market,
"When your food comes from somewhere local, you know where it came from and who produced it – and even that, by itself, can help to build community," Manning said.
"Our new farmers' market building and the wide variety of vendors who sell there has drawn the community closer together," he says of the market. "And it shows you that even in the world that we live in, the small-town life [and] lifestyle still offers the best."
The market is located at 117 East Washington Street, behind the town clock. The market is open on Saturdays, from 9 a.m. – 2 p.m.