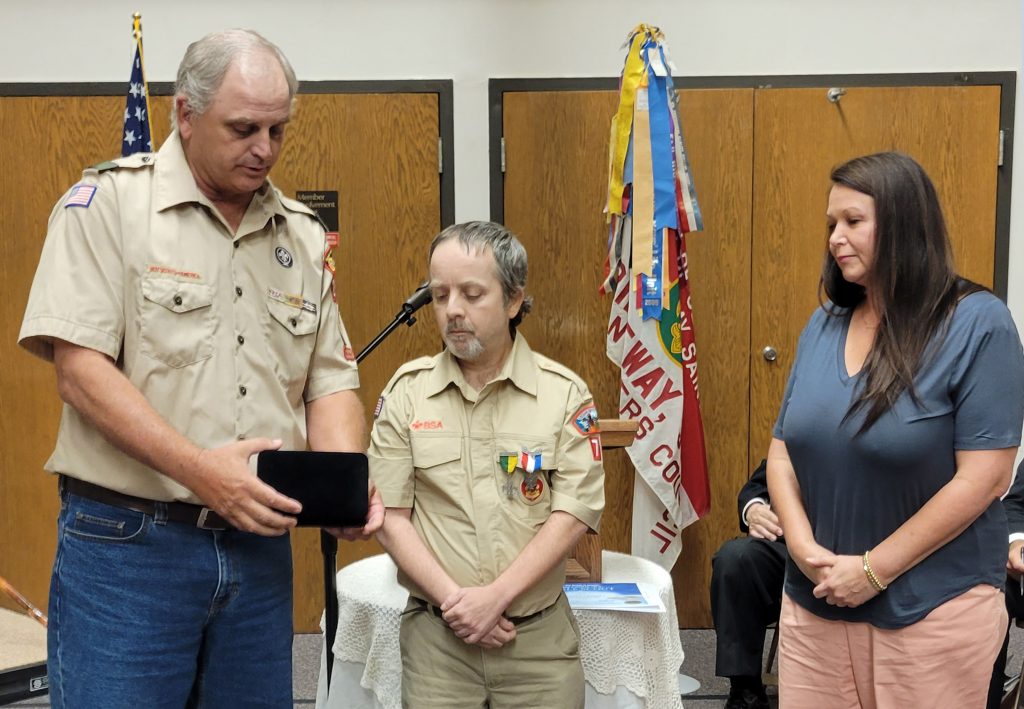 BLYTHEWOOD – It is not often you hear about a wrong being righted after 27 years. 
But on Friday, Sept. 17, that's exactly what happened. Kelly Powell was awarded his Eagle Scout badge that was denied to him in 1994.
The story begins sometime in 1988 when Powell was a young Boy Scout working hard to earn his merit badges in the Ridgeway/Blythewood Church of Jesus Christ of Latter Day Saints Ward Troop. Along the way, according to Travis Peake, a former Scout Master, Powell not only worked to earn his own badges, but went out of his way to help younger Scouts earn theirs.
"Kelly was one of those boys who was always the example of how to do things right," Peake said. "He always made sure the younger scouts were having a good time on their first camp-out away from home or while they were learning a new skill. He always attended and helped with all the camp-outs, summer camps, service projects, regular scout meetings and merit badge classes," Peake said.
Nearing the end of his Scouting career Powell launched his Eagle Scout project.
With the assistance of his leaders, the project – a blood drive – was planned and presented to the local Scout Committee for approval. The committee approved the blood drive, and Powell carried it out on July 2, 1994.
The blood drive was a big success, and Red Cross commended Powell for his organization, hard work and dedication to the project. The next step was to present the completed project, including paperwork, to the Eagle Scout review board.
Powell was accompanied to the review board meeting by Scout Committee member William (Bill) C. Ferguson, LTC, US Army, Retired, of Blythewood.
"When Kelly explained his project to the board, he thoughtfully kept mentioning what his family did to help him. When asked why his family did so much he had trouble explaining himself," Ferguson said, interceding.
"Because it was the July 4 holiday, many Scouts were out of town, so Kelly had to rely on his family a great deal."
At the end of the presentation, astonishingly, one board member said he felt the project was "not good enough" even though it had been approved by the Scout Committee.
The Eagle Scout rank was denied Kelly Powell. He was devastated.
The decision was appealed.
While a different set of board members are supposed to hear appeals, there was only one member on Powell's appeal board – the same man who had deemed the project unworthy at the initial review. He denied the appeal.
While this violated the Boy Scouts of America appeal procedures, there was not enough time before Powell's 18th birthday to complete another project. And, until this day, there is no record of the appeal hearing recorded on the local or national level.
Powell, disappointed, accepted his fate and continued to help other Scouts earn their Eagle awards.
In 1997, Powell moved with his family to Idaho, but kept in touch with his Blythewood and Ridgeway Scout and church acquaintances.
Carl Reynolds, who was the Bishop for the local ward of the Church, which sponsored Powell's troop from 1986 to 1994, noticed a poignant post on Powell's Facebook page: "Of all the things I ever wanted in my life was to be an Eagle Scout."
"This ate at me," Reynolds re called, "for several years."
In 2011, Reynolds set out to right the wrong Powell suffered. He was joined in this quest by Powell's fellow Scouts and local Scout and church leaders. Over the years, they never forgot the injustice that had been visited upon one of their own
"I know in my heart that Kelly Powell deserves to be an Eagle Scout. He always went beyond what was required of him in all things, not just in Scouting," said Jeffery Branham who had been a Scout along with Powell.
"To right the wrong, we had to find all the records. There were no national records of scout badges prior to 1994, so we had to trace all Kelly's badges through a notebook Aubrey Trapp had kept of his own badges. Trapp and Powell had gotten all the same badges at the same time," Reynolds said.
"After years of calling and e-mailing Scout officials across the country, finally it was determined that proper procedure had not been followed in denying the project initially and in the appeal," he said.
On Dec. 17, 2018 five people convened for a board of review for Powell. Within 15 minutes, the board voted to award Powell his Eagle Scout badge.
"We were making plans to get Kelly back to Blythewood for the presentation when COVID hit," Reynolds said. "We wanted to award it to him here where he earned it."
Finally, last week, Powell arrived in town and was awarded his Eagle Scout badge before many of his former Scout friends and church members.
"I want to say thank you to my parents, fellow scouts and my sister Emily," Powell said to those in attendance "I am in shock and awe of this award. Spending time with the Scouts whether it was camping or going to the mall is something I will always cherish," he said.