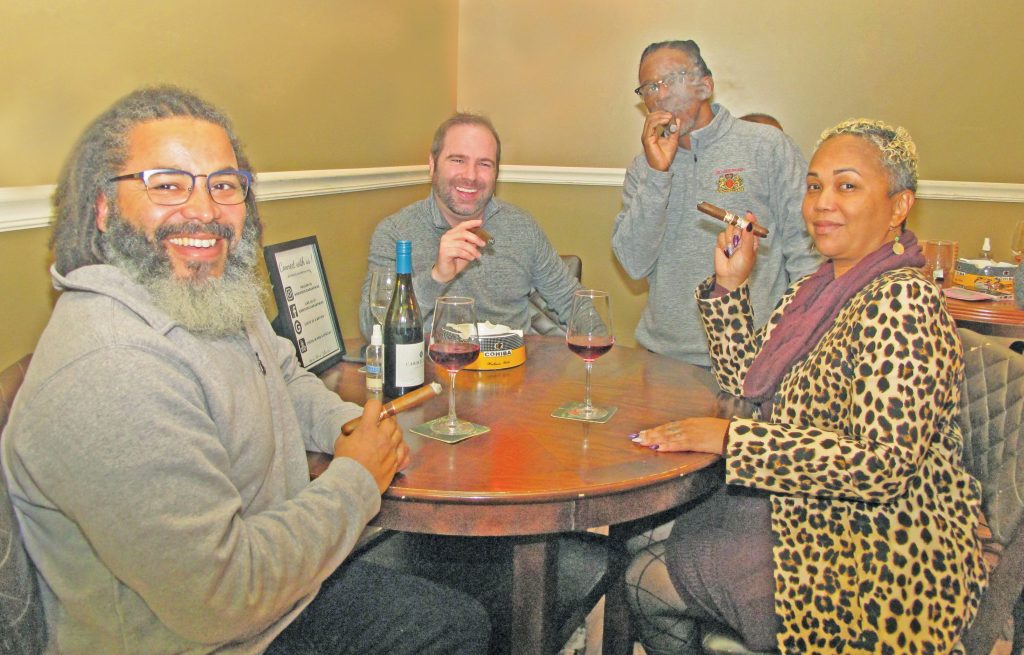 BLYTHEWOOD – Before they looked into opening a cigar lounge in Blythewood, neither John Edwards nor his wife, Teresa, had ever smoked a cigar.
John, as he researched the idea for a business, was the first to try. It took a little while for Teresa to get on board.
Today, Blythewood Cigar & Wine, which Edwardses opened in 2019, is one of the most popular businesses in town.
"Cigar smoking is a lifestyle," Teresa says of the appeal that drives people to visit their cigar lounge. Here, people come to hang out and network while they smoke cigars, drink wine, and visit.
Teresa, who along with her husband, operates the lounge, said she needed to be somewhere where she could kind of be at ease with her mind.
"Really seeing this environment, how relaxing it is in a cigar lounge, it doesn't feel like work for me. I don't care if it's a 12-hour day – it doesn't feel like work," she says.
John is always on hand to show off the humidor, a special room kept at just the right temperature and humidity for cigar storage and lined with Spanish cedar, a wood known for not soaking up moisture from the air.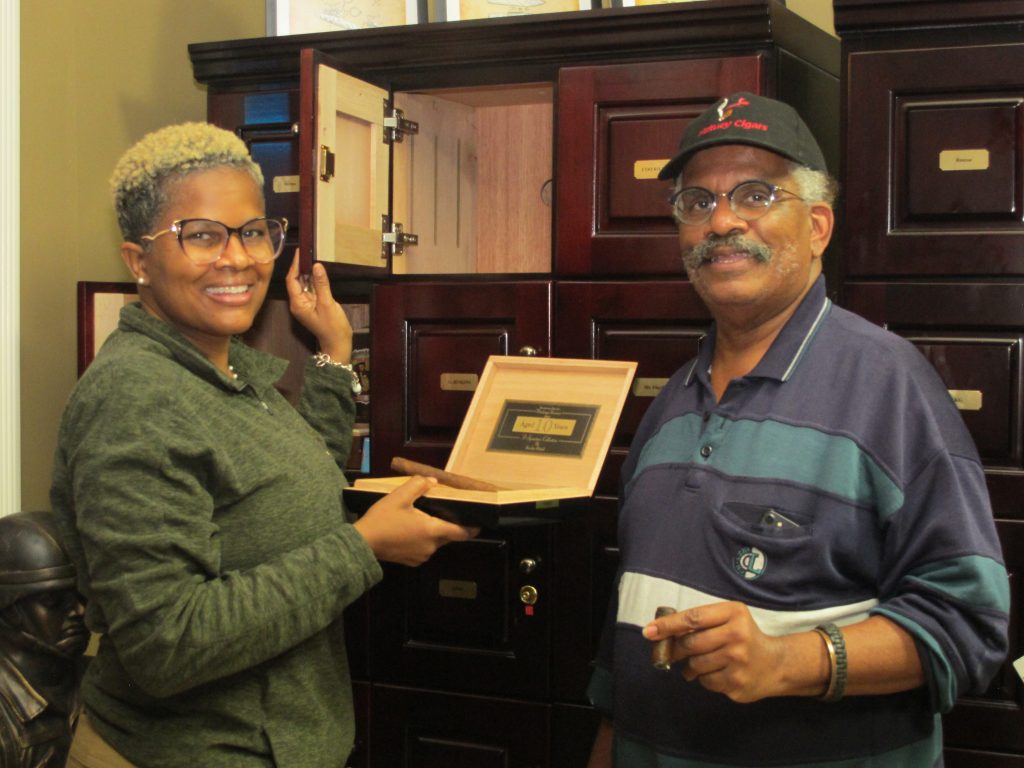 But the biggest investment in getting the cigar lounge started, he says, was the ventilation system, which filters the smoke out of the air.
"We started with just 20 boxes of cigars," he said. Now, they offer more than 400 options – and with humidity-controlled cigar lockers for use by VIP members, who have access to a more private club room, the Freedom Room, in addition to the regular lounge.
They also have a wall of wine selections – mostly recommended by customers, John says – and a selection of beers, mostly imported, that pair well with cigars. They also sell cigar accessories, such as cutters and travel cases, as well as pipes and pipe tobacco.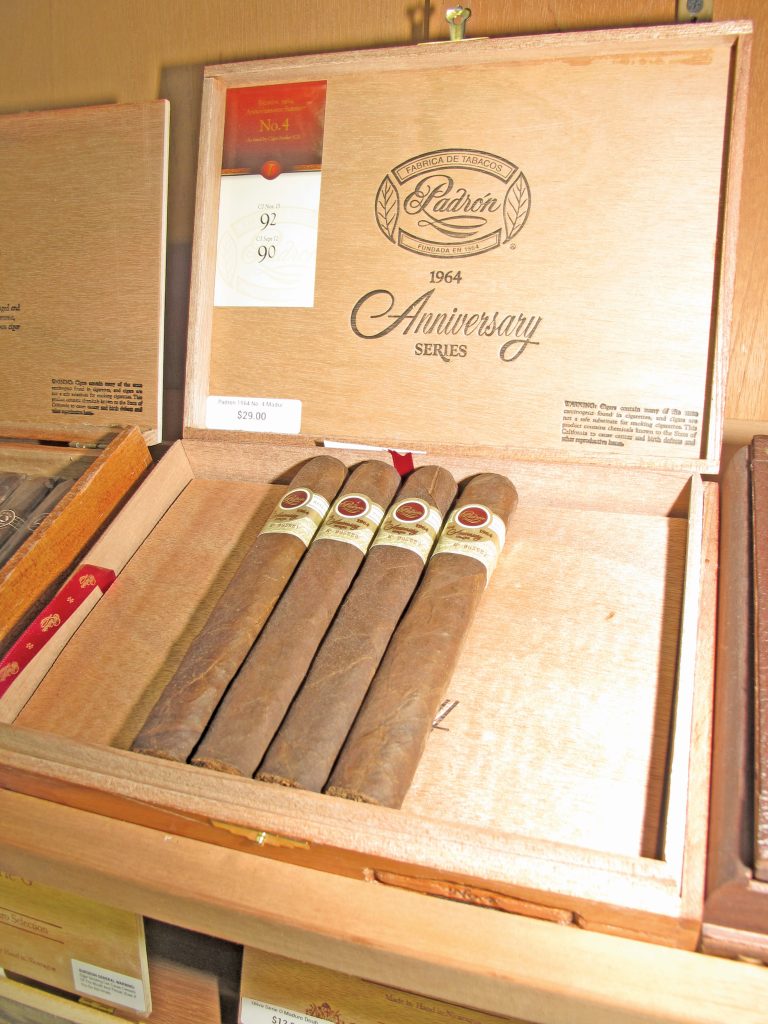 "We opened just a few months before the onset of the Covid-19 pandemic," Teresa said. "It – like many small businesses – was home to creative efforts to operate during the shutdowns and other uncertainties of the times.
"We basically had to figure out… how do we thrive, not just survive, during the pandemic. So, we kind of got creative with different things," she says.
"For one, we built a deck and expanded the patio outside to accommodate customers out of doors. Once we were able to open the business back up… the deck and patio allowed our customers to enjoy the ambience of the lounge while sitting on the outside. The outside experience became very popular," she said.
In addition to that, as Covid continued, we offered different ways to bring customers to our business outdoors."
In the summer, that meant live bands out on the deck and food trucks.
Meanwhile, the Edwards expanded the inside space to prepare for long term social distancing indoors. They added what John calls the Freedom Room, a VIP room with a man-cave feel that features a large movie screen and another wall that will honor fallen military and first responders. The room has the capacity for group gatherings, from meetings to movie viewing.
The experience of a cigar lounge, she says, is all about relaxation. It can take an hour to smoke a good cigar, and people will have conversations there that rarely happen in other settings.
"When it comes to age, when it comes to diversity, when it comes to culture, no matter where you're from or whether your male or female, that cigar brings all those things together," Teresa says. "It's an awesome experience because of the awesome environment."
While state regulations prevent the Edwards from serving food, she says people often bring in their own food from food trucks that are regularly stationed across the driveway or from nearby restaurants.
Over the last two years, Teresa says they've built up a customer base of regulars not only from the local area, but from Charleston, Charlotte and around the state. A number of area sports stars and politicians can be spotted there, including the Mayor of Irmo and USC Women's Head Basketball Head Coach Dawn Staley and her assistant coaches.
The lounge is also frequented by cigar aficionados from surrounding cities or traveling through the area. She says it's become a gathering place at times for people who, like her and her husband, are military veterans.
Customers say they choose this cigar lounge over others in the area not only because of its great selection of good cigars, but also because of the friendly, fun and relaxing atmosphere the Edwards provide.
"I make a trp all the way out here several times a week because it's worth it, the family atmosphere and all the events they have," said retiree Walter Freeman of Columbia. "They have live bands on weekends, cookouts, both men and women come here.
"I've been to a lot of the top cigar bars around the country and the humidor here is second to none. They have cigars for every taste. The Edwards do a great job here," he said. "That's the bottom line. Everyone loves John and Teresa."
Both of them are retired from the U.S. Army. They met 22 years ago, she says, when they were both drill sergeants at Ft. Jackson. He retired after 25 years as a chief warrant officer, and she retired after 28 years as a command sergeant major.
"Our veterans, really they have kept our doors open during the tough times, and not just in the sense of the necessities to support us, but I think that camaraderie that you have in the military, it continues to follow you in civilian life," Teresa says.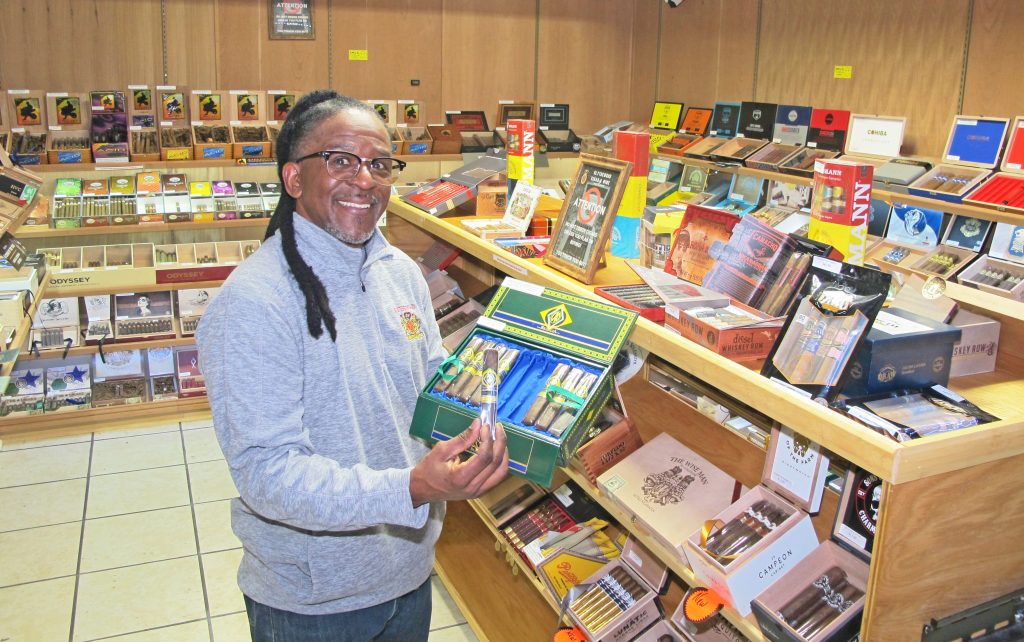 "When you've served our nation, that's a connection – that's a bond – and we do have a huge veteran population that patronizes us on a regular basis. They feel right at home here."
In their decades together, the couple has raised four kids, and Teresa says they have always been entrepreneurs. Their first business, she recalls, was a lawn care service: She kept the books while her husband and one of their sons did the work.
They both earned Masters of Business Administration degrees in the Army. And both – after being stationed around the United States and serving on deployments in the Middle East – wanted to retire back in South Carolina.
In addition to Blythewood Cigar & Wine, the Edwards also own two other brick-and-mortar businesses in Blythewood: a barbershop, Upscale Cutz & Stylez; and a spa, Upscale Salon & Spa. They also have a photography service and John is a mobile DJ that operates for special events, many of them in Blythewood or Fairfield County.
"We enjoy providing services," she says, "giving back to [the customers] and seeing them enjoy themselves, whether it's the barber shop or the cigar lounge, providing those services for them.
"It satisfies us to see our customers really enjoy life."
For more information on Blythewood Cigar & Wine, visit www.bwoodcigarandwine.com