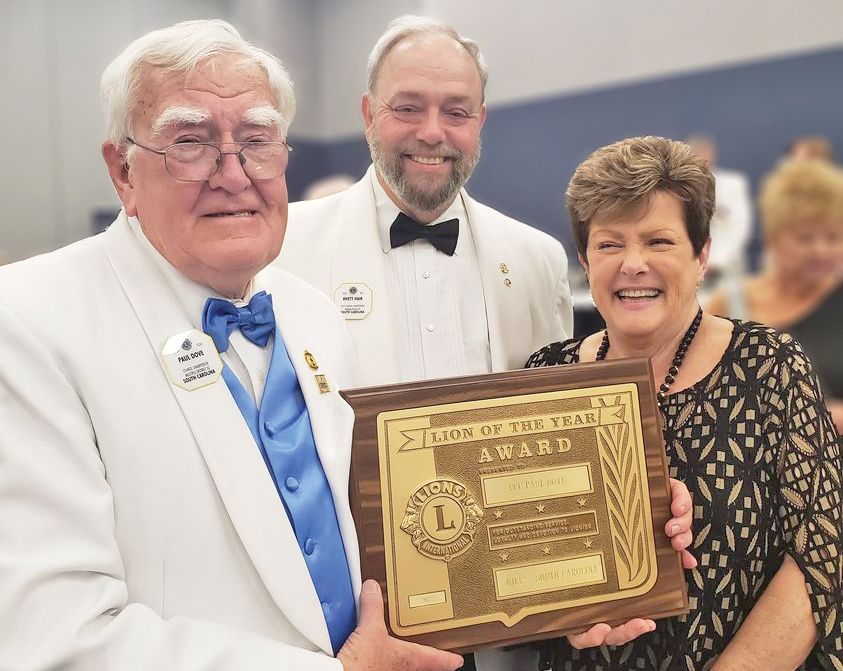 WINNSBORO – Winnsboro's Paul Dove was named the state's top Lion on Saturday.
A Lion for 31 years, Dove, 78, is currently a past president of the Winnsboro Lions Club and has served in every Lions Club office over the years except one – that of International Director.
"He says he's not going there," said Bobbie Dove, his wife and fellow Lion. "It's time for him to slow down. But he doesn't seem to be doing that. He just goes, goes, goes," she said with a smile.
Dove's volunteer career in Lions began in the Marion Lions Club in 1984. He joined the Winnsboro Club in 2009.
Since then, he has served as Club President (2011-2012), Zone Chair (2013-2014), 2VDG, District D (2014-2015), 1st VDG District (2015-2016), District Governor, District 32D (2016-2017), District Administrator for District 32D (2017-2018), MD 32 Vice Council Chair (2018-2019), and MD 32 Council Chair (2019-2020).
Dove has served on the Board of Directors for Lions Vision Services (2016-2017), (2019-2020), as the District 32-S Global Service Team Coordinator, 2017-2021, and received the International Presidents Award for his performance in that position.
Dove has sponsored a total of 12 Lions and is currently the Guiding Lion for the SC Cyber Lions Club. Both are flourishing and growing. He has also been instrumental in bringing Vision Screening to the Fairfield County Schools.
"Without his determination and leadership, it would not have happened and those children having referrals would not receive treatment or glasses," said fellow Lion Rhett Hair.
Dove continues to serve his community by delivering Meals on Wheels, working with the County Food Bank collecting and delivering food as needed each week and managing the Winnsboro Lions Clubs Eyeglasses Recycling program. He also works with the County's Recycling Program for Plastic, Glass and Cardboard.
For recognition of his outstanding service to Lions Clubs of South Carolina he was inducted into the SC Lions Hall of Fame in 2020.
For his service as a Lion he has received the Melvin Jones Fellow, Progressive Franklin Mason Fellow, District Governor's Certificate of Appreciation, District C, 2017, Multiple International Presidents' Certificates of Appreciation, International Leadership Award, 2013-2014, the International President's Award, 2017-2018 and the International Leadership Award, 2019-2020.
He has also been involved locally with Eagle Scouts and Boy Scouts of America, and has served as sponsor of Fairfield County's WW II Memorial monument, Board of Directors of FOSCL (Friends of SC Libraries) Friends of the Fairfield County Library, Fairfield County Library Commission and immediate past chair, Marion County Library Board of Trustees.
Dove is a member of the Mt. Sion Society, Friends of Mt. Zion Institute, Member of Fairfield County Chamber of Commerce, First United Methodist Church, Salkehatchie Summer Service volunteer, Francis Marion University (FMU) Board of Trustees, the University of North Carolina (UNC) Alumni Association, Omicron Delta Kappa and Bet Phi Mu Professor Emeritus at Francis Marion. Dove is a graduate of Erskine College, University of South Carolina and University of North Carolina.
Referred to affectionately by his fellow Lions as the Lions' Lion, "Dove is the kind of Volunteer Leader that we all strive to be like," Hair said. "He deserves to be recognized for his lifetime of service."