FLORENCE, SC – For the third time this post-season, Francis Marion University senior third baseman Todd Mattox has garnered All-Region recognition, this time from the American Baseball Coaches Association (ABCA) and Rawlings. Mattox received first-team All-Southeast honors.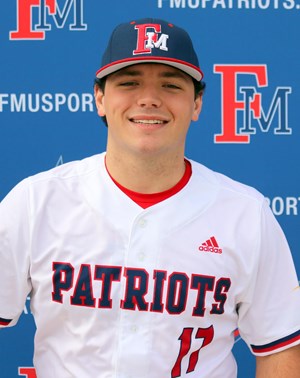 ABCA/Rawlings All-Region First-Team selections are nominated for ABCA/Rawlings All-America honors. The ABCA/Rawlings NCAA Div. II All-Americans were to be announced on Friday, June 3. The ABCA All-America team was first recognized in 1949 and now includes nine divisions: NCAA Divisions I, II and III, NAIA, NJCAA Divisions I, II and III, Pacific Association Division, and High School.
Mattox, a native of Winnsboro, S.C., hit .393 with 54 runs, 14 doubles, five triples (leads Conference Carolinas), two homers, 46 RBIs, and a .464 on-base percentage. He safely reached base in 46 of the 48 games, including a 79-game streak that when snapped was only nine shy of the all-time Division II record. He ends his career with the fourth-best average (.392) in program history.
Mattox ranks among the top-7 for hitting in Conference Carolinas. He registered 25 multi-hit games during the season and helped direct Francis Marion to a 29-19 record this past season – an 11-win improvement over the previous season – in the team's first year as a member of Conference Carolinas.
Mattox was also part of the most prolific hitting team in program history. The team's batting average of .353 leads the conference and ranks fifth nationally, and is 12 points higher than the school's single season record of .341 set in 1985.
Mattox is a product of Blythewood High School. Previously, he garnered All-Region accolades from both the National Collegiate Baseball Writers Association (NCBWA) and the Division II Conference Commissioners Association (D2CCA).