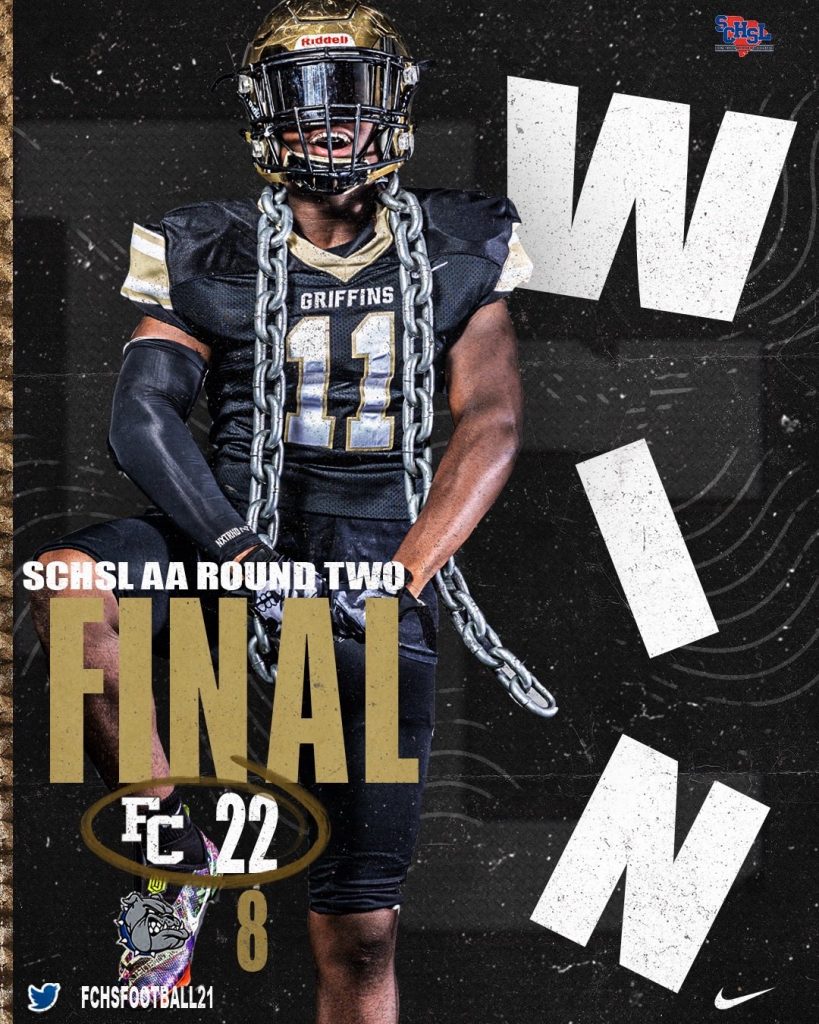 AIKEN – Two weeks ago, Fairfield Central got their first playoff win since the 2017-2018 season when they defeated Newberry in the first round of the AAA state playoffs. Last week, with a rescheduled Saturday game because of Tropical Storm Nicole, Fairfield went one better. They knocked off Silver Bluff 22-8 to advance to a third round game against top-seeded Abbeville.
After scoreless first quarter, Fairfield struck first, reaching the endzone with just over six minutes to spare. They took the 7-0 lead into halftime, and extended it to 14-0 when Donovan Watkins returned a punt 65 yards for a touchdown.
Down 14-0, Silver Bluff punched in a rushing touchdown of their own. With a successful two-point conversion, the Bulldogs trailed 8-14 at the end of the third.
Fairfield continued their offensive assault and punched in another score and a two-point conversion by CJ Sampson with 10 minutes to go in the game. Up 22-8, the Griffin defense stopped all threats of a comeback as Fairfield clinched the round 2 win.
Fairfield's defense tallied 66 tackles, five for loss, two sacks and five passes defended. Stephano Gadsden had 14 tackles, four for loss, a sack and a fumble recovery. JaShaun Manning had 10 tackles. Yarborough and Myles Robertson each had 8 solo tackles. Chris Pearson had an interception and six tackles.
Fairfield put up 374 all-purpose yards to Silver Bluff's 143.
Freshman quarterback Cameron McMillon completed 15 of 30 attempts for 136 yards and one touchdown. McMillon's biggest target was TyDarion Grier, who had six receptions for 79 yards. Grier had the team's sole touchdown through the air. Jai Boyd caught four passes for 25 yards.
Kensley Copeland tallied 91 yards on 17 carries and a touchdown. Steven Gadsden had 42 yards on 8 carries; Grier added 40 yards on 4 carries.
The win improves Fairfield Central to 9-3 on the campaign. The Griffins travel to Abbeville to battle the Panthers on Friday, Nov. 18. The Panthers come into the test with a record of 10-2. Abbeville defeated Newberry 49-7 last week. Fairfield blasted Newberry 48-0 earlier this season.
Kickoff Friday in Abbeville is set for 7:30 p.m. The winner will advance to a semi-final game against the winner of Strom Thurmond and Saluda.
FCHS – 0-7-7-8 – 22
SBHS – 0-0-8-0 – 8
Graphics: @FCHSGriffins