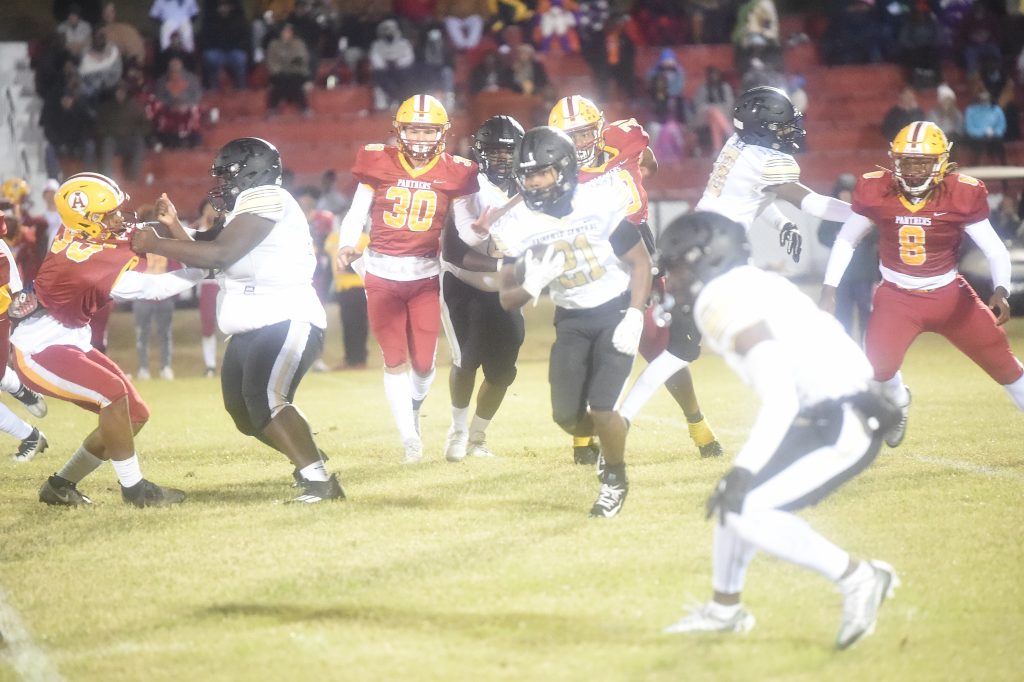 ABBEVILLE — After two blowout wins in the South Carolina High School League's 2A State Playoffs, Fairfield Central met their match in a tough Abbeville opponent on Friday. Abbeville took control of the game in the first quarter and held on for a 45-14 win to end the Griffin's playoff run.
Down 24-0, Fairfield Central got on the board right before halftime when freshman quarterback Cameron McMillon connected with Jai Boyd on a 21-yard pass.
The Panthers held Fairfield scoreless in the third but added a pair of touchdowns to go up 28-6 and another in the fourth for a 45-6 lead.
C.J. Sampson plunged in from the 1-yard line late in the fourth for the Griffins, who were successful on the two-point conversion.
McMillon came into the game passing for 3,056 yards and 32 touchdowns to 9 interceptions. He finished the night 23-of-49 for 249 yards. Boyd was his top target. He caught nine passes for 120 yards.
The Panthers finished the night with 484 yards of total offense, 328 of which came on the ground.
Adding to their post-season honors, McMillon was selected SC Varsity's All-Midlands Quarterback of the Year for his efforts. Teammate Tydarion Greer, a sophomore, was the All Midlands Wide Receiver of the Year. He had 69 catches, 1,490 all-purpose yards, and 13 touchdowns.
Defensive back Donovan Watkins made the North roster of the Touchstone Energy Cooperatives North-South All-Star game. The game is set for Dec. 10 at Doug Shaw Memorial Stadium in Myrtle Beach.
Fairfield ends the season with a 9-4 record, their best in five seasons.
Abbeville advances to the Upper State Championship game this Friday against Saluda. The winner play in the State Championship game against the winner of Andrew Jackson/Oceanside Collegiate on Dec. 2.
Fairfield Central – 0-6-0-8 – 14
Abbeville – 14-10-14-7 – 45
FIRST QUARTER
A — Jamal Marshall 1 run (Addison Nickles kick)
A — Ty Cade 4 run (Nickles kick)
SECOND QUARTER
A — Nickles 43 FG
A — Jha'Louis Hadden 3 run (Nickles kick)
FC — Jai Boyd 21 pass from Cameron McMillon (conversion failed)
THIRD QUARTER
A — Antonio Harrison 39 run (Nickles kick)
A — Karson Norman 54 pass from Zay Rayford (Asher Johnston kick)
FOURTH QUARTER
A — Hadden 6 run (Johnston kick)
FC — C.J. Sampson 1 run (Steven Gadsen pass from McMillon)
INDIVIDUAL STATISTICS
Rushing — FC: Kensley Copeland 9-47, Steven Gadsen 5-17, Donovan Watkins 1-5, C.J. Sampson 2-4, Cameron McMillon 1-2, TyDarion Grier 1-2. A: Jha'Louis Hadden 9-62, Antonio Harrison 4-57, Altavious Patterson 5-46, Zay Rayford 11-35, Jamal Marshall 8-32, Karson Norman 6-31, Ty Cade 4-26, Mikelyn Bowie 2-23, Cam Lee 1-12, Jay Hill 1-5, Jakwon Elmore 1-(-1).
Passing — FC: Cameron McMillon 23-42-249-1. A: Zay Rayford 5-6-156-0.
Receiving — FC: Jai Boyd 9-120, TyDarion Grier 7-83, Donovan Watkins 2-24, Jalian Yarborough 1-16, Jalen Mozie 1-6, Steven Gadsen 1-5, Roger Burns 1-5, Kensley Copeland 1-(-10). A: Karson Norman 1-54, Javario Tinch 2-40, Antonio Harrison 1-39, Jay Hill 1-23.
Records: Abbeville 11-2, Fairfield Central 9-4