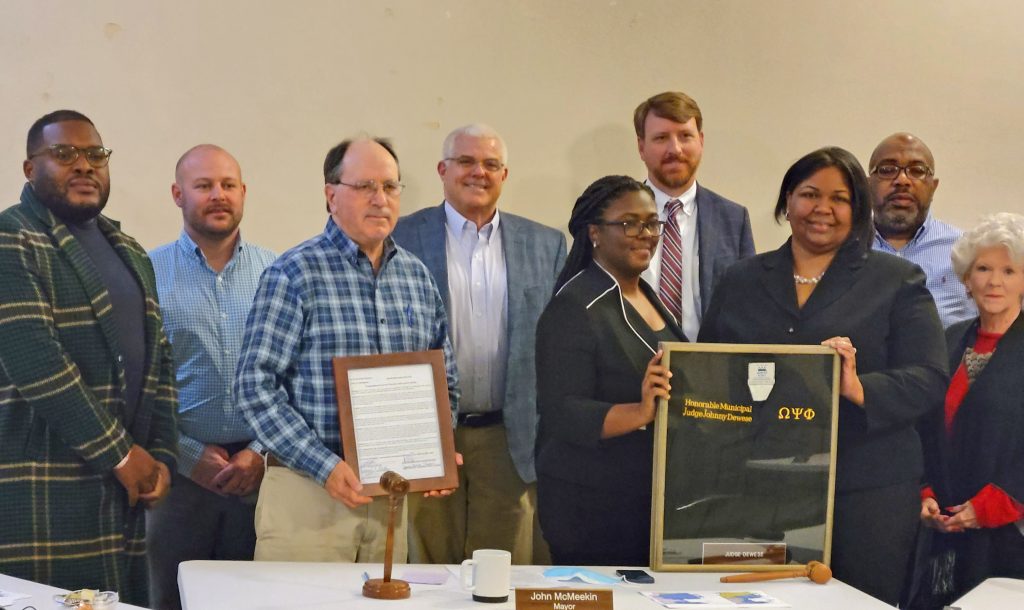 WINNSBORO – The Town of Winnsboro honored Judge John "Deacon Johnny" Dewese with a posthumous proclamation presented to his daughter at the Winnsboro town council meeting on Tuesday. A lifelong resident of Fairfield County, Dewese graduated from Benedict College 1973 with a Business Administration Degree and from Winthrop University in 1987 with a Masters in Education.
After graduation he worked for 30 years at Vocational Rehabilitation. Upon retirement Dewese was a Job Coach for the Special Services Division of the Fairfield County School District. In 2014, he became a Magistrate for Fairfield County and in 2019 became a Municipal Judge for the Town of Winnsboro until his death.
In reading the proclamation Mayor John McMeekin said, "Leadership, service, and duty were common themes in Judge Dewese's professional and civic life."  Court Clerk Jessica Ginyard presented Dewese's daughter Jessica with her father's judicial robe and gavel.   
In other town business, council gave first reading to Redistricting Ordinance No. 64. The state gave council four options and option four was chosen.
"The State would like 889 voters in each district," Assistant Town Administrator Chris Clauson said in his report to council.
With the new district lines, District 1 will have 890 voters, District two will have 862 voters, District three will have 901 voters, and District four will have 902 voters for the ordinance.
The State will have to approve the newly drawn lines. No date was yet given for a public hearing and second reading.
Town Administrator Jason Taylor reported to council his office has followed up with the water meter company AMI but there are supply chain issues. Taylor said he is anxious for the equipment to arrive as the town has a 50 percent unbilled water usage rate.
"Twenty percent would not be unheard of with an old system such as ours. Some of the loss is not billed usage and some is leakage."
There was a public grant meeting held Monday and Tuesday of this week. Taylor and McMeekin were impressed with the attendance of about 60 citizens and 15 representatives from USDA, DHEC, and various state agencies. These agencies shared what grants are available for the interests of the citizens and town.
"The whole atmosphere was positive," McMeekin said. "Everyone wants the community to prosper. Everyone is ready to turn the town around. One of the speakers had everyone complete the sentence, I believe… Different people said downtown revitalization, infrastructure, growth, support, recreation, and utilities," said McMeekin.
Code enforcement was addressed regarding buildings that either need to be brought up to code or be gone. Taylor said he has met with two residents.
"The property owner is going to fix the structure on Poplar Street that was burned out," Taylor said. "The Cemetery Street property may be forfeited. We are not in the enforcement period yet. We want to push before we have to pull," he said.
Councilman Demetrius Chatman remarked about the new cameras that have been installed in the town.
"I am happy about the cameras. People tell me they feel safe. Senior citizens, when they are walking in the morning feel safe with the cameras."
Interim Police Chief Kevin Lawrence then introduced two new officers to council. "Mr. Ashford is from Fairfield County and has 25 plus years' experience. Mr. Williams is from Cayce and Richland County. He was also an engineer in the military."
Lucas Vance, Director of Fairfield County Recreation department, formally asked council to use Fortune Springs Park on Feb. 18, 2023 from 7 a.m. until 11 a.m. for the second annual Got Heart 5K run.
"In regard to the first race last year, the feedback was very positive. We had about 70 runners and hope to have a 10 percent increase. Strictly Running will be the time keeper. The race will start at 9 a.m. and we should be finished – including clean up – around 11 a.m.," Vance said. Council approved the request unanimously.
A request by Debra McDaniel for $750 for a community Christmas dinner was also approved. Chatman invited all council members to join him on Christmas day to serve dinner to the community.
Council went into executive session to receive legal advice and discuss an employment matter regarding municipal judge application selection. Upon coming back into regular session council voted on and approved a contract with AT&T. The only information on this contract was that option two was chosen. The employment matter was taken as information.