WINNSBORO – For Albertha Woodard, the effort to help veterans receive the benefits they are due begins with putting herself in their shoes.
She too is a veteran, and she remembers the first time she applied for benefits herself: She was denied. It wasn't until she tried again – eight years later – that she was successful.
"I was scared, didn't know any better. I wish I had filed a lot sooner again," says Woodard, who enlisted and served in the U.S. Army starting in 1988: four years of active duty followed by four years in the reserve before being discharged as a sergeant.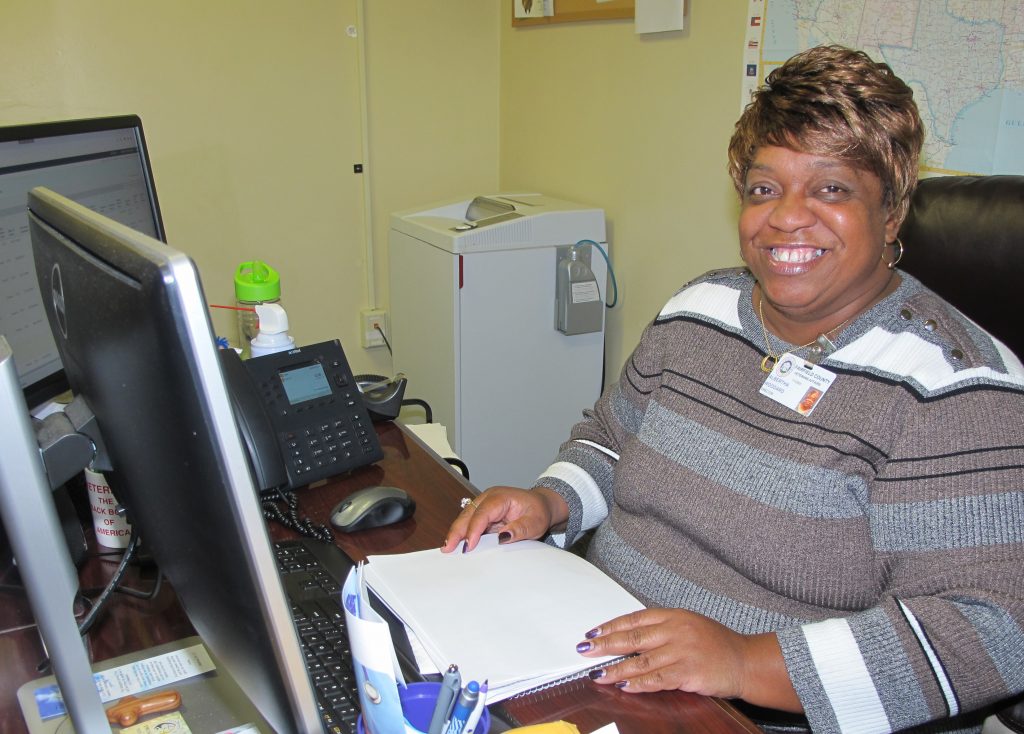 "You have to keep appealing, and that's where a lot of people make the mistake at: They just give up," she says.
"And you know my personality: I'm not one to give up. I'm very pushy, in a good way. I'm strong-willed when it comes to it; I'm adamant about trying to help. The only way you don't get what you're supposed to get is that we have exhausted every possible avenue."
In the army she served as a laboratory technician, and afterward she went to work in the health care field. She worked at Fairfield Memorial Hospital as a lab specialist for 18 years before it shut down, she says. Then, she worked at Chester Medical Center for 9 years before her position there was eliminated.
It was only after all those years in health care, she says, that Woodard discovered her current job as director of veterans' affairs for Fairfield County.
She says it's the best job she's ever had, mainly because of the satisfaction she gets from helping other veterans get access to benefits that, in many cases, they aren't even aware of. And while she's been heavily praised for her hard work to help the county's veterans, she says that for her it's easy.
"When you love something you do, you don't really work hard at it at all," she says. "This is not just a job; this is a ministry…. It's kind of like saving souls, except I want you to have a comfortable life with the help of the benefits you deserve."
When she thinks about her success in her 16 months on the job, the list she begins to rattle off is long. In several cases, the veterans had never applied for benefits, believing that they might be needed more by someone else. It turned out they were eligible for thousands of dollars.
When one 80-year-old veteran she assisted got his first check in the mail for $17,000 – several months' worth of a tax-free $1900 in monthly compensation – he called her, thinking it was a mistake.
He, like a lot of older veterans, had just never filed.
"I had another one – he was probably in his 60s, never filed before – and when he filed, he got 30% [disability] and he was just the happiest," she says. "He was able to add his wife. And I think the main thing was that tax-free compensation."
In some cases, she says, she's helped people to finally receive a long-awaited benefit – whether a hearing aid or a grave marker.
"It's just being diligent and using your resources," she says. "One thing about me: I'm not afraid to call somebody and ask."
A Fairfield County native, Woodard is also delighted by the opportunity to work in her hometown, surrounded by people she knows.
In addition to this job, she says, she also does some work for the Fairfield County Coroner's office, and also teaches phlebotomy at Midlands Tech. She describes herself as a habitual student – and says that after earning an associate's degree in science, a bachelor's in business administration, and a master's degree in management, she's now working on a Ph.D. in health care administration
But it's not her education that gets her results, she says: it's her persistence – and the knowledge she's developed over the years of both health care and the ins and outs of the system for veterans' benefits that helps her know what to tell veterans to ask for – whether they need help with a hearing device or special shoes to aid them with a foot condition.
She also works to spread the word about other benefits that exist for veterans – from health care access to tax benefits to hunting and fishing licenses to the opportunity to shop at the commissary at Ft. Jackson. She also helps to connect veterans to services in the community to help them with things like food if they need it.
The services she offers to veterans costs them nothing, and she encourages everyone to call.
"A lot of the veterans have been paying people to do the same job that we do for free. So, we're trying to get veterans out of that mode of paying people to do stuff that we can do for you," she says.
"The income and even just the access helps a lot with health care costs. So, if you can get a little compensation and get the health care that goes along with it, then that's a win-win situation."
The Office of Veterans' Affairs is located at 96 U.S. Hwy 321 Bypass. Office hours are Monday-Friday, 9 a.m. – 5 p.m. For more information or an appointment, call 803-635-4131.