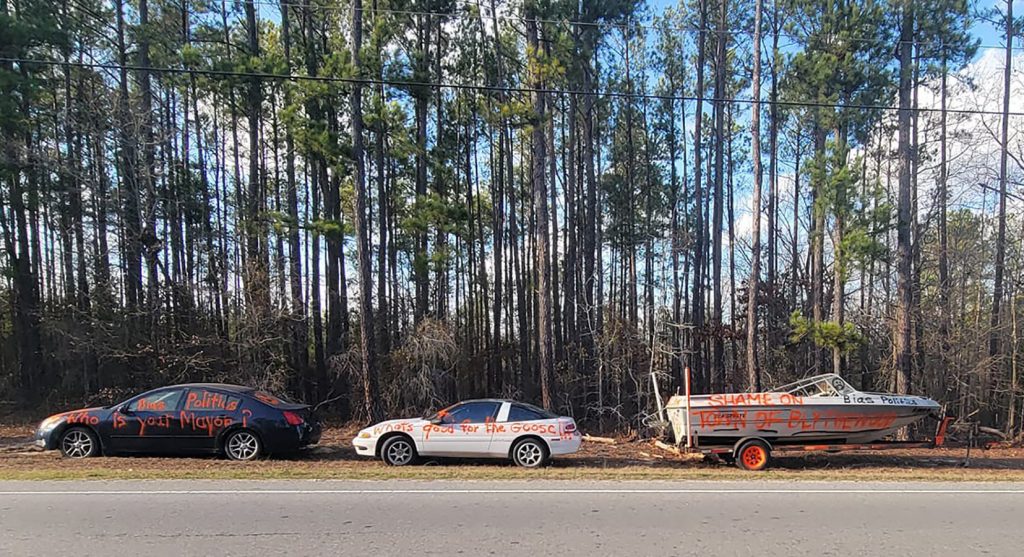 BLYTHEWOOD – It was sometime around 4:30 p.m. on Thursday, Jan. 19, when The Voice received a call from Blythewood resident Byron Dinkins asking if a reporter could meet him at his property on Blythewood Road.
Asked what was up, Dinkins replied, "When the Town allowed Dominion to set up a giant natural gas tank in a dumpster at the corner of Syrup Mill Road and Blythewood Road, I complained to town hall, since it would be out of character for the area, pretty ugly, maybe even dangerous, and right next to my property," he said.
"Usually when something like that wants to set up shop in the town, there is a posting by the town government to let the neighbors know what's going in next to them so they have a chance to have a say," Dinkins continued. "But this just popped up. No warning. No posting. No nothing. No concern whatsoever on town hall's part for what this could do to the neighbors' property values."
Dinkins said he contacted Mayor Bryan Franklin to express his concern.
"Mayor Franklin said he was shocked, that he knew nothing about it," Dinkins said. "Yet, the property was already being graded off. I was surprised that the Town Administrator would approve something like that without the mayor knowing. The mayor even told me that putting a natural gas tank there would 'open up a can of worms for the town.' "
"Well," Dinkins said to The Voice, "I want you to come out here and take a picture of that can of worms the natural gas tank site opened up."
The Voice arrived at the property a few minutes later and saw several vehicles and a boat lined up along Blythewood Road near the property where the natural gas tank had recently been constructed. The words "Town Center" were scrawled across the back of the boat in bright orange spray paint. Other orange messages on the vehicles included "Welcome to Blythewood," "Bias Politics," "Who is your mayor?" "Shame on the Town," and "What's good for the goose…"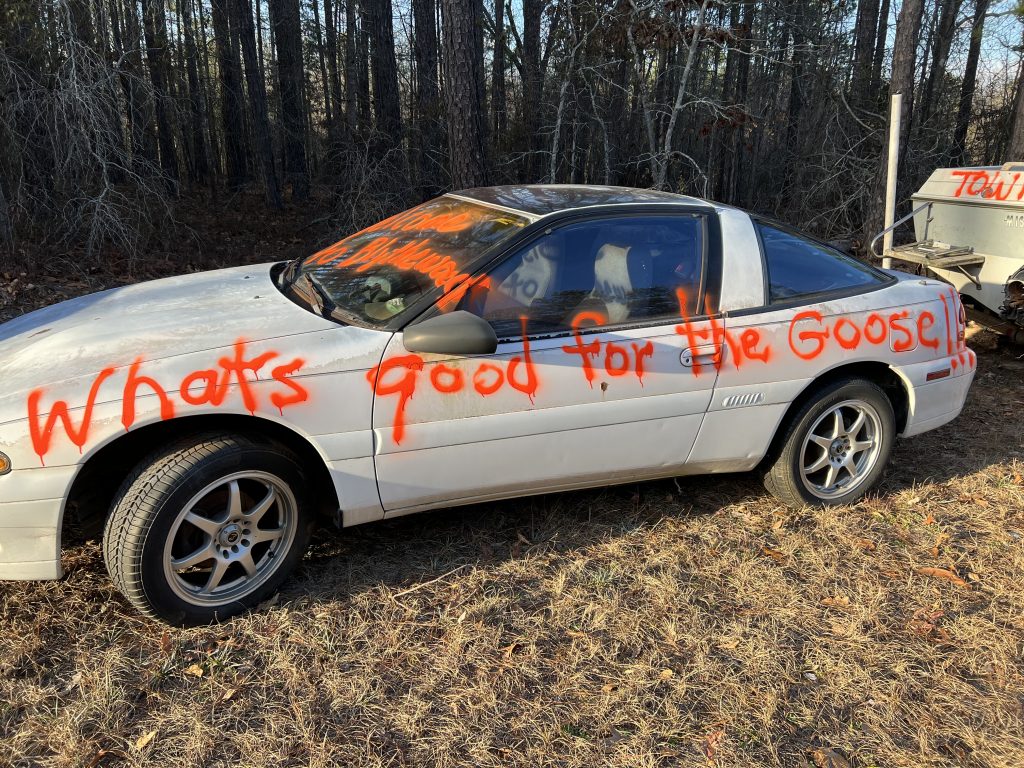 Traffic along Blythewood Road slowed as some passing drivers honked, laughed and waved at Dinkins. Others pulled over to ask what was going on, others made suggestions for adding other pranks to the scene.
While What's Happening Blythewood's Facebook page lit up with almost 200 mostly witty, curious comments with photos about the vehicles – "If that's a 2009-2014 Maxima, I am on the prowl for a passenger headlight," Angela Rowe commented – a seering rant by Franklin broke up the light banter. Franklin attacked his fellow councilmen and The Voice on What's Happening Blythewood for an unrelated issue that the Town is being sued for after Franklin failed to turn in his response to a Freedom of Information (FOI) request as required by law.
"Hi, this is Mayor Bryan Franklin. I have no idea what this person is protesting," Franklin wrote. "The only political issue is two councilmen never turned over their electronic devices (personal phones, laptops, etc.) while I did immediately and so did two other councilmen," he said.
"We are in a court case now which involves possible collusion from one or two councilmen, but we can't comment now," he commented. "These facts are public so far, but you wouldn't know it because one local paper is trying to get at least one of these councilmen re-elected.
"It is an election year and the press can be biased – shocker!" Franklin wrote. "If you have any questions about anything you have read, I can clarify. Call me," he wrote and posted his phone number.
While Dinkins said his stunt has nothing to do with Franklin's issues with his fellow councilmen, a lawsuit or the newspaper, he (Dinkins) said the vehicles and spray-painted messages are a citizen's protest against how Franklin's government allowed the natural gas tank to go next to his (Dinkins') property without any public notice to citizens or neighbors of the property.
When land at the natural gas tank site began to be disturbed during the first week of December of 2022, The Voice received several inquiries about it from the community.
A town hall official verified in a phone conversation on Dec. 6 that the property is in the Town Center zoning district, and that town hall knew about the project, and that it was a "temporary natural gas stabilization site."
Later that day, Town Administrator Carroll Williamson sent an email to The Voice stating that was not the case, that the newspaper reporter had misunderstood.
But a citizen had already provided The Voice with an email from a town official dated Dec. 5, with quotes from Dominion Energy confirming the project was "a compressed natural gas regulator station."
"Basically it's here for the winter to provide natural gas. Once winter is over, the property will be returned to its original site," the email stated.
Finding out who approved/permitted the project was more difficult.
After The Voice and Byron Dinkins, the neighboring property owner, quizzed Williamson on the issue, he posted a stop-work order later on Tuesday, and called a meeting with Dominion for the next afternoon, Wednesday, Dec. 7, for about 1:30. After the meeting, work at the tank site resumed.
The property where the project is located is owned by Blythewood businessman Larry Sharpe, who told The Voice he has a contract with Dominion to lease the land, and that Dominion had handled all the permitting. Sharpe said he had not been involved with any applications for approval by the Town or county governments.
During a special called town council meeting [on a separate issue] on Friday, Dec. 8, Williamson was asked by Councilman Brock for an update on the gas tank site issue.
Williamson said that when he pulled up to the site [Dec. 6.] he knew nothing about what was going on (even though a town official had earlier confirmed that the Town was aware of the situation) and was presented with an approved plan for the work.
"Richland County approves all land disturbance/storm water permits," Williamson said. "Richland County thought the Town was aware of the project, but they are not necessarily obligated to notify us. So they approved it.
"While the project was land disturbance, it also changed the use of the land," Williams added. "So I talked with Dominion. In our ordinance is a temporary non-conforming use that the town administrator can authorize as long as it meets some benefit or upgrades the non-conforming use.
"So I wrote a non-conforming permit that says on May 31, 2022, this is over and has to be cleaned up," Williamson said.
Sharpe, however, told The Voice that his contract with Dominion is for a year.
"It was a miscommunication on a type of project we don't often see," Williamson told council members. "Dominion was very apologetic."
The project, according to Todd Feaster, a realtor with Utility Land Service, is intended to provide extra natural gas capacity for Cobblestone residents until a permanent pipeline can be constructed.
"There have been so many new homes built in the area in a short time that the demand for natural gas has increased to the point that there is not enough capacity for them all," Feaster said.
"An on-site tractor trailer on wheels will house a 50-foot-long tank of natural gas that will be hooked into Cobblestone's natural gas system to provide additional capacity through this winter. When the tank runs empty, another one will be brought in," he said.
"The tractor trailers will leave as soon as winter is over," Feaster said. "Options in the lease, however, allow the property to be used for two more winters if necessary."
A member of the Cobblestone Park HOA board-elect told The Voice that the temporary tanks were originally to be situated on a lot in Cobblestone for Cobblestone's use, but were, for some reason, moved to Blythewood Road. He said he didn't know why, but that he didn't believe Cobblestone residents had anything to do with the relocation of the tank site to Blythewood Road next to Dinkins' property.
"It may be an eyesore for a while," the Cobblestone resident said, "but it's for the good of the community."