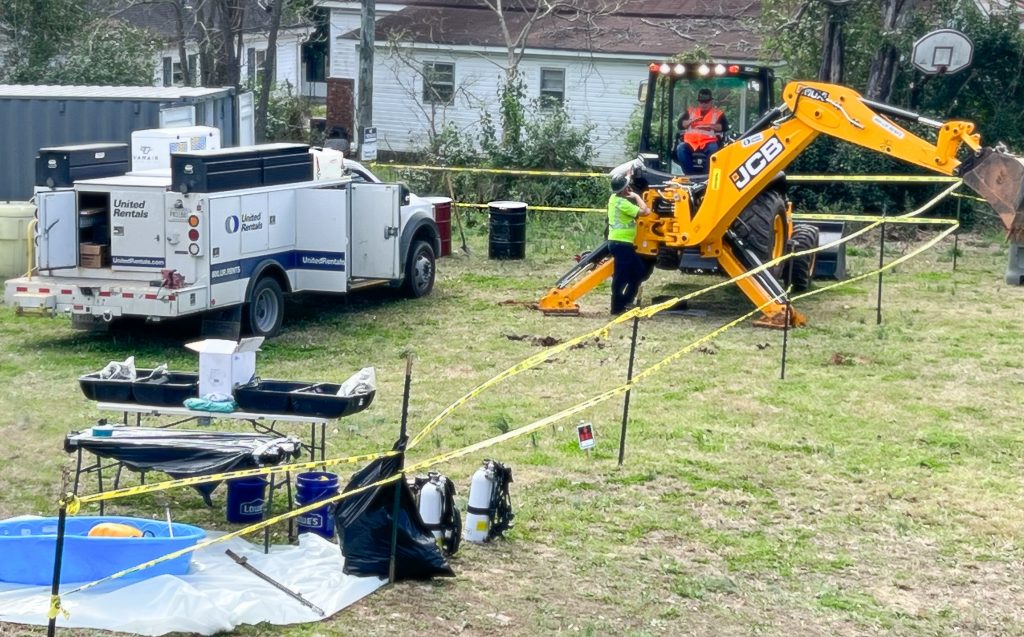 WINNSBORO – An environmental investigation by the SC Department of Health & Environmental Control is being conducted on West Palmer Street near the town's streets and sanitation department.
The investigation began Thursday, Feb. 23 and officials said Friday afternoon that it is not yet known how long workers will remain on site.
On Feb. 8, 2023 The Winnsboro Department of Public Safety was notified by the SCDHEC Office of Law Enforcement in reference to a tip received through Crimestoppers of the Midlands in reference to illegal dumping, according to Winnsboro Department of Public Safety Police Chief Kevin Lawrence.
The SCDHEC Office of Law Enforcement along with The Winnsboro Department of Public Safety followed up on the tip and are jointly following up on the allegation.
The areas of Palmer and Garden Streets in the Town of Winnsboro is the focus of the illegal dumping and residents are being asked to avoid the area. At this time there is no current threat to the community and its residents, Lawrence said.
A spokesperson for DHEC provided the following statement to The Voice at the dig site Friday afternoon.
"DHEC and its contractor are performing an investigation at a site on West Palmer Street in Winnsboro. This investigation is based on information brought to DHEC's attention that unknown materials were buried at this site. Several areas will be assessed and excavated as part of our investigation.
If containers are found, DHEC's contractor will remove, sample and secure the contents. Additional assessment of other media, including soil and groundwater, will be performed if there are indications of any releases of hazardous substances. This investigation is being handled by DHEC's Environmental Administration's Office of Law Enforcement. This is an ongoing investigation. Additional information will be available after our investigation concludes.
The South Carolina Hazardous Waste Management Act requires hazardous materials to be properly disposed of in order to protect people's health, as well as the environment."
Town manager Jason Taylor said he is unable to comment on the situation at this time, but that the town is fully cooperating with the investigation. 
More information will be posted when it becomes available.