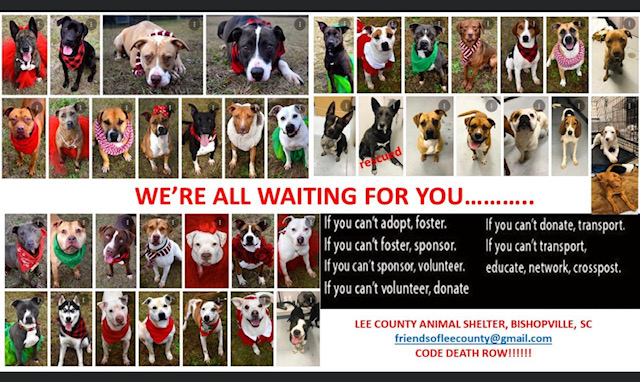 LEE COUNTY – Animal shelters all across the country are overcrowded and Lee County animal shelter in Bishopville is no exception. The shelter was previously a low-kill shelter, but all that is changing since County Administrator Alan Watkins updated the county policy as of Feb. 3, 2023, to alleviate overcrowding by euthanizing those dogs and cats who have been at the shelter the longest. 
In response to the revised policy, Lee County volunteers are asking for citizens, even in neighboring counties, to adopt or volunteer at the shelter.
The shelter was built in 2015-16, at a cost of $600,000 to accommodate 24 dogs and 30 cats at any given time, and the policy changes are intended to enforce those numbers.
As of Tuesday, there were 63 dogs in the kennel, 39 over the policy's euthanasia limit.
"This not anything we want to do," Watkins said. "We have more animals coming in than going out. We've waived fees, bought a van to help transport them to other places, and done everything we can to move cats and dogs to forever homes. We're hopeful we won't have a drastic increase in euthanasia."
Watkins said there are several reasons for the growing overcrowding.
"There's been a slowdown of animals being transported to rescues in the Northeast," he said. "During the pandemic a lot of people adopted animals and when they went back to work, returned the animals to the shelter." He says people don't get their pets spayed and neutered and the same people bring in multiple litters of puppies time and time again.
Under the new policy, cats and dogs exceeding the 24 dog and 30 cat limit will be euthanized after a maximum period of 60 days (after the 7-day mandatory hold period expires.) Those animals who have been at the shelter the longest will be euthanized first.
Watkins said it's hard to keep the animal shelter clean and animals fed when the shelter is overcrowded. Watkins, himself, has pitched in to help.
"When a former director went on maternity leave and two staff members left at the same time, I, the County Finance Director, HR Director and a few others helped out for two to three weeks until more staff could be hired," he said.
A volunteer day is set for Feb. 25 to help socialize the dogs, and clean, and organize the shelter. If you can't come in person, but still want to help you can donate some cleaning and organizational supplies, as well as dog and cat food. The shipping address is 222 Airport Rd Bishopville, SC 29010. Monetary donations can be sent through PayPal at Leecountyshelter.