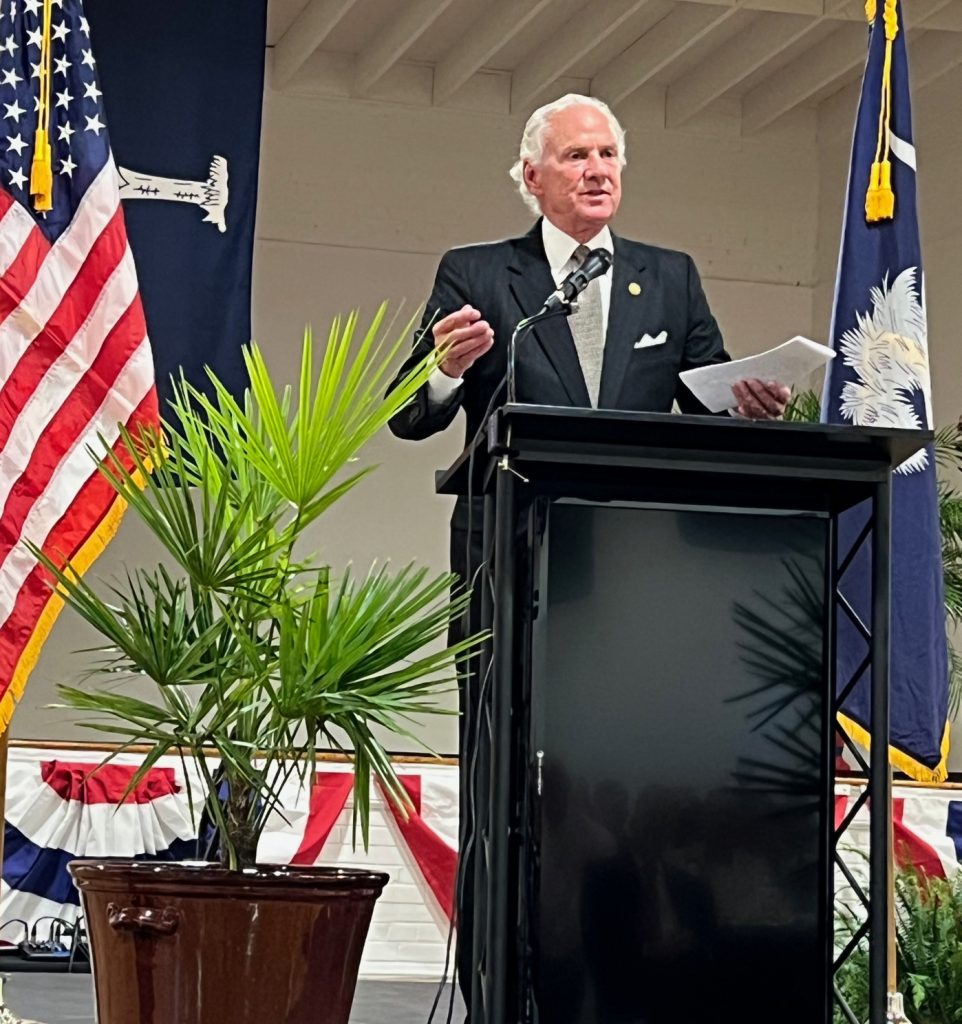 WINNSBORO – Almost 200 Fairfield County Chamber of Commerce members, friends and local dignitaries packed the newly unveiled Old Armory in Fortune Springs Park for a special evening on Wednesday, July 19.
Governor Henry McMaster was there as the guest speaker. He also participated in the presentation of the Chamber's annual awards.
The Terry Vickers Small Business of the Year award went to The Cornwallis House Tea Co., and the Fitz-John Creighton McMaster Business/Industry of the Year award went to the Medical University of South Carolina. The Phillips-Edenfield Community Partner Award was presented to Fairfield County Council on Aging.
After being introduced as the incoming Chair of the Chamber, Dillon Pullen recognized the current members of the Chamber Board: Vicki Maass (the outgoing board chair who will remain on the board another year in an ex-officio capacity), Elbony Ashford, Charlene Herring, Shanta Lewis, Robbie Martin, Crystal Paulk, and Vanessa Reynolds. Yann Monnett will be joining the chamber as a representative of BOMAG.
Pullen also recognized the outgoing board members: MaryGail Douglas, Vicki Maass and Bob Prather.
If there was a show stopper for the evening, it was the venue itself with a patriot theme focused on South Carolina.
Cornwallis House of Tea, Small Business of the Year
The Chamber's 2023 Terry N. Vickers Small Business of the Year Award was presented to Cornwallis House Tea Co., owned by the Praser family – Don and Jenny and their daughter Christina.
Before moving into its current location on Congress Street in 2012, Cornwallis House Tea Co. was a tea blending company, selling the same 9 teas they sell and serve today.
Originally working from the Historic Cornwallis House in Winnsboro, they lectured around the state about tea and its role in the history and culture of South Carolina. They later opened the tea room and café, offering lunch five days a week (including Sunday afternoons),
They feature their custom tea blends alongside homemade soups, salads, sandwiches, desserts, and Southern specials such as chicken pot pie and shrimp and grits.
Medical University of South Carolina , The Fitz-John Creighton McMaster/Industry of the Year

Founded in 1824 in Charleston, MUSC is the state's only comprehensive academic health system, with a unique mission to preserve and optimize human life in South Carolina through education, research and patient care.
As the health care system of the Medical University of South Carolina, MUSC Health is dedicated to delivering the highest-quality and safest patient care while educating and training generations of outstanding health care providers and leaders to serve the people of South Carolina and beyond. Patient care is provided at 16 hospitals with approximately 2,700 beds and four additional hospital locations in development; more than 350 telehealth sites and connectivity to patients' homes; and nearly 750 care locations situated in all regions of South Carolina.
In 2022, for the eighth consecutive year, U.S. News & World Report named MUSC Health University Medical Center in Charleston the No. 1 hospital in South Carolina.
MUSC has a total enterprise annual operating budget of $5.1 billion. The nearly 26,000 MUSC family members include world-class faculty, physicians, specialty providers, scientists, students, affiliates and care team members who deliver groundbreaking education, research, and patient care.
Eugene and Margaret Holmes

County Councilman Clarence Gilbert and his wife Delores.

Chris Clauson Karen and Jason Pope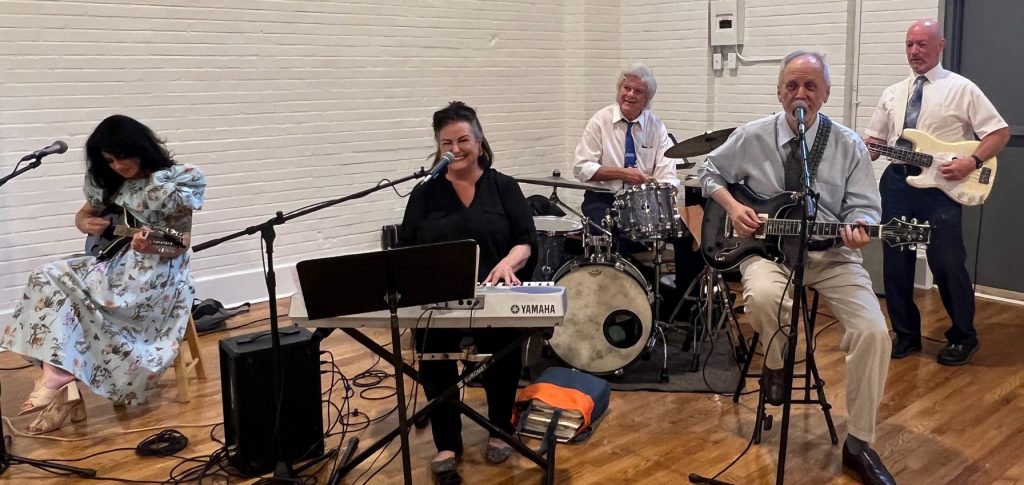 Rick and Tina Johnson

Attorney Croom Hunter, center, with his wife Nicole and Attorney Everett Stubbs, candidate for state senator.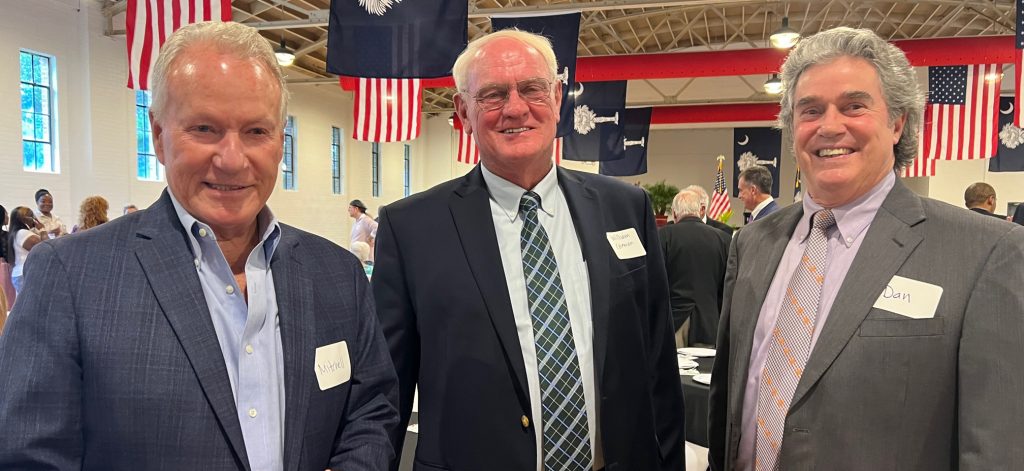 The Governor's first handshakes were with the Town and County's finest – from left: WDPS Chief Kevin Lawrence, Dep. Chief Oren Gadsen and Fairfield County Sheriff Will Montgomery.

Fairfield Electric Coop board member Keith Lewis and CEO Bruce Bacon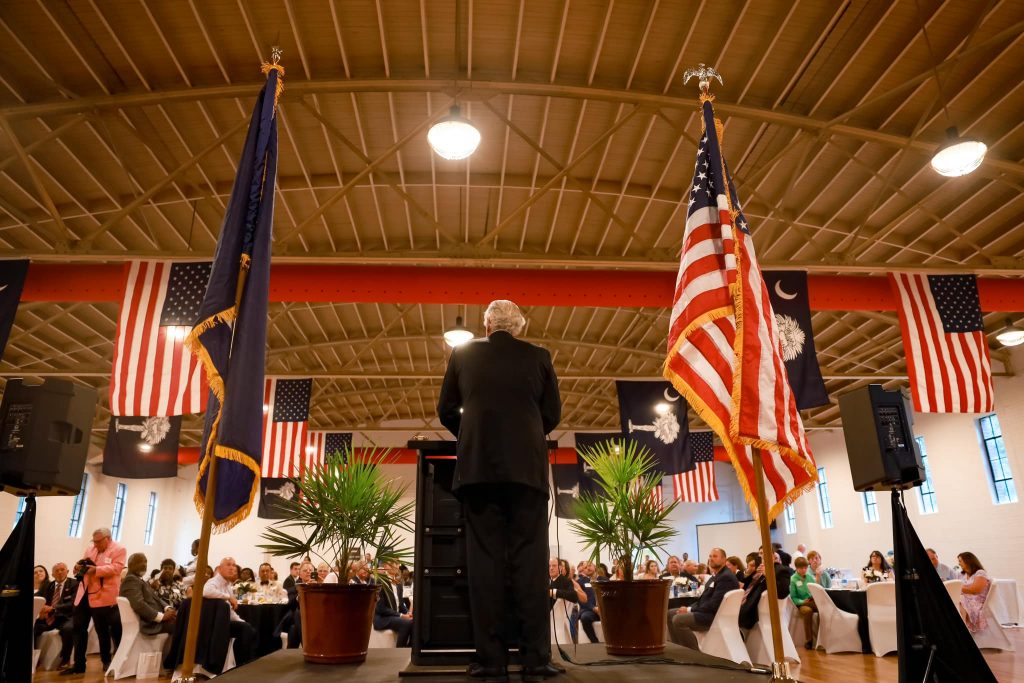 ---
Related: Old Armory returns to its Glory Days