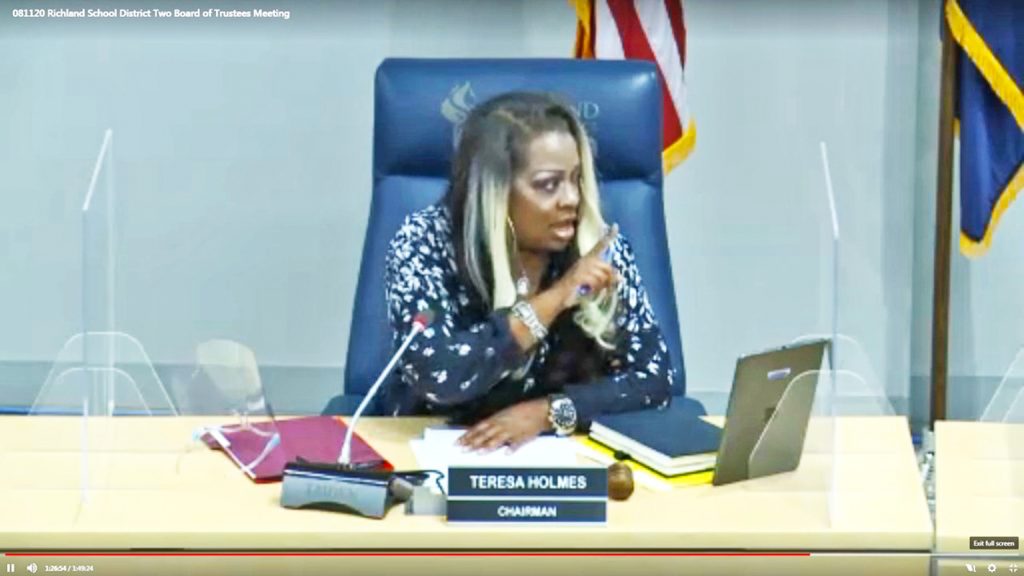 COLUMBIA – A dramatic walkout by three Richland Two School Board members during Tuesday night's regular school board meeting, ended the meeting after only 35 minutes.
The walkout left only four board members to continue the meeting. Board policy specifies that it takes five members to constitute a quorum, Superintendent Dr. Baron Davis told the four remaining board members: Chairwoman Teresa Holmes, Amelia McKie, James Manning and Cheryl Caution-Parker.
The fiasco began when the board was asked by Holmes to approve the meeting agenda. After a motion and second to approve the agenda, board member Lindsay Agostini moved to postpone the agenda item on the superintendent's contract until the Sept. 28 board meeting, saying board members needed more time to look over the proposed contract.
Agostini and board members Dr. Monica Elkins-Scott and LaShonda McFadden said they had not received the contract until late the day before and that additions were given to them at noon the day of the meeting. They said they were not prepared to discuss and act on the Stunned, Holmes fell silent, staring first at Agostini.
"You can amend a main motion," Agostini said to Holmes who appeared to not understand.
Holmes remained almost motionless, continuing to stare at Agostini and then ahead for several seconds, nodding slowly, repeating the words, "ok…" "Ok…"Ok," as she struggled to respond to Agostini's motion.
Finally, thumping her pen on the desk, Holmes responded.
"It does have to be germane to the motion," Holmes said slowly, still staring ahead.
"It is," Agostini said. "I made a motion to postpone…"
Holmes interrupted, saying, "I gotcha Ms. Agostini, I'm just contemplating, making sure that it was germane to the motion." Turning to the board's attorney, Holmes asked if "that would be germane to the motion?"
The attorney suggested that it was up to Holmes to decide whether the motion was germane to the agenda item.
From there, the meeting became mired in confusion and parliamentary missteps, with Holmes making what she called an executive decision that Agostini's motion to postpone the discussion and vote on the superintendent's contract was not germane to the agenda item entitled, "Superintendent's Contract."
After Holmes repeated her executive decision numerous times, Elkins-Scott pushed back, saying that she had not been given enough time to look over the superintendent's proposed contract and that if she voted against it, it would look like she was not in support of Davis, which she insisted was not true.
With that, Elkins-Scott said, "My vote doesn't matter, so be blessed. I'm outta' here." She picked up her iPad, gathered her belongings and left the room.
After Holmes delivered a stinging lecture to the camera about being adults, Agostini said she agreed with Elkins-Scott and also left the room.
When McFadden asked for the floor, Holmes shot back, "Just a second, Ms. McFadden, I'm sure you're going to join them."
Repeating Agostini's and Elkins-Scott's complaints, McFadden explained that she had wanted information about the contract that she could look at and study.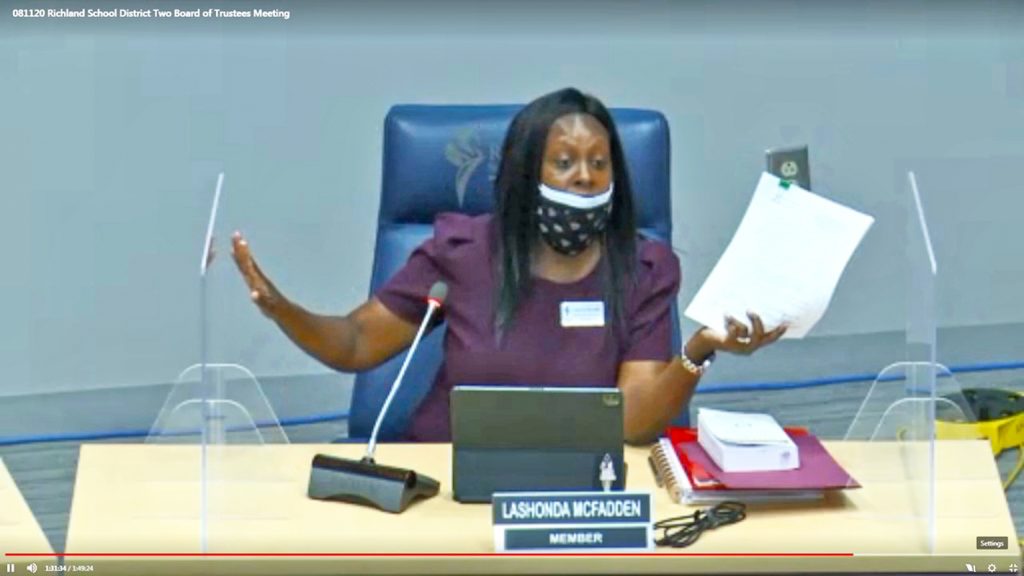 Holding up the superintendent's proposed contract, McFadden said she had been provided an updated packet at 11:30 a.m. that same day at work that she had not had time to study.
"I wasn't even provided the list of things [Davis} actually wanted," McFadden said.
"They [Manning and Holmes] went through the list Davis wanted and they picked out things they wanted him to have," McFadden said. "We got a phone call saying this is what we're going to do.
"I asked the chair this morning to please not put this on the agenda tonight," she continued. "We already know we've got four members who are gonna' vote for it."
Holmes interrupted, calling McFadden down for "defaming other board members."
After a few more heated exchanges with Holmes, McFadden also gathered her things and left the room.
After a lengthy lecture by both Holmes and McKie about the walkout, Holmes asked Cheryl Caution Parker if she would like to comment.
Among other comments, Caution-Parker called the walkout a "dereliction of duty. It's disgusting, sickening, orchestrated." She went on to say it was "stupid and ignorant," in reference to the walkout.
Holmes did not call Caution-Parker down for speaking disparagingly of other board members as she had McFadden earlier, but instead thanked Caution-Parker for her comments.
With no quorum present, Holmes adjourned the meeting with no further discussion.