"This County Needs to Lead and Move Forward Doing the Right Thing." – Bob Innes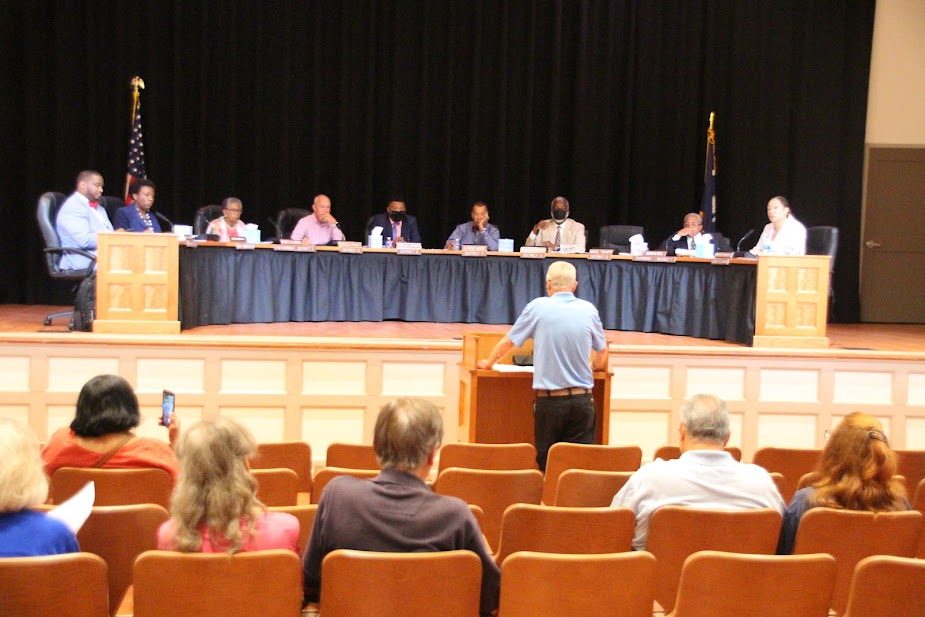 WINNSBORO – Fairfield Animal Control Director Bob Innes got a few things off his chest during Monday night's council meeting when he addressed council.
After stating that he wanted to let council know "what's going on in this county right this moment," he dived deep into what he described as the miserable conditions the animals suffer inside the county's overcrowded, outdated, hot-in-the-summer/cold-in-the-winter animal shelter.
He said that apart from the yearly budget, the county doesn't spend a dime on the animal shelter.
The shelter, itself, he said, has generated $215,642 in revenue. Of that, $58,615 is from fees charged by the county, leaving $157,027 from donations – "donations from organizations and good members of the public who believe in our cause for the animals at Fairfield County," Innes said. Of that $48,000 has been raised since November toward a new facility that Innes said is desperately needed.
"We've got a considerable problem," Innes said, referring to the over 500 pit bulls or pit bull mixes that came to the shelter during the current fiscal year.
"For some reason people do not treat them (pit bulls) as living animals. That needs to stop," he told council. "This county needs to be leaders and move forward doing the right thing.
"I have spoken today with Sheriff Montgomery about certain of our animal control laws that I feel need to be changed, and he's fully on board and will back any decision to change them because he understands that we have got a big problem of poor animals not being cared for. They're disregarded and thrown out on the streets." Innes said. "Then they end up down here at the shelter. Make no mistake, taxpayers are paying for that."
Innes urged council to allow him an audience with council's public services and development committee to put forward changes.
Those changes he suggested include: "a pit bull registration in this county so we know where all these animals are," he said. "They all need to be 'fixed' (spayed or neutered). Every animal in this county needs to have a microchip, and we need to move forward and make sure that anybody that breeds animals, even if they've only got one female, must have a breeders license, because this needs to stop. We need to make sure the animals, not just the residents, of this county get a fair shake."
Innes said his staff and volunteers see things daily that bring them to tears.
"Believe me, it's exceedingly sad," Innes said.
"This past fiscal year, there have been 53 reported incidents of dog bites reported to DHEC. Thirty-seven of them were pit bulls or pit mixes. We can't blame the breed because it's the owner. We need to get everything under control to reduce the number of people getting bit by dogs that are constantly roaming loose around this county," he said.
Blair and Ridgeway have more incidents, Innes said, than Blackstock or Winnsboro.
"I want Fairfield County to be the strongest county in South Carolina with animal laws, where people know that a person's animals are vaccinated, are up to date on their rabies, and are fixed. But we need to make changes for that to happen.
"Time is of the essence," he said.
"The situation can increase quite dramatically with the amount of animals that are not being moved, especially when the number of animals that are coming in is increasing," said Innes. "We post their pictures daily. People don't come and collect their animals.
In spite of the issues Innes and his staff face, he says the shelter has built up a business.
In 2016, Animal Control brought in $7,000.
"We now bring in over $200,000. We're making money for the county. We need some money put back into it, and it will prosper even more. If it's done correctly, a new shelter will pay for itself, with a clinic as a service to the public.
"Since October of 2016, we have not euthanized a dog for space. But we are being pushed into a position where I'm afraid that's going to have to happen. Because we haven't got a facility that's adequate for what we do."
Innes closed his address by asking again to be granted the opportunity to come before council's public services and development committee.
While Bell stopped short of inviting him to do that, he stated he would "have the standing committee to review and look at the ordinance so we can do some of the things Mr. Innes suggests."
"We need to be the best," Innes said. "To be the best, we all have to push and pull in the same direction."
With a sustained applause as Innes left the podium, many in the audience stood in support of his speech.