Board's Per Diem is $500/Meeting; With Free Health, Dental, & Life Insurance & More
WINNSBORO – After extending a nearly $1.8 million golden parachute to its former CEO, the Fairfield Electric Cooperative applied for and received coronavirus relief for a similar amount through the Paycheck Protection Program (PPP), according to federal records.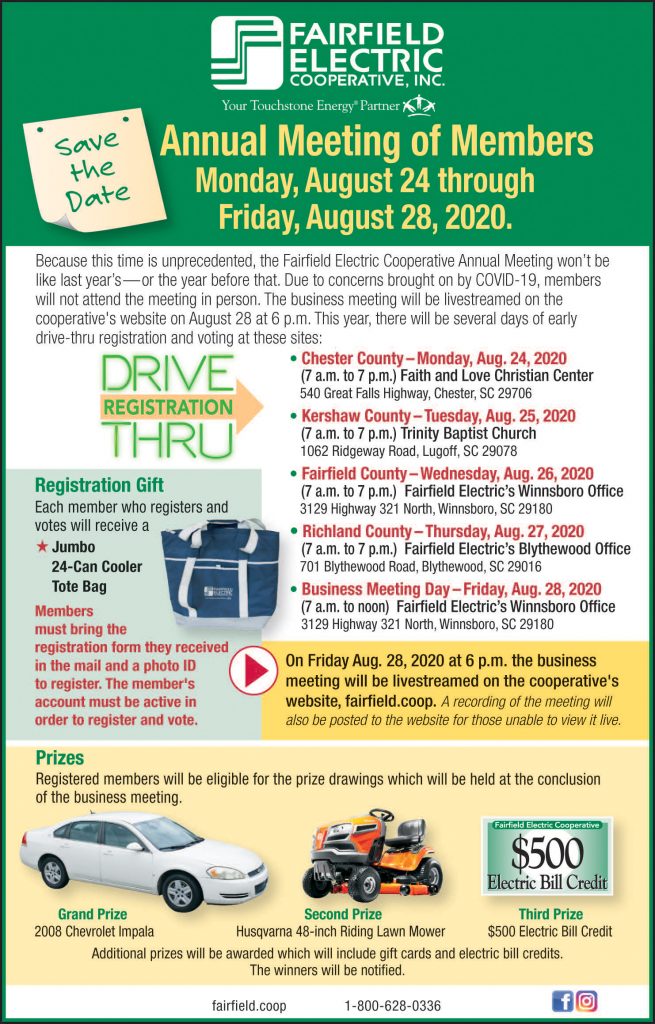 While the cooperative says it sought the PPP loan to offset anticipated non-payments from customers due to the COVID-19 pandemic, posh pensions and cozy compensation packages have become core issues for two candidates seeking election to the co-op's board.
"I'm running because of what I see as extravagant spending for the (former) CEO," said Derial Ogburn, who's challenging long-time board member Peggy Jeffcoat in one of the two contested races for the board.
Fairfield County's Peggy Swearingen is challenging Trustee Allen Beer. Swearingen, too, says she wants to see the co-op board accountable to its members.
The races are for two of four seats members will decide at five different voting venues on five different dates from Aug. 24 – Aug. 28. (See dates and locations below) Kenny Miles and Robert Entzminger are running unopposed. Election results will be announced during the co-op's annual meeting on Aug. 28. Due to the COVID-19 pandemic, the meeting will be livestreamed online starting at 6 p.m. at http://fairfield.coop.
PPP loan
It was nearly two years ago when the cooperative board voted to pay $1,798,889.90 in pension funds to William Hart, the co-op's former CEO, meeting minutes show.
According to federal tax records, Hart was making over $500,000 a year when he retired June 30, 2018, in the wake of a general public outcry and media reports calling attention to high pay for executives and board members at electric co-ops statewide
Hart's retirement package was the result of a complex series of deferred compensation plans that had accumulated for the past seven years.
While the lump sum payment closely matches the $1.6 million the co-op recently requested through the PPP program, the transactions are completely unrelated, said Mitch Rabon, chairman of the Fairfield co-op board.
"Those two transactions are not related at all," Rabon said.
The PPP program was one of many initiatives of the Coronavirus Aid, Relief, and Economic Security (CARES) Act, a $2 trillion coronavirus aid bill aimed at helping taxpayers and businesses weather the coronavirus pandemic when an economic downturn triggered mass layoffs nationwide.
President Donald J. Trump signed the CARES Act into law on March 27. Nearly a month later, at its April 20 meeting, the Fairfield co-op board adopted a resolution authorizing the co-op to seek up to $1,609,800 in PPP loans, according to meeting minutes.
The U.S. Department of Treasury approved that request a week later, stating in federal records that the co-op retained 71 jobs.
Rabon said while the PPP program and Hart's pension are unrelated, he is dismayed by Hart's retirement payout, saying the money would've been better spent issuing refunds to customers.
"The thing that's somewhat unnerving about the $1.8 million deferred compensation plan is that it exceeded the entire membership's excess revenues over expenses," Rabon said. "We only refunded about $1 million to approximately 30,000 consumers. That is a valid comparison."
Rabon said the board applied for the PPP loan because there was uncertainty over the potential impact of nonpayment of delinquent accounts.
Though the economy has seen some improvement, nonpayment remains a concern since that impacts the cooperative's revenue stream.
"We were concerned at the time of that loan that co-ops would be under stress from people not being able to pay their electric bills," Rabon said. "This was designed to make sure any financial repercussions would've been minimal."
Co-op fined for excessive pay
In 2017, Hart's final full year with the co-op, he received $520,353 in total compensation, up from $511,393 in 2016, according to the agency's federal tax return.
The co-op's 2018 tax return pegged Hart's total compensation at $2,123,633.
The former CEO's compensation has already caused fiscal repercussions. Ogburn and Rabon said the IRS recently fined the co-op $200,000 for excessive compensation.
The IRS requires nonprofits to pay its executives "reasonable compensation," which IRS documents define as "the value that would ordinarily be paid for like services by like enterprises under like circumstances."
While Hart's pay follows a similar trend among other CEOs who lead South Carolina cooperatives, at least two South Carolina co-ops of comparable size—Black River Electric in Sumpter County and Pee Dee Electric in Darlington—pay their executives more than $100,000 less than Fairfield's former CEO.
Charles Allen, CEO of Black River, earned $319,669 in 2018. Yet, that year, the Sumter co-op reported annual revenues of $82,587,386, which is about $2.1 million more than Fairfield's revenues of $80,466,579 in the same period.
Pee Dee Electric reported even greater revenues at $86,663,514 and paid its CEO $411,721.
Ogburn fears the cumulative effect of excessive pay and the failed V.C. Summer project could mean rate increases for co-op customers.
"The whole thing is just rotten," Ogburn said. "It's just out of control. It's totally out of control."
Double Duty
Also in 2016, in addition to Fairfield co-op pay, Hart received $21,979 for serving on the Central Electric Cooperative board. Since 2010, he's received $79,491 in additional compensation serving on the board of the Columbia based co-op.
Bruce Bacon, Hart's successor as CEO, serves on additional co-op boards as well.
In July 2018, when the board appointed Bacon as the interim CEO, it also appointed him to serve on the boards of Central Electric, the Electric Cooperative of South Carolina and the Cooperative Electric Energy Utility Supply/Line Equipment Sales Company.
Other South Carolina co-ops routinely appoint their CEOs to serve on other co-op boards where they receive additional compensation.
Co-op trustees are typically compensated by receiving a per diem to attend meetings.
The Fairfield co-op's per diem is $500 per meeting – usually held at Fairfield Electric's Blythewood office – and they receive free health, dental and life insurance.
Recent reforms
Changes in state law have brought some reform to how cooperatives like Fairfield co-op are governed.
Rep. Russell Ott, D-Calhoun was the lead sponsor of a bill that became law in June 2019. Act 56 includes a number of new provisions pertaining to cooperatives, namely requiring the disclosure of board member compensation, posting meeting minutes online and other governance-related measures.
Act 56 also places cooperatives under the oversight of the state's Office of Regulatory Staff, or ORS, which can launch investigations, conduct audits and mediate disputes.
Rabon, the cooperative's chairman, said these changes have helped improve transparency and fiscal accountability.
"That's a huge change for co-ops all across South Carolina," he said. ""Electric cooperatives all across the state have had problems, mostly related to governance issues, compensation to executive directors and also compensation to key employees."
Rabon said the cooperative has instituted additional measures to increase the public's trust in the nonprofit.
Rabon was among the trustees voting in the minority against Hart's retirement package. In April 2018, the board voted 7-4 to approve the $1.8 million payout, according to meeting minutes.
In July 2018, the board approved a new transparency policy that mandated posting on the co-op's website copies of federal tax records for the past three years, time, place and date of monthly meetings, and meeting minutes within 30 days of the board adopting them.
The policy also required publishing salaries of the CEO and individual board members.
Lastly, the policy calls for crediting additional compensation the CEO receives for serving on other co-op boards against his or her compensation, "and considered in establishing the compensation for the CEO unless otherwise authorized by the Board of Trustees."
A year later, in September 2019, the board also raised the vested retirement age from 60 to 65 and eliminated a 50 percent cost of living benefit through the co-op's national retirement plan. The latter provision took effect Jan. 1, 2020, minutes state.
Also, in January 2020, the board adopted a conflict of interest policy for board trustees. Among other things, it established a nepotism policy to prevent board members from securing jobs for family or appointing family to committees of the cooperative.
"We're all about disclosure and transparency," Rabon said. "It's made the board of directors far more accountable. It also makes the CEO far more accountable to the membership."
For more information on the Fairfield Co-op's Board of Directors, click here.